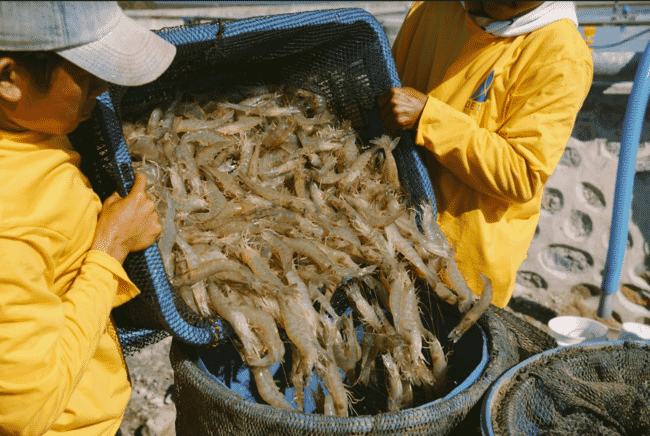 However, as McIntosh – who is executive vice-president of Charoen Pokphand Foods (CP) and CEO of Homegrown Shrimp – explains, one or two shrimp farmers are now proving that reverting to older techniques can improve profitability.
"Right now the Asian industry is struggling with costs, struggling against the surging South American onslaught of shrimp and so questions need to be asked about how we can become more competitive again. My rallying cry is 'Remember 2010' – 2010 was the year that Thailand had its greatest profits, its best production and farmers were happy," McIntosh recalls.
"It's been downhill since then and the new generation of farmers probably don't even remember 2010," he adds.
Many people would point to the emergence of early mortality syndrome (EMS) in China in 2008, and its spread to other Southeast Asian countries in the following years, as being to blame for the decline in the sector. However, McIntosh argues that EMS might even have been brought on by a change in farming practices – notably the rise of chemical disinfectants such as chlorine and ozone – rather than sticking to the biosecurity technique that had served them well for several decades.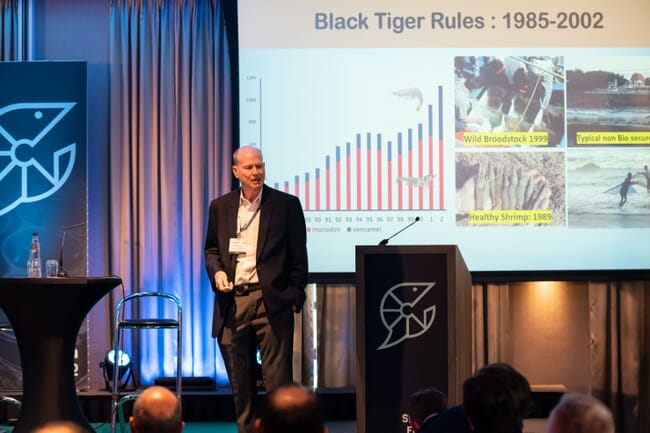 "We've gone so far from the 2010 models – my conjecture would be that if we went back to the 2010 models things would fall back in place. I can find farms now that are managed according to those models and do even better now than they did then," he points out.
Until that year, as McIntosh explains, farmers were wedded to the idea of an "exclusionary principle" of biosecurity, which largely related to the use of trichlorphon, a regulated legal and rapidly decomposing pesticide, to eliminate carriers of pathogens – such as the wild crab and shrimp larvae that entered the pond carrying whitespot syndrome virus (WSSV), which then infected the post-larval (PL) shrimp.
"The pathogens we were concerned with in 2010 were viruses, if you killed the carriers with pesticides you could exclude whitespot from the ponds," he notes.
The success of this approach meant that, in 2010 Thailand's shrimp survival rates were 85 to 90 percent, shrimp were harvested at 14 to 18 g, the average FCR was 1.5 and the average yield was 13 tonnes per hectare.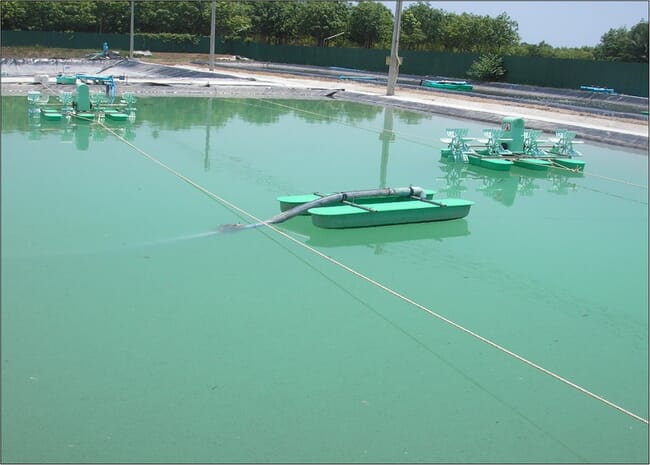 It all went wrong, according to McIntosh when Thailand's farmers decided to react to the arrival of EMS, in 2012, by switching from the use of pesticides to disinfectants.
"Famers tried to maintain the same exclusionary principle on pathogens. But, as the new pathogen was a bacteria, not a virus, the country – the whole continent – substituted pesticides for disinfectants," he reflects.
"However, while pesticides are like smart bombs and kill only specific animals and otherwise leave the pond's microbiome alone, chlorine is a kill-all compound which is used in the hope it will exclude everything. But it's very, very different trying to exclude bacteria like Vibrios compared to crustaceans – to do so using a disinfectant disrupts the whole microbiome and throws it out of balance," he adds.
McIntosh noted that the link between the use of chlorine and the spread of bacterial diseases such as EMS were closely connected. And he hints that China's decision to ban organophosphate pesticides and and switch to chlorine on a mass scale – might have been why it was the first place that was hit by EMS. Vietnam followed suit in the decision to switch to disinfectants and was the second country to be struck by EMS.

And McIntosh's argument is backed by persuasive logic.
"When I first saw EMS, in 2008, I noticed that the ponds were also full of blue-green algae, which was unusual. I didn't put it together initially, but later figured that it was because blue-greens are the early colonisers, the fast growers. It's the same with bacteria – if you kill a complex ecosystem with chlorine, the first things to come in are pathogenic bacteria like Vibrios. You replace good algae with blue-greens, you replace healthy bacteria with Vibrios. That was a common denominator I started recognising after a couple of years," he reflects.
Meanwhile EMS wasn't recorded in Thailand until May 2012, soon after the arrival of blue-greens, which – in turn – were preceded by the use of chlorine on the farms.
"When EMS hit Rayong province the warning went out – 'it's here, it's here!' – so everyone thought they had to start using chlorine and EMS quickly took over Thailand. My hypothesis was that chlorine was leading to this," McIntosh recalls.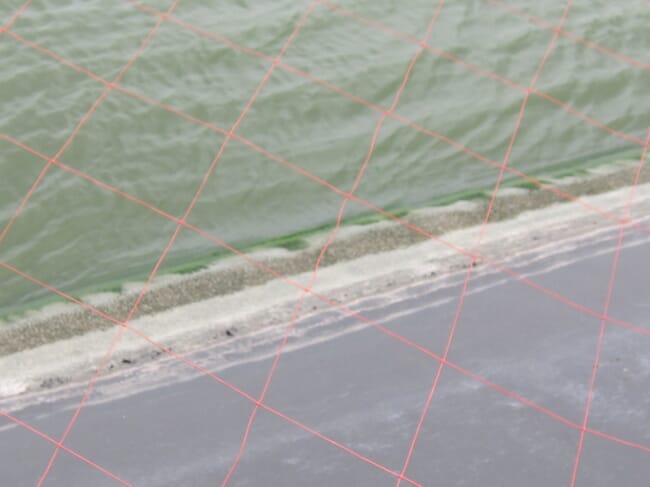 In order to test the theory McIntosh helped persuade CP to trial chlorine-free farming in one of the areas worst hit by EMS at that time – Hainan island in China.
"We dried and cleaned the ponds, we did not use chlorine, we used filtration and fertilised to encourage green algae and diatoms. Sure enough the farm developed a green algae ecology (other farms in the area, which were still using chlorine still had blue-greens) and that June we successfully harvested 17 ponds out of 18. I believe it was the only successful harvest on that coast of Hainan at that time. One pond did get EMS but the farm manager told me it was the only pond where we hadn't followed pond cleaning protocol. Maybe this disruption of the ecology was what caused the whole epidemic," recalls McIntosh.
He also remembers visiting a farm in Vietnam which that failed after using chlorine at 20 part per million (ppm) chlorine, and continued to fail, even after cranking up chlorine concentrations to 70 ppm.

"It was clear that chlorine wasn't killing the EMS bacteria, they're too fast growing and they live in the biofilms. Even if you clean the ponds, there are often pockets of biofilms that contain Vibrios which chlorine won't cut through, but farmers were convinced that if they didn't use chlorine EMS would be even worse," he explains.
One further experiment conducted by McIntosh involved using chlorine on trial basis on a series of ponds at another CP-ran farm.
"I would chlorinate a pond and test the bacteria levels. After disinfection the levels would be very low, but two days later bacteria levels were higher than the seawater that had been pumped in. What you did was destroy the diversity and open it up for fast-growing bacteria," he reflects.
Following these results it's little surprise that McIntosh decided to stop using chlorine on the farm that he runs for CP in Thailand and says that he never had EMS failures after that point.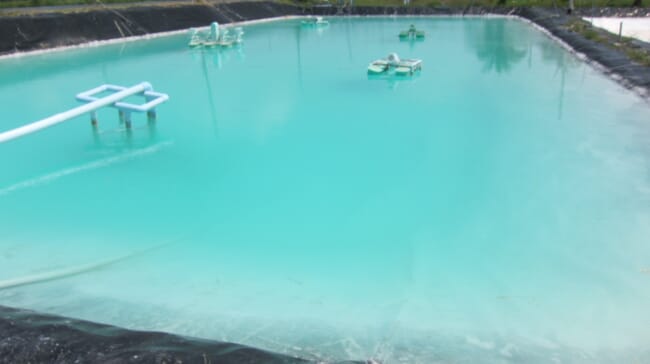 "In general the industry has added on a cost and, in general, I don't think the benefits are there," he concludes.
McIntosh contrasts the difficulties being experienced in Asia with the thriving nature of the shrimp industry in Ecuador.
"Ecuador – which is the competition – doesn't use disinfection, it doesn't use probiotics. Anything you pay for these in Asia are costs that the competition doesn't have. If you don't improve survival and reduce failure rates it's an unnecessary cost and, in this day and age, any cost is significant," he concludes.