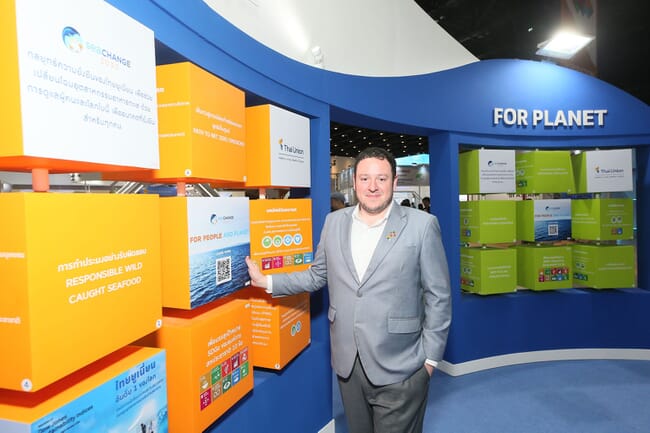 The World Benchmarking Alliance (WBA), which evaluates the SSI, assessed 30 of the largest and most influential companies in the seafood industry across the areas of governance and strategy, ecosystems, traceability, and social responsibility.

The WBA said that Thai Union was measured as being first in the area of social responsibility for "distinguishing itself from its peers by its efforts to ensure decent working and living conditions on board fishing vessels, whilst monitoring for compliance and providing evidence of improvements."
"At Thai Union, we want to be the most trusted seafood leader in the world," said Thiraphong Chansiri, CEO of Thai Union Group. "We recognise that to achieve our vision we must deliver impactful change across not only our own operations but across our global sourcing footprint. We're proud of what we have achieved in driving positive change while acknowledging that there are many challenges ahead. Thai Union remains deeply committed to the ongoing pursuit of programmes and initiatives that deliver positive outcomes for both people and planet."
The assessment also ranked Thai Union among the leaders in traceability – partly due to the Company's consistent and thorough disclosure on the Ocean Disclosure Project, a global platform where seafood businesses publicly share details on the sourcing of their seafood, along with governance and strategy for disclosing its process for identifying and prioritizing the Company's most relevant sustainability impacts as well as the outcome of this process, in relation to its sustainability strategy. Thai Union also performed well in disclosing how it engages with stakeholders and the outcomes of that engagement.
Thai Union has now been ranked first on the SSI, which is reviewed every second year, for the third time after being on top of the inaugural index in 2019 and again in 2021. The recognition from the World Benchmarking Alliance follows the recent launch of SeaChange 2030, the next stage of Thai Union's sustainability strategy that will help reshape the seafood industry.
"The Seafood Stewardship Index ranking is an initiative Thai Union has implemented to have a positive impact on our business and the global seafood sector," said Adam Brennan, Chief Sustainability Officer at Thai Union Group. "With a score of 47.5 out of 100, it is clear that Thai Union and the rest of the industry still has immense challenges ahead of us. We are ambitious at Thai Union and through SeaChange® 2030, the next stage of our sustainability strategy, we are increasing and broadening our efforts through 11 interconnected goals that will drive global impact while supporting the delivery of 10 of the UN SDGs that are material to us. This includes new goals in the areas assessed by the SSI including ecosystems and traceability, presenting opportunities to make further advances."
The SSI measures how the world's leading seafood companies contribute to the sustainable management of the oceans and coastal ecosystems and ensure responsible social practices are implemented. With these companies playing a significant role in feeding billions of people and also supporting livelihoods around the world, the SSI says the 30 companies assessed have significant influence on the world's fishing business and can therefore accelerate positive change.
In its assessment, SSI said Thai Union still has room for improvement including in the area of the environment by demonstrating how it mitigates ecosystem impacts across 100 percent of its operations.
Thai Union's SeaChange 2030 goals include a 42 percent reduction to Scope 1, 2 and 3 greenhouse gas emissions by 2030 and net zero by 2050; contributing THB 250 million (more than $7 million) toward the protection and restoration of critical ecosystems; the implementation of zero water discharge, zero waste to landfill and zero food loss at its five key global facilities; ensuring 100 percent of Thai Union's shrimp is produced minimising ecosystem impact, extending the company's responsible wild-caught sourcing programme to all key species and providing and safe, equitable and decent workplace.