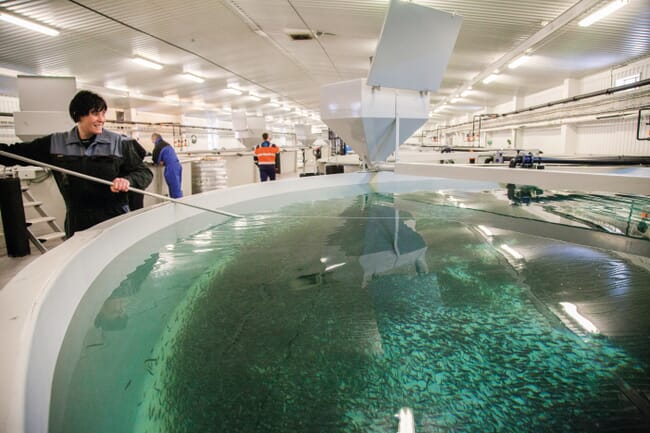 The study, published in the journal MDPI, reveals how black soldier fly meals as sources of protein are accelerating the transition to a more sustainable food system by replacing fishmeal protein in the diet of rainbow trout.
Scientists have found that rainbow trout show even better growth performance, dietary nutrient and energy retention efficiency, and gut function when fed high levels of the poultry-by-product meal (PBM) and insect meal from the black soldier fly (BSFM), either singly or combined, than on a fishmeal-based diet.
It is important to note that PBM is not yet authorised by the EU Commission, but plans are underway for regulatory possibilities for its use in the near future.
Figures from the study show that the researchers fed rainbow trout 17.8 percent and 36.0 percent of the PBM (P30 and P60 diets) and 7.8 percent, 22.7 percent and 45.0 percent of BSFM (H10, H30, and H60 diets), in contrast to the control diet, which contained 47.5. percent fishmeal.

Interestingly, rainbow trout showed an upregulation of the chitin hydrolysis-related gene (chia) gene when given a BSFM diet. In other words, the expression of the chia gene in the stomach reflects the positive effect of BSFM, contributing to better digestion of food.
They also evaluated the effects of such novel feed sources on the welfare status of rainbow trout.
"Both PSB and BSFM have proven to be excellent substitutes to vegetable proteins in fishmeal-free diets by maintaining good fish welfare," said the authors of the study.
The aquaculture industry comes with its challenges. One of the sector's main priorities is finding alternative fishmeal ingredients to meet the increasing global seafood demand supporting existing efforts like the Farm to Fork Strategy, a cornerstone of the EU's Green Deal.
For this reason, the research aimed to explore the impact of feeding rainbow trout levels of PBM and BSFM on whole-body composition, nutrient-energy mass balance and retention, digestive functions and welfare.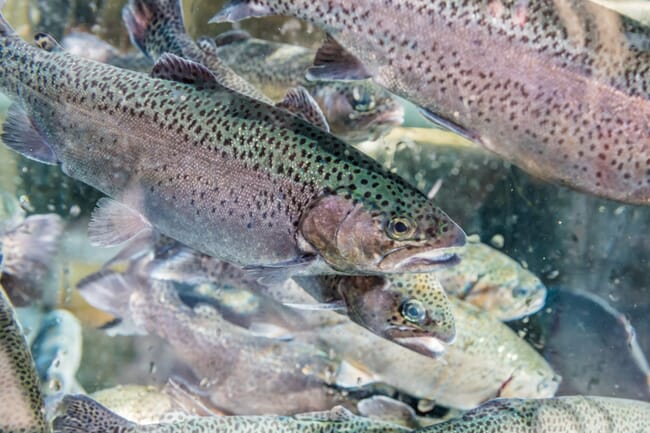 These fishmeal replacements, argue the authors, are sustainable ingredients because they are rich sources of protein, have a low environmental footprint and are constantly growing in market volumes.
Welfare impacts
Farmed fish welfare in response to novel feed formulations is a key aspect of aquaculture with consequences for sustainability and production ethics. The scientists, therefore, tested welfare factors such as stress, metabolic, immune responses, liver health, and fish condition.
The team have revealed that the insect's chitin content is responsible for a so-called "immune-boosting action" by binding to immune molecules such as macrophage mannose receptor, toll-like receptor 2 (TLR-2) and Dectin-1 receptor.
The study found no detrimental effects on fish welfare but reported some immunomodulatory properties in rainbow trout with BSFM diets, which is a step in the right direction ­– a hint that insect meals could have some influence on immunity.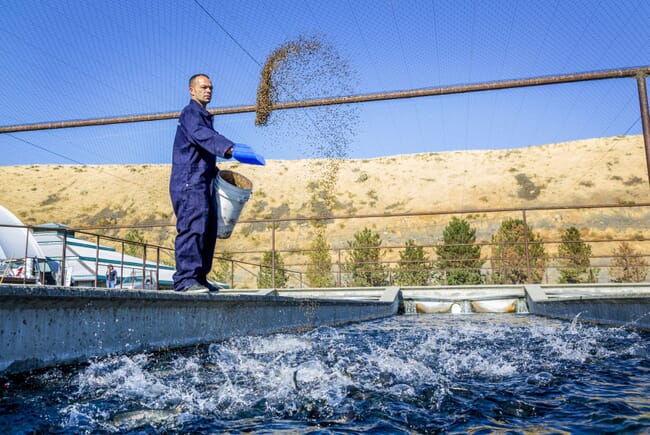 These exciting results indicate that alternative dietary proteins will shape the aquaculture industry.
"We envisage that this study will advance the discussions of the suitability of these ingredients as alternative protein sources for a new generation of sustainable and healthy aquafeeds for rainbow trout," the authors of the study concluded.
The study was led by researchers at University of Udine, Italian National Institute for Environmental Protection and Research, Foundation Edmund Mach, Technology Transfer Centre, Consiglio per la ricerca in Agricoltura e l'Analisi dell'Economia Agraria, Agricola Italiana Alimentare and University of Firenze, Italy.