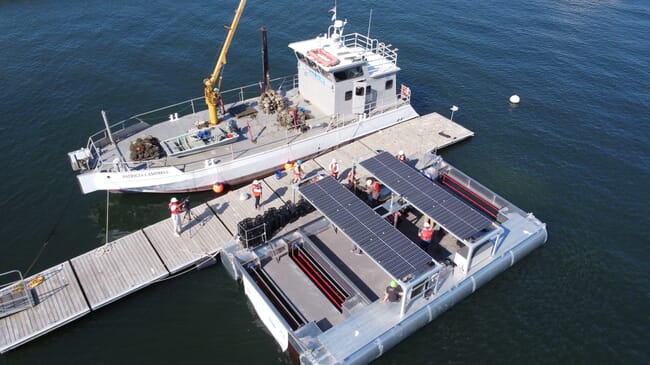 The launch was overseen by staff from Chesapeake Bay Foundation (CBF) and Solar Oysters, who have developed a platform that uses solar power to rotate large oyster cages in order to clean the bivalves and help them grow over time.
After the oysters have grown, CBF will add the oysters to sanctuary reefs to improve the Bay's health and overall oyster population through work with the Chesapeake Oyster Alliance. This innovative new approach was made possible with funding from The Abell Foundation.
Once tested, Solar Oysters plans to use the platform technology to launch and expand aquaculture operations in the future. As oysters are natural filter-feeders, this technology could help reduce nitrogen and other types of pollution that cause harmful algal blooms in the bay.
"Our Solar Oysters team is very thankful for the opportunity to partner with the Chesapeake Bay Foundation and The Abell Foundation to help replenish the native oyster population in the Baltimore Harbor," said Solar Oysters' business manager Stephen Pattison, in a press release. "We are excited to showcase our Solar Oyster production system, a new, innovative, automated oyster production technology powered by solar energy. While benefiting Baltimore reefs, the lessons we learn here will inform our work as we look to expand to new sites and apply the technology to the oyster aquaculture industry. This technology could help reduce Maryland's target nitrogen reduction shortfall (2009-2019), which the EPA has mandated that Maryland must advance by 2025 to remain on target."
The oysters grown on the platform will add to the Fort Carroll oyster sanctuary, just outside Baltimore Harbor.
"The number of oysters we'll be putting on the Solar Oyster platform is equal to the number of oysters we raise each year with volunteers in the Harbor through our oyster gardening program," said CBF Maryland senior scientist Doug Myers. "This effectively doubles the number of oysters we can put on the sanctuary reef each year. Those oysters will enable the reef to filter more water and provide additional habitat to fish, crabs, and other marine life."
The Abell Foundation, which works to improve the lives of Baltimore city residents, supported this project with a $150,000 grant.
"This project is very attractive to us as it addresses a number of challenges the City faces," said Robert C Embry, Jr, president of the Abell Foundation. "These include developing and piloting an innovative technology, support for the growth of a Baltimore-based company, and improving water quality in the Harbor by cultivating oysters as filters."
The Solar Oysters production system, developed through a joint venture formed by the Maritime Applied Physics Corporation and the EcoLogix Group, has been advanced by a Maryland Industrial Partnership grant with the University of Maryland Center for Environmental Science and participation in the F3 Tech Accelerator Program.