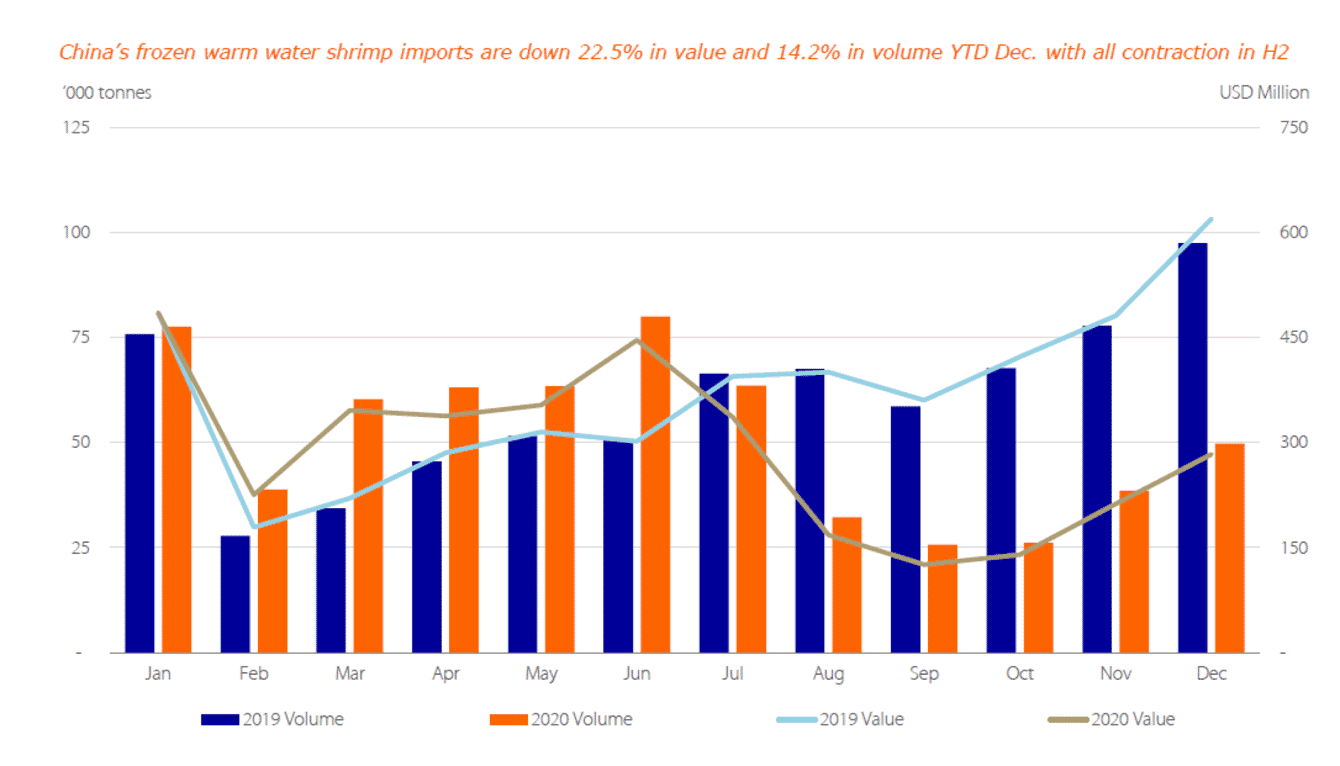 Shrimp demand
In terms of shrimp markets, Nikolik notes that demand in the EU remained fairly steady overall, but he paints a very different picture between the two other main ones – China and the US – during a volatile 12 months.
"The big story is in China – from July onwards China imported a lot less shrimp, almost half of the level of 2019. Q4 was particularly bad: in November they fell to 38,000 tonnes, down from 78,000 in the same month in 2019; in December they fell to 49,800 tonnes, down from 97,000 tonnes," the Rabobank analyst notes.
The key to this decline has been a tendency for the Chinese to associate imported seafood with Covid-19-related health risks.

"The Chinese government has been informing people that the Covid situation outside China is quite dire, generating fear among Chinese consumers. The government has also been constantly checking for Covid on frozen products, causing delays and putting imports at risk," he adds.
Whether this will persist remains to be seen.
"It's hard to know how this will change in 2021 – the fear is gradually getting less, but imports are still below what they were before the pandemic. How quickly that will change is the big question of this year," Nikolik notes.
The US, on the other hand, has been a very different picture.
"What was particularly unusual was that both the volume and value of shrimp imports in the US increased. Normally an increased volume is coupled with lower prices, meaning the overall value is roughly the same. However, it's evident that US consumers increased their consumption, particularly their consumption of higher value, processed products. So they were effectively spending more per unit of shrimp, making the overall value increase," Nikolik explains.
"Shrimp was the big winner in the US market: what we've seen in the pandemic is that consumers have moved towards food they are familiar with – they buy what they know to cook at home. There were huge leaps in retail sales during 2020: frozen raw shrimp, a $2 billion industry, went up by an incredible 47 percent, frozen cooked shrimp by 25 percent. We haven't seen this kind of growth rate in a mature category in a very, very long time," he adds.
And Nikolik believes that demand in the US will continue to be solid in the year ahead.
"Will this strong demand continue when the food service sector opens up? I think personally we can be bullish on American shrimp consumption. Food service demand is likely to increase, as more people are vaccinated, and I don't think retail sales will go down, so it's a very bright prospect. And imports have been strong so far this year," he notes.
As for supply, Nikolik notes that few major challenges have been reported so far this year.

"You can't guess shrimp, it's not like salmon, it's a 120-day cycle, but there are no current issues in supply that we know of – there's no outbreak of disease or any major climatic issues, which means that we can assume that supply will basically follow demand. Supply is elastic in shrimp, due to the short production cycle, therefore it will follow the demand of 2021 – in other words high demand and probably high supply. It'll still be a buyer's market, I don't expect spikes in any way," he predicts.
A review of 2020
Rabobank's analysis suggests that global shrimp production figures fell only modestly, despite the pandemic, although one or two countries showed a more severe decline.
"What happened in 2020 is a drop of about 5 percent – some other people will say a bit more, but for us the numbers compute to about 5 percent. India is the big driver – their exports were down 150,000 tonnes, some say more like 200,000. The other that's down is China, Vietnam is largely flat, maybe a small increase, but Ecuador actually produced more in a very difficult period and have been producing more for a while," he notes.
Ecuador
Ecuador had a troubled year, but despite that, 2020 ended on a more promising note – at least for many of the larger producers.
"Ecuador had been experiencing incredible growth momentum prior to 2020 and the pandemic only reduced its growth momentum somewhat, although the value of the exports did flatten. But it was a roller-coaster year – their sales to China picked up, then really disappeared in the summer, when that whole Covid testing started. They've kind of come back to China in some way and have done a really good job to pivot towards the US and EU, by investing in processing. This year their trade with China has remained depressed, while Ecuador has been much more balanced between the three export regions – the US the EU and China," Nikolik reflects.
As for the farmers, he notes that the increased sale of shrimp to the US, has brought with it an increased demand for processed products.
"So those farmers who do not have processing – usually the small players – have sold their product to the larger, integrated players. And those larger players have captured a larger part of the profit pool. What we understand is that some of these small players are exiting, maybe diversifying into other crops, such as bananas, or selling their land, while the bigger players are consolidating in the region even more – more often by increasing the intensity of their production, than by buying up land from smaller producers. One of the major outcomes of 2020 is that the bigger players have captured producer share and profit pool," he observes.
India
Nikolik points out that India had seen strong growth, although not quite as high as Ecuador, prior to 2020, but the value of their shrimp exports plateaued in 2017.
"India is targeting the US in a big way, but without a lot of product innovation and marketing it's difficult to sell more shrimp to the US without losing out on price, so that's basically a big problem for that industry and in 2020 they dropped in both volume and value – they're back to 2017 volumes but quite a bit down in value. It was a tough year for India – they really had problems with lockdowns. There were problems in March and April, in the summer and in December, when they suffered because they could not export enough product and there was a delay in the season," he notes.
"On the price side it was a bit of a roller-coaster because supply was so volatile, but the prices were not as low as in Ecuador. And they're starting the year quite well now thanks to their strong position in US retail – India is the dominant producer of US shrimp retail products and US retail has been going very well. During lockdown, however, when the shrimp peeling stations were out of action, they had to pivot towards the Chinese market with their unprocessed shrimp," Nikolik adds.
Vietnam
Vietnam was one of the countries that fared the best in 2020, thanks to their diverse range of markets and the comparatively low impact of Covid.
"Unlike India and Ecuador Vietnam is a very diverse player in terms of global reach. Their sales value didn't decline in 2020 – they were not as impacted as Ecuador or India in either the market or the supply side. They had a well performing industry when it comes to Covid. In month-to-month sales they ended the year strong and we might we see Vietnam come in strong in the second quarter of 2021," says Nikolik.
"In terms of prices they performed well other than Q3 of 2020 and they're starting the year with a price point about 2020 and 2019, which bodes well for Vietnam, as they have good market access and are quite well balanced between the EU – where they have a trade agreement – and the US, which is important. China is a very small part of Vietnam's market, so we can be bullish for them for 2021 and even beyond that," he predicts.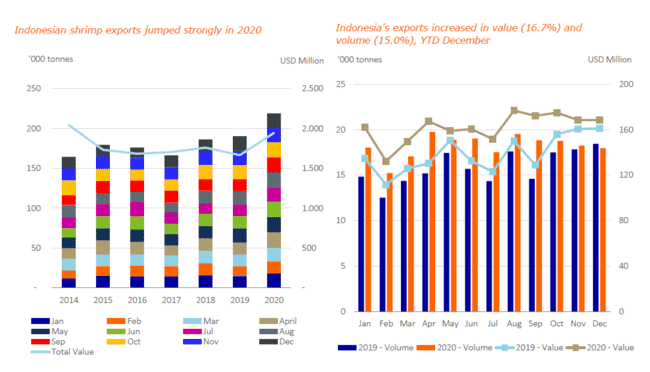 Indonesia
Interestingly, despite some debate of the reliability of the production figures issued by the Indonesian government, Nikolik notes that Indonesia probably fared best of all the major shrimp producing countries in 2021.
"Finally, I would say that the winner of 2020 was Indonesia – production levels were flat until 2020, when you see a jump of 16 percent in value and 15 percent in volume, and every single month is higher value than the previous year. The reason for this is that they are very, very strong in the US, even more so than India – almost 80 percent goes to the US and all of this to retail. They had big exports in May and April, when India was in trouble, and also big exports in the summer, when India couldn't deliver, so these two countries are tight competitors for the same retail accounts in the United States. And, actually, they had very good prices in 2021 because they were the only ones who could supply this market," Nikolik explains.
"One of the big debates is whether they actually produced this much more shrimp in 2020 – the answer is probably not. They have a big domestic market – somewhere between 30 and 40 percent of their production. What I understand is that it was so attractive to sell to US retail last year that those products were quickly diverted from the domestic market, which had lockdowns as well, and were sent to the US, so production probably didn't increase by this amount. Unfortunately we don't know how much it increased, but by less than 15 percent – we have it at 10 percent, but there are a lot of guesses out there about the precise figure," he adds.