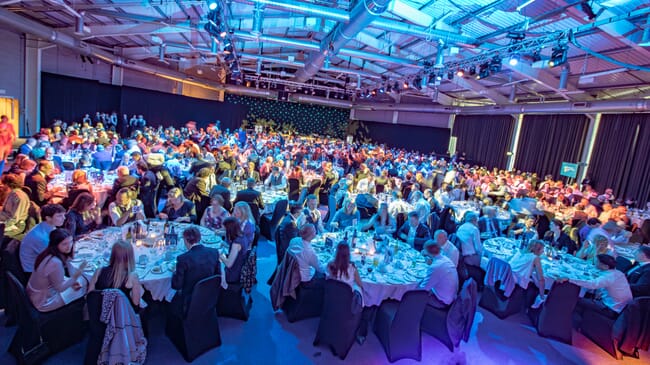 The company was presented with the Economic Sustainability Award at the Aquaculture Awards 2022, held at the MacDonald Resort Aviemore on 4 May, for the significant advances made with regards to recruitment and retention at time when competition for talent is fiercer than ever.
Scottish Sea Farms head of HR and business support Tracy Bryant-Shaw said, "in 2020 we set ourselves the goal of becoming the employer of choice within our communities and sector, and we have been reviewing and revising our key policies ever since.
"Because ensuring we are meeting the needs and wants of today's employees is crucial if we are to continue recruiting and retaining the best people and this latest award win – which comes on the back of triple Investors in People re-accreditation in 2021 – is further affirmation of the very real strides that we are making."

Amongst the key changes introduced are enhanced maternity and paternity packages for all employees with one or more years' service – changes that have proven an instant hit with the company's younger employees.
New mum and farm manager of the company's Summer Isles farms, Sarah Last said, "knowing the company is choosing to support myself and others in our choice to start a family, at a level far above the normal government statutory rate, is incredible news.
"It's supporting those who support the business and will hopefully encourage more women into the sector too."
Adding to the family-friendly policies on offer, Scottish Sea Farms has recently trialled a scheme to help working parents in Shetland with 25 percent towards the cost of childcare. Such has been success of the trial that work is already underway to roll-out the scheme across all its farming regions.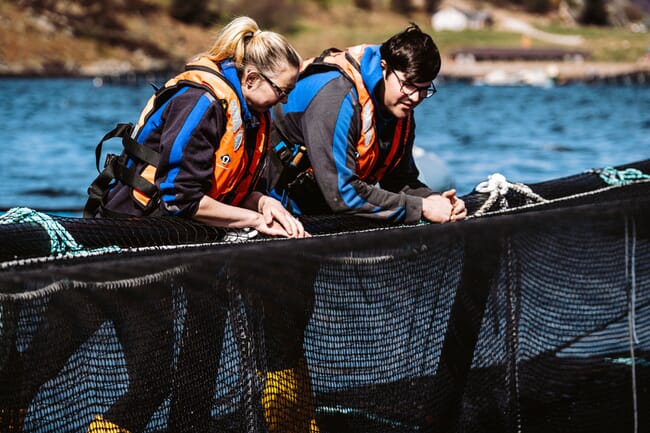 Ensuring a more diverse and inclusive culture, however, goes far beyond gender. To this end, the company has been reaching out to a broader candidate profile by:
Collaborating with Argyll College to design a new course, Into Aquaculture, aimed at encouraging more secondary school pupils to consider salmon farming as a career choice
Partnering military recruitment specialist JobOppO to help ex-armed forces personnel find new employment in civilian life suited to their skills and expertise
Supporting third party initiatives to encourage more women back to work such as the Women into Scottish Aquaculture Programme, run by the Sustainable Aquaculture Innovation Centre, and Women Returners Programme, funded by the Scottish Government and administered by Skills Development Scotland.
In Scottish Sea Farms' second award win of the evening, Stephen Woods – farm manager at Charlotte's Bay, Oban, and one of the company's best performing Farm Managers of all time – was named Finfish Farmer of the Year for his commitment to fish welfare and the outstanding results achieved.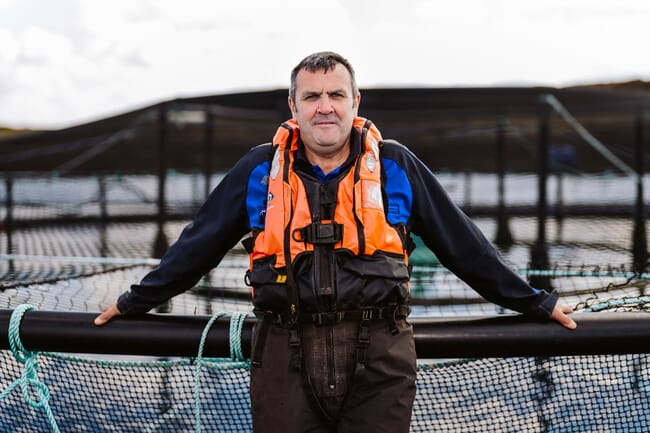 In the words of Managing Director Jim Gallagher, "Stephen is the farm manager every producer wants: he cares deeply about his fish, has a forensic knowledge of what's happening on his farm and he takes full responsibility for everything within his control, with the result that he consistently delivers high fish survival at a low cost-base. If there was a mould to make more Stephen Woods, I'd be first in line to buy it."
As for the man himself? "It's nice to get recognition of the hard work and dedication over the years," said Stephen on receiving his award. "I've always felt well supported and appreciated by the company itself, but this sector award is the icing on the cake, not just for myself but for my wife and family who see first-hand just how much I put into my role."