The figures released on the eve of the industry's latest showcase in Boston, reveal that in 2013, the farmed salmon sector saw its sales value to the USA rise from £155 million in 2012 to nearly £200 million, an increase of almost 30 per cent.
Commenting on this strong export performance, Scott Landsburgh, chief executive of Scottish Salmon Producers' Organisation (SSPO) said: "These impressive figures are the result of the fantastic reputation our salmon enjoys in the USA. Quality and Scottish provenance are key to the American market. Major retail chains and high end restaurants are delighted with the salmon we supply from Scotland. The industry has been supported by Scottish Development International (SDI) to open more market opportunities for Scottish salmon, making the USA our largest export market".
Mr Landsburgh was commenting ahead of the international Boston Seafood Expo USA at which the Scottish salmon sector will be meeting buyers from the USA's top retail and food service companies.
Anne MacColl, chief executive of Scottish Development International, the international arm of Scotland's enterprise agencies, said: "The US market recognises top quality in fresh food. This segment of the market demands the highest standards, and as Scotland is renowned for premium, health enhancing products, the US is an excellent place for our salmon companies to expand their International reach."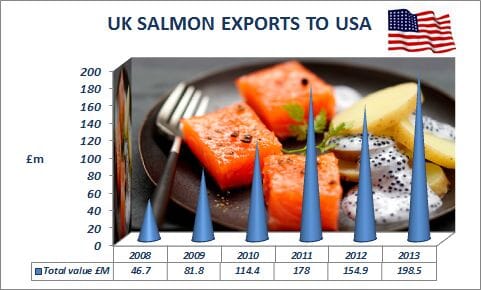 Jim Gallagher, managing director of Scottish Sea Farms, who is also heading to Boston reiterated:
"This is a great jump in our performance, but it should just be the start as we plan to invest in long term sustainable production to supply the demand for salmon and this will mean more jobs on the farms and in the food processing industry of Scotland. We look forward to a strong, sustainable future."
James Withers, chief executive officer of Scotland Food and Drink, said: "I am delighted to see that for another year our star performance in food exports is enjoying further success in the USA. This will guarantee jobs for the remote rural communities of the Highlands and Islands for generations to come. The reputation of Scottish salmon as the 'best farmed salmon in the world' continues to dominate the world's most lucrative markets. This is a large boost to the overall status of the Scottish food economy.
"We have set ambitious growth targets for 2017, aiming to break the £7 billion mark in food and drink exports by that date. If achieved, we'll have almost doubled our exports in a decade, and all the signs are that Scottish salmon will play a driving role."