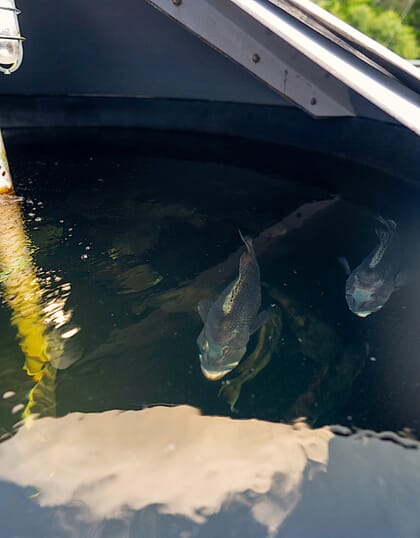 Plans to start the commercial farming of black sea bass are gaining ground thanks to research breakthroughs made at the University of North Carolina Wilmington (UNCW)

With support from North Carolina Sea Grant and several other funders, long-term research on the species has resulted in the controlled breeding of larvae and juvenile production in hatcheries to grow-out in recirculating aquaculture systems. More recently, researchers have been trying to evaluate production market and economic factors to determine if black sea bass is commercially ready for farming, according to North Carolina Sea Grant's Scott Baker and Sara Mirabilio,
To do this the research team built a pilot hatchery that used laboratory-based research at commercial scale to provide startup fish farmers with a source of fingerlings.
Based on all the costs associated with operating the pilot hatchery, the scientists conducted an analysis, using a fixed set of economic conditions, of a hypothetical full-scale commercial black sea bass hatchery operation. The team made several assumptions in their calculations: project life was 30 years, with equipment replacement every 10 years, and the capacity of the hatchery was 100,000 advanced-stage fingerlings. The team also fixed other business-related factors such as interest rates, land ownership and staffing.
For the hypothetical, commercial-scale hatchery, total initial investment costs of facility construction, recirculating systems, and hatchery-wide equipment and installation would be $778,527. Variable operating costs would total up to $71,426 per year, including labour expenses. Fixed operating costs, which account for loan interest and other expenses, would total $23,162 per year.
They calculated that breakeven price would be $1.67 per 5-gram fingerling, or $0.43 for a 1-gram fingerling. Both of these prices are highly sensitive, requiring an efficient harvest every time.
While wholesale prices for whole-on-ice black sea bass depend on size, with higher prices per pound for larger fish, growers could target niche markets for ultra-fresh product, which garner premium prices for fish of assorted sizes they suggest.
Over the years, UNCW researchers have made numerous discoveries that have advanced techniques for farm-raising the species. For instance, by manipulating the amount of exposure to daylight and using hormone treatments they could induce the females to ovulate. Early fingerlings — weighing less than 1 gram on average — are "transport-ready," with excellent resistance to acute crowding and shipping. The team learned how to control infections during grow-out, too, by lowering water temperatures.
They also determined how to rear black sea bass larvae through juvenile stages using standard feeding regimens for marine finfish. Additionally, they found that using their own UNCW-formulated diets (which replaced 50 percent of the fish meal protein with poultry meal protein) led to better growth in early juvenile fish than two commercial diets, without adverse effects on survival.
The UNCW team's results have been promising. They successfully bred black sea bass in captivity, raised the species from egg to adult stages, and found that black sea bass can reach lucrative niche markets.
Conclusions
The researchers say that the availability of fingerlings from UNCW's hatchery has enabled startup farmers to grow and market black sea bass, but commercial expansion will require investment in research to lower production expenses.
Research is needed to lower feed and fingerling costs, increase growth, minimize size variation, maximize fish densities in grow-out systems and address waste management they conclude.