The organic label remains elusive in today's world of aquaculture, but never has there been a time when its application has been so necessary. Just as the organic movement in livestock was borne from a public response to the damaging and unethical aspects of intensification, now the same concerns have come to bare upon the aquaculture industry.

The rapid aquaculture boom lies at the root of these unsustainable practises. Rather than being hailed as the saviour of wild fish populations, a large amount of research has focused on the negative impacts of fish farms. In order for the consumer to embrace aquaculture, aquaculture must first embrace scientific solutions.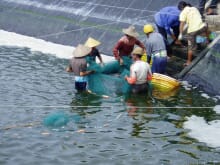 A Chinese shrimp harvest
Photo: FishVet Group
There are two trends that highlight the necessity for a sustainable future in aquaculture. One, is the rapidly increasing global levels of fish demand, and the other is the rapidly decreasing population of wild fish stock. If the future supply of fish cannot be sustained there will simply not be enough left to eat.

But there are other benefits also. The Center for Food Safety (CFS) a non-profit, membership organisation that works to protect human health and the environment, says that by applying the true holistic approach of organic system management to aquaculture could yield "significant reductions in the documented negative environmental and health impacts of industrial aquaculture". When these practices are acknowledged it gives the organic product market power, and with it, the potential to increase the value of its product and of the industry as a whole.

According to a United States Department of Agriculture (USDA) report, the market potential for organic aquaculture seems to be promising in Europe as well as in the USA. Production takes place primarily in Europe, where certified organic salmon, carp, and trout are grown and sold. Certified organic mussels, Tiger shrimp, white shrimp, and tilapia also are cultured in such diverse places as Vietnam, Peru, Ecuador, Chile, New Zealand, and Israel.

However, creating a set of universally accepted organic standards has proven difficult in aquaculture. In many ways, this ambiguity alone has prevented the movement from flourishing.
How Organic is Organic?
Due to the stringent nature of organic practices for food animals and crops, many people believe organic aquaculture is an unattainable prospect for the industry. Whilst those that believe it can be workable tend to disagree on how.

In 2002 the Food and Agriculture Organization (FAO) claimed that there were 20-25 private and non-private certifying bodies for organic aquaculture, varying from from country to country, certifier to certifier, and species to species. In a bid to unify these labels the International Federation of Organic Agriculture Movements (IFOAM) has attempted to create guidelines that will hormonise organic production and certification worldwide.

Likewise, a new European organic regulation will have detailed aquaculture rules for the first time and is planned to be launched in January 2009. This will then form the legal basis for organic aquaculture in Europe.

The variety of species produced in aquacultural systems and vast differences in cultural requirements for finfish, shellfish, mollusks, and aquatic plants add to the complexity of defining this sector. Some species and some production systems proving more difficult than others to adapt to a traditional "organic" system.

Salmon farming in open water pens are a challenge for organic production due to escapes, sea lice contamination and nutrient losses.

According to a spokesperson for the Soil Association: "It is certainly a different prospect to think of the aquatic environment rather than the traditional 'soil' based approach of organic agriculture but the overarching organic principles as defined by IFOAM can still be applied to farming in water."

"You have to bear in mind that terrestrial agriculture is the most environmentally destructive activity the human race has ever undertaken", the spokesperson continued, adding: "There are aquaculture systems such as shellfish farming which are much more sustainable and organic than almost all terrestrial farming systems."

The Soil Association says that pond grown species such as carp, tilapia, catfish and similar species can be grown at low stocking densities with minimal external feed requirements.

However, the Soil Association also says that the use of fishmeal and fish oil in aquaculture feeds, particularly in diets for carnivorous fish, has been criticised as inherently unsustainable, and a source of persistent organic pollutants (such as PCBs and dioxins).

The aquaculture industry consumes approximately 46 per cent and 81 per cent of the global supply of fishmeal and fish oil respectively. Furthermore, the huge complexity of global marine fisheries makes the sustainable use of fishmeal and oil one of the greatest challenges facing not just organic producers, but the whole aquaculture industry.
A New Label
Organic Labels offer consumers a trusted commercial option that presents solutions to these problems, but what happens when this trust is broken?
---
*
"This is a delicate balance between organic principles and commercial development"
Soil Association spokesperson.
---
Recently the National Organic Standards Board (NOSB), an advisory panel to the USDA's Agricultural Marketing Service has come under fire for approving relaxed standards for the organic aquaculture label. Under the new proposal farmed fish will be labelled 'organic' even if their diets include wild fish and other feed that isn't organic itself. The proposal allows up to a quarter of farmed fish feed to consist of wild fish, though not from endangered species.

A news item released from the Washington Post claimed that the rules would also: "allow farmers to raise the fish in open-net cages, which rankles environmentalists concerned about the spread of sea lice into nearby waterways". A trend, the newspaper added, "that could drive wild salmon to extinction".

The concern is that if this proposal is enacted, the organic standards will not only allow sub-par organic fish to be sold with a premium, but will undermine consumer confidence in the entire organic marketplace.

In a recent report, the Centre for Food Safety said that it had serious issues with the proposals, adding that they will fatally undercut any future organic aquaculture standard and are inconsistent with organic principles.

"One of the most basic steps in changing our approach to fish farming is changing our mindset towards it."

But there's big money to be made in salmon farming — all the more if your fish sell for the premiums that official USDA organic certification confers.

The Soil Association said that there is a risk of devaluing the organic label if certain regulatory bodies and certifiers use weaker standards. "This is a delicate balance between organic principles and commercial development," the association said.
Further Reading
| | | |
| --- | --- | --- |
| | - | To read the proposed rules for net pens click here. |
| | - | And for the proposed rules for fish feed click here. |
December 2008