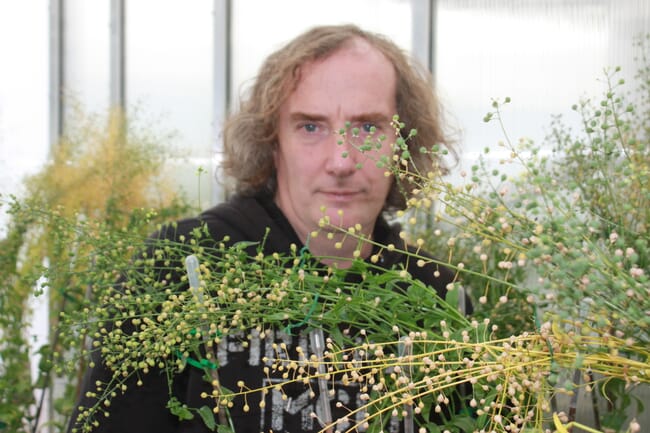 The technology developed by Rothamsted enables the production of omega-3 nutritional oils from Camelina – oils that can be used as an alternative to fish oil in aquafeeds, and for human health products.

Over the last decade, the Rothamsted team, led by Professor Johnathan Napier, has demonstrated the production of omega-3 oils in Camelina seed and conducted evaluations of the oils in salmon feeding and human clinical studies to demonstrate lipid lowering effects. Omega-3 oils are essential for human nutrition and have demonstrated benefits in heart health.
"Our decision to exercise the exclusive global option to the omega-3 production technology with Rothamsted underscores our belief that there will be significant market opportunities for the omega-3 oil profiles that can be produced using Camelina as a platform crop," said Oliver Peoples, president and chief executive officer of Yield10 Bioscience, in a press release.
"The Rothamsted team has advanced the omega-3 Camelina technology to where it is ready to begin commercialisation. We are also planning improvements in the varieties through the deployment of our herbicide tolerance and performance traits. Commercially, we are on a promising path to commercialising elite omega-3 varieties of Camelina that combine good agronomics in the field while also producing high-value, high-purity omega-3 oils possessing very attractive economics," he added.
The potential market opportunity for omega-3 fatty acids produced from Camelina includes use in pharmaceutical (ethyl-EPA) products, dietary supplements, and food and feed ingredients. Currently, the primary source of the essential fatty acids EPA (eicosapentaenoic acid) and DHA (docosahexaenoic acid) is ocean-caught fish, where omega-3 oil produced from anchovy harvest is the industry benchmark. Over the last few years, there has been increasing pressure on the supply of omega-3 oil due to over-fishing.
In 2023, Peru, which produces 20 percent of the global fish oil supply, cancelled its first season anchovy harvest, due to a lack of mature fish. Producing omega-3 fatty acids in Camelina may represent a way to enable a predictable supply of high-quality omega-3 oils to meet the global demand for EPA and DHA.
Under the collaboration with Yield10, additional intellectual property has been developed by Rothamsted for next generation omega-3 Camelina varieties. However, in response to customer interest, Yield10 has elected to prioritise the current EPA8 omega-3 Camelina as the initial profile for commercialisation.
Successful trials
In spring 2023, Yield10 planted omega-3 (EPA) Camelina at acre-scale in the United States to begin the ramp-up of seed inventory for future planting, as well as to produce oil for use in business development activities. According to the company, the seed yield, oil content and oil composition of the EPA8 Camelina variety have thus far met its expectations for performance, setting the stage for advanced development and possible future market introduction.
Yield10 plans to conduct further seed scale-up of EPA8 Camelina in contra season in South America this winter. In the third quarter of 2023, Yield10 submitted a Request for Status Review ("RSR") for EPA8 Camelina to USDA-APHIS Biotechnology Regulatory Services under the Sustainable, Ecological, Consistent, Uniform, Responsible, Efficient (SECURE) Rule. A favourable review under the SECURE Rule would allow the crop to be grown at large scale in the United States.
Yield10 and Rothamsted are also pursuing commercial development of Camelina to produce omega-3 oil containing both EPA and DHA fatty acids as a sustainable alternative to oil obtained from ocean-harvested fish, which serves as an essential ingredient for fish feed used in aquaculture, including the farming of Atlantic salmon.