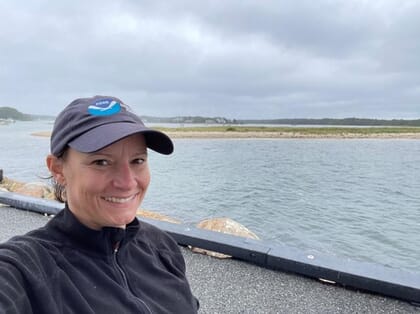 About half of this division is dedicated to aquaculture research. It also pursues diverse inquiry on habitat ecology, fisheries ecology, deep sea coral research, and oceanographic monitoring and research.
"My background is predominantly aquaculture, but I look forward to learning more about all of the fields the division represents. I will rely on the branch chiefs and staff, who are the true experts in those disciplines. I'm excited to learn how to advocate for and integrate this broad portfolio," Milke explained*.
Milke remains committed to working closely with aquaculture businesses and research partners in the region.
"I'd like to stress, though, that we are broader than aquaculture. This division is uniquely suited to explore our region's rapidly changing environmental conditions. There are many questions to answer regarding climate change, habitat change, potential impacts of wind energy development and their collective influences on natural resources," she observed.
She will be coordinating science and leading scientists in her new role. "We have diverse expertise. Regardless of position, every member of this division is an expert and brings a different perspective, all of which are essential to our success," she added.
Milke's road to NOAA
Milke grew up in Maryland and won a scholarship for a joint program at Salisbury University and University of Maryland Eastern Shore, followed by a master's degree studying the feeding physiology of oysters and mussels at the University of Connecticut Avery Point. She then did her doctoral work at Dalhousie University and the National Research Council of Canada in Nova Scotia, where she studied the post-larval stage in scallops – something the aquaculture industry had asked for help with.
Milke was finishing her doctorate when someone brought a job posting at the NOAA Milford Laboratory to her attention and she joined the lab in 2005.
Milke cites the development of ocean acidification research as a highlight of her time as a research scientist in Milford.
"Around 2010, NOAA started building the brand new Ocean Acidification Program. I learned a whole bunch of new things, because I was a shellfish biologist, not a carbonate chemist," she reflected.
Milke helped build up this science. She collaborated with colleagues at the Woods Hole Oceanographic Institution and Stony Brook University.
"I enjoyed studying shellfish physiological responses to environmental change and working with external partners who bring new ideas and ways of doing things," she explained.
Milke has also enjoyed co-running the Milford Aquaculture Seminar for many years. This meeting, in its 42nd year, brings together the aquaculture industry, academics, and managers to have conversations about the latest research.
"It's one of my favourite things I do. I always look forward to it," she said.
*The content of this article was taken from a feature published on NOAA's website. Click here to read the full version.