Sponsor message
Are you trying to break into aquaculture industry or already working in the field and looking to gain additional expertise for career development?
New training promises to put fish nutrition and improved productivity in the spotlight
CIHEAM Zaragoza, together with the NewTechAqua project, is organising an in-depth course for 30 participants on fish nutrition and health from 5 to 9 June 2023 in Spain.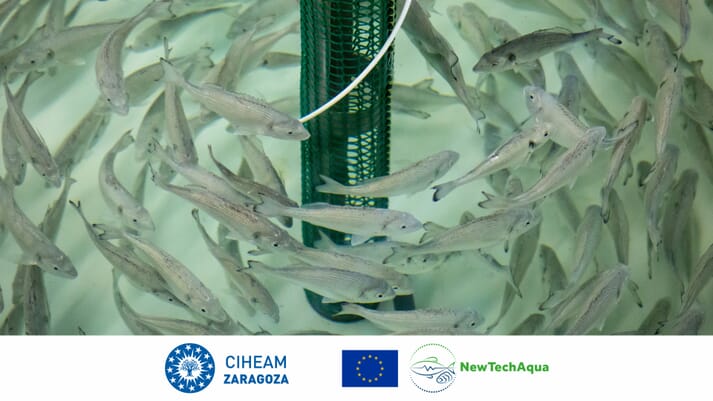 Aquaculture is taking on a more important role as a food source in Europe and the Mediterranean. To improve the sector's competitiveness and sustainability, CIHEAM Zaragoza, a key player in international cooperation for the agriculture and food sector, and the NewTechAqua project, financed by the research and innovation programme Horizon 2020 of the European Union, are organising an advanced international course on feed nutrition, feeding and health in aquaculture.
The training will address the latest scientific advances in nutritional physiology, use of conventional and alternative ingredients and feeding strategies to improve fish health and quality. It also promises to give an overview of new technologies to promote a more sustainable aquaculture industry. It will be given by experts from international institutions and universities, research and businesses from Spain, Italy, Norway and Portugal. The course is designed mainly for professionals, technical advisors and researchers involved in the aquaculture sector.
Bernardo Basurco is the administrator of the area of fisheries and aquaculture of CIHEAM Zaragoza and academic coordinator of the course. He explains: "With this course we aim to provide solutions for the most important challenges that the aquaculture sector faces today, such as how to reduce feed manufacturers' dependence on fishmeal and fish oil from fisheries and at the same time improve fish health and resistance to disease."
Sponsor message
UMass Sustainable Aquaculture Online Courses Aquaculture is an increasingly important source of safe, nutritious, and sustainable seafood for people worldwide. Globally, aquaculture production must double by 2030 to keep pace with demand. These increases in demand for aquaculture products, food security considerations, and job creation have generated an increased need for skilled workers.
Discover how you can be part of this rapidly expanding industry.