A recent study, the results of which have just been published in the journal Aquaculture, found that Vietnamese consumers expressed a preference for farmed shrimp that carried an independent, third-party sustainability certification over conventionally raised shrimp. In the experiment, most shoppers opted for shrimp that carried the ASC eco-label over products without a sustainability certification, or products that carried certifications from VietGAP, Naturland or GlobalGAP. It also showed that three quarters of consumers were willing to pay a premium for sustainably farmed shrimp.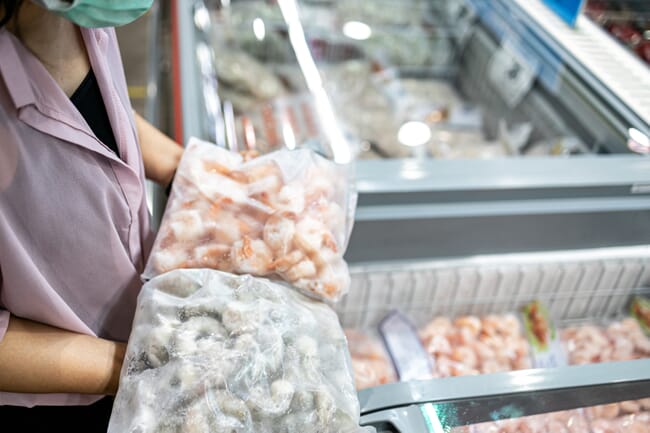 The research also revealed that if a shopper believes that purchasing eco-labelled items can contribute to sustainable aquaculture, they are more likely to opt for an eco-labelled product – suggesting that "ethical consumerism" is not a solely Western phenomenon.
The current sustainability landscape in shrimp aquaculture
Intensive shrimp farming can come with negative environmental impacts like water pollution, mangrove destruction and natural resource degradation. Because of these challenges and increasing demand from consumers, shrimp producers began embracing sustainable practices.
To differentiate themselves from conventional shrimp aquaculture, sustainable producers have embraced market-based tools like third-party eco-certification programmes. These certification schemes usually attach a label to a finished retail product if shrimp farmers and processors can meet environmental and welfare indicators. Proponents of this strategy say that consumers equate the eco-label with improved quality and are willing to pay a price premium. This rewards shrimp producers for their efforts and will drive progress on environmental sustainability.
Despite the benefits of certified-sustainable shrimp aquaculture, its market share remains small. According to a different study by Potts et al, 2016, only 6 percent of 2015's global aquaculture supply came from sources with sustainability certification. Of that 6 percent, developed countries like Norway, Chile and Spain had the largest market share. Countries in the Asia-Pacific region, where the bulk of aquaculture production takes place, were not major sustainable aquaculture producers.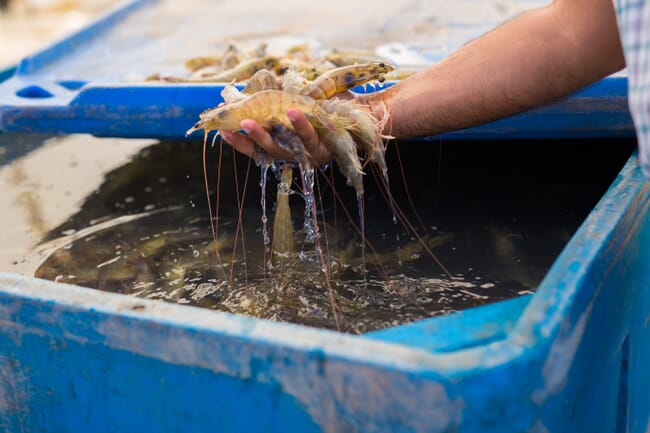 Why focus on consumer choices in Vietnam?
Most research on consumer attitudes to sustainable aquaculture come from the developed world – usually the United States and European Union. They also tend to focus on finfish instead of crustaceans. It's rare to get an in-depth insight into the aquaculture shopping choices of consumers in the Global South.
Vietnam is also an interesting case study because of its profile as a major farmed shrimp producer and consumer. According to FAO data from 2018, Vietnam was the third-largest farmed shrimp producer, after China and Indonesia. This suggests that rank-and-file consumers would be familiar with the industry and how it has changed since the early 2000s.
Vietnam's investment in sustainable shrimp aquaculture
Vietnam created its own better management practices (BMP) and good aquaculture practices (GAP) standards in 2002, along with policies that helped farmers transition towards sustainable production practices. They also created the VietGAP (Vietnamese Good Aquaculture Practices) sustainability certification for retail products. The government hoped that the national standards would encourage producers to meet food safety and environmental requirements, while signalling to importers that Vietnamese shrimp farmers were improving their practices.


Despite these efforts, the implementation rate has been slow. Of the nearly 600,000 shrimp farms in Vietnam, only 313 have received VietGAP sustainability certification. Shrimp producers have said that adopting sustainable practices and remaining in compliance is costly and that government supports are budget-dependent. Policymakers may need to pursue other strategies to incentivise sustainable aquaculture.
The experiment
The researchers carried out mock purchasing experiments with a representative sample of 353 people from Khanh Hoa province and Ho Chi Minh city. They used a direct- and cross-elasticity (DCE) experimental set-up to look at consumers' preferences and willingness to purchase sustainably farmed shrimp products. DCE experiments are useful because customers can select a product among a bundle or opt not to buy anything – similar to a real purchasing situation.
For this test, the study participants could select a shrimp product with four different eco-labels or a product without a sustainability pledge. The products had eight different price points, with the eco-labelled products being in the medium-high range, and non-labelled products being at the low-medium end of the scale. The researchers recorded the product that the consumer selected or if they opted not to purchase anything at all.
Views from Vietnamese shoppers
Analysis of experimental data suggests appetites for farmed shrimp are high – if given the option between having shrimp or going without, consumers opted for purchasing farmed shrimp. It also shows that shoppers preferred eco-certified farmed shrimp over similar products without an eco-label.
As a general rule, when prices for farmed shrimp increased, purchases would decrease. However, consumers were still willing to pay more for eco-labelled shrimps. The researchers learned that the price-sensitivity for sustainable shrimp varied among shoppers. Some were willing to pay a 51 percent price premium for 1kg of sustainably farmed shrimp, while others would only tolerate a 6 percent premium before opting for conventional shrimp.
It also appears that consumer efficacy plays a major role in whether a shopper will purchase eco-labelled shrimp. Researchers learned that if a shopper believes that he or she can contribute more to sustainable aquaculture by purchasing eco-labelled products, they are more likely to opt for sustainable product. They also found that "74 percent of [the] respondents stated that purchasing eco-labelled products can contribute to sustainable aquaculture practices in Vietnam". This suggests that consumers must first believe that their shopping choices impact the food system – they will not change their purchasing behaviour otherwise.
Demonstrating the value of eco-labels
Of the four labels on farmed shrimp products, consumers preferred the labels from independent, third-party bodies over Vietnam's government-backed label. The first choice among consumers was the ASC logo, followed by other independent labels GlobalGAP and Naturland. The consumers did not appear to value VietGAP certification as much as other sustainability standards, saying they would pay a lower premium for shrimp with this label. However, most shoppers still opted for VietGAP-labelled shrimp instead of choosing shrimp without an eco-label.
The researchers felt that this trend presented an opening for policymakers and shrimp farmers. Of the four sustainability standards in the experiment, it is easier for Vietnamese shrimp farmers to comply with the VietGAP standards and then work towards more comprehensive standards like ASC and GlobalGAP. Despite flaws in the VietGAP programme, shrimp farmers can still take advantage of government supports, training and assessments when updating their farms.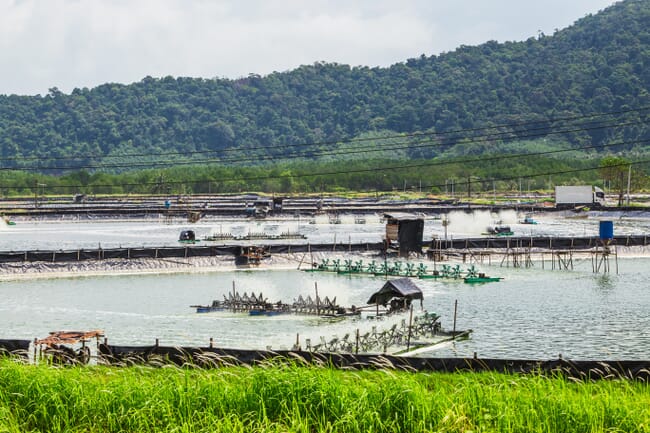 If VietGAP standards were widely implemented, the researchers suggest that farmers could then upgrade to other international programmes required by shrimp importing countries, like Japan and the US. This will improve the market share of Vietnamese shrimp, while also shoring up its reputation among consumers.
The researchers stress that government-led efforts to improve aquaculture sustainability are short-term solutions. They should be used to help farmers invest and transition to more sustainable practices. Longer-term efforts to drive sustainability should come with market-based incentives – like price premiums for certified sustainable products. Raising consumer efficacy is also crucial. This will drive demand and help sustainably farmed shrimp gain market share. In their view, this will satisfy the farmers' bottom line and allow consumers to participate in the transition to sustainable aquaculture.