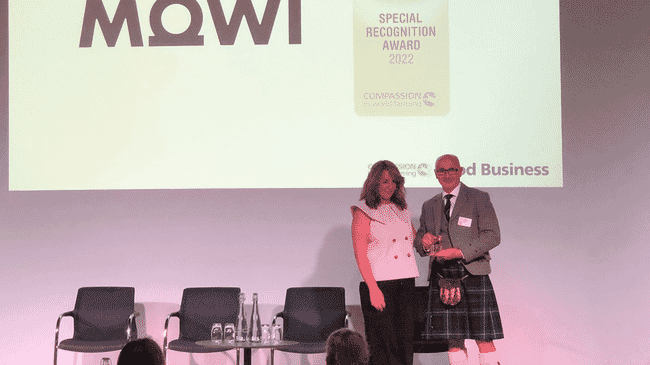 The awards, which took place in London last month, showcase the work of food businesses around the world that make genuine and meaningful improvements to the lives of farmed animals and the sustainability of their supply chains.
Given the urgency of the climate, nature and health crisis, the Good Farm Animal Welfare Awards programme is evolving to encapsulate a more holistic approach to a future fit food system. This includes encouraging transformational change for farm animals, reducing the industry's reliance on animal sourced foods and a move towards more regenerative, nature friendly food production. Many of the award winners at this year's event reflect that shift in approach.
Receiving the special recognition award at the ceremony was Gordon Ritchie, group manager fish health and welfare said, "Mowi and I are very proud to receive this prestigious special recognition award from Compassion in World Farming, which recognises our global standard and commitment on the humane slaughter of our fish using a bespoke percussive stunning system. This commitment applies to 100 percent of our ocean reared salmon from all of our seawater sites around the world, thereby matching CIWF's flagship recommendation.

"As the largest producer of ocean-reared Atlantic salmon in the world, this commitment is set to benefit up to 100 million salmon per annum, covering all our sites in Norway, Scotland, Ireland, Faroe Islands, Canada and Chile."
Improvements in fish welfare are falling behind those for terrestrial animals according to CIWF, mainly due to fish sentience being generally less recognised. However, the organisation said that Mowi, "has demonstrated leadership in this area by becoming the first producer to make global welfare commitments on the rearing and slaughter of Atlantic salmon."
By recognising the importance of fish sentience, Mowi has implemented a global policy on fish welfare and well-being, which includes several other important aspects of husbandry and rearing, in addition to their commitment on humane slaughter. Mowi's current policy also covers topics such as medicine use, stocking densities and fish handling.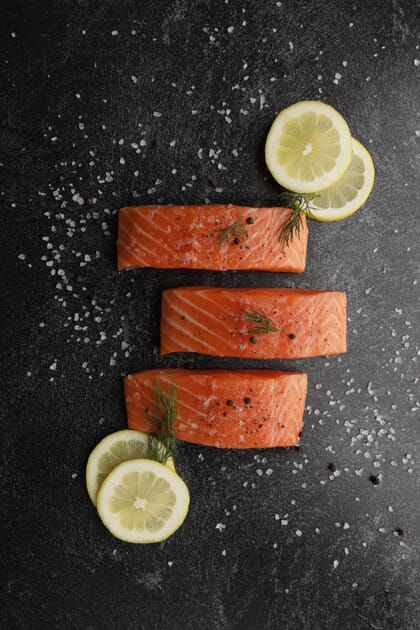 A news release from Mowi explains that by working closely with stakeholders and organisations like CIWF, the company can make continuous improvements to fish welfare while setting ambitious sustainability targets that will make a positive impact on the planet.
Gordon said, "our vision is to lead the blue revolution and unlock the potential of the ocean in a way that respects our planet. This drives everything we do at Mowi.
"With our commitments, and with this award, we want to showcase our standards and contribute towards more focus on fish welfare globally. We hope that by recognising Mowi's commitments, this creates a positive 'ripple effect', and an example to other fishery and aquaculture operators."

Dr Tracey Jones, global director of food business at Compassion in World Farming said, "This year's awards have been truly inspirational with companies showing genuine leadership and motivation at a time when the global food industry has been confronted with serious issues following the pandemic, and now the war in Ukraine. The continued progress for animal welfare is heartening, whilst the ongoing work in the future food space is encouraging and signals that the food industry is ready to tackle one of the biggest challenges of our time – how to build a humane, sustainable, and resilient food system for all.
Following the award, Mowi says it will continue to search for new solutions and practices to advance fish welfare and well-being. Its R&D portfolio includes – but is not limited to – research on infectious diseases, nutrition, production related disorders and harvesting methods.