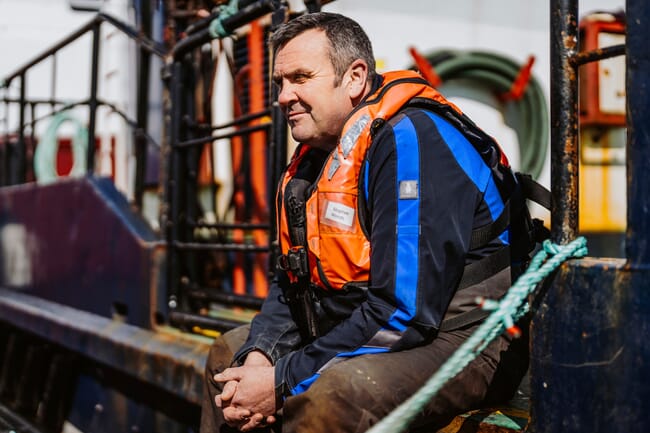 What inspired you to join the aquaculture sector?
Initially, it was out of necessity, because the bakery I worked in closed just before Christmas, so I got a job in the salmon processing plant at South Shian. I was there for four years and was impressed with the size of the fish coming in, so wanted to get involved in the farming side. My boss at the time suggested I'd be suited to a husbandry role. The first generation of fish I worked with, in 2000, was at Cutter Rock [near Oban], then I progressed to senior husbandry, then acting farm manager, before being appointed farm manager at Charlotte's Bay in 2010.
Can you provide some details about your farm?
The farm is 350 m long, so the north side is different environmentally from the South side, which presents its own challenges. Consent is for 1,065 tonnes and we have 10 x 80 m circles, recently fitted with SealPro nets, which are more durable. We're about 500 m away from a seal colony and have had some challenges from predation over the years, but thankfully nothing that ever resulted in any seal having to be killed.
What are the key bits of equipment that you rely on?
The generator on the feed barge is indispensable because without it you can't do anything. And the feed system, of course, because if that's not working then you can't produce any fish.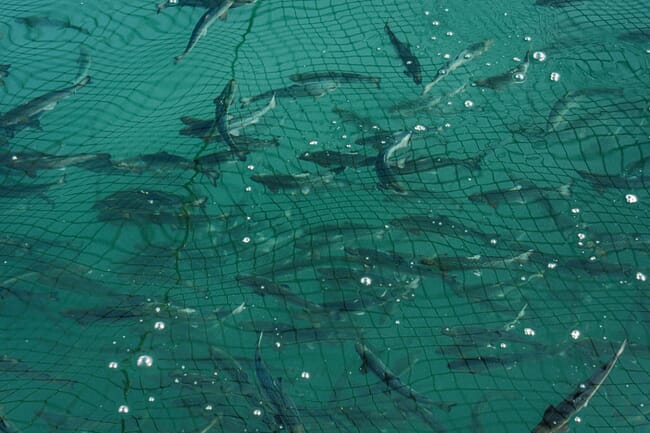 What piece of equipment would you most like to have on your farm?
We have all the tools we need, especially since we got the ScaleAQ winches for the cameras in 2020, which was a big game-changer for us. We had a static camera before, but with this we can move the camera both horizontally and vertically in the pen, take it up to the surface and right down to the bottom, all without leaving the barge, where the controls are. We can now see inside the pen better and it's also good for checking the nets and carrying out inspections.
What are your key responsibilities at work?
In no particular order, the health and safety of the team, the equipment and growing the fish at the lowest cost possible. I say "no particular order" because it's the kind of job where you have to be flexible and adapt to what each new day brings you. I am lucky to have a good team, including Graham Kirkham (senior husbandry) who has worked with me at Charlotte's Bay for nine years.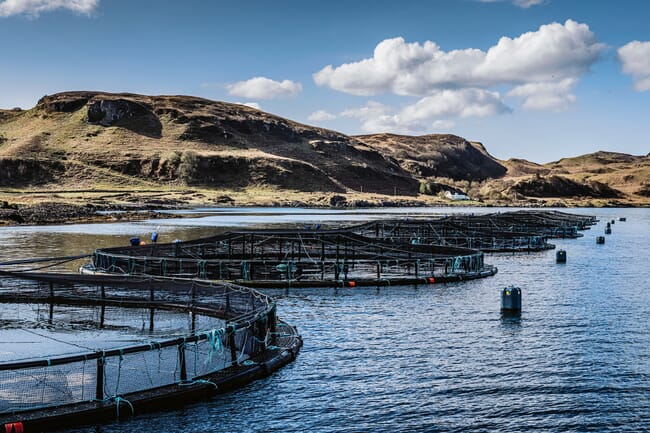 What three bits of advice would you give to fellow salmon farm managers in order to run a good operation?
Look after the fish, look after each other and look after the equipment. If you can stay focused on those three things, you'll do well. People try to over-complicate what we do, but I just try to stick to the same routines every day, every week. It sounds mundane but that's what gets results. No two generations of fish are the same. I'll spend the initial weeks and months after the site is restocked getting to know their behaviour by carrying out pen-side checks, then the remainder of their time on farm watching for even the slightest change in that behaviour. Nothing beats being out on the pens for learning everything you need to know about the condition and health of the fish.
What are the greatest challenges facing you/your team/your fish?
Sea lice and gill disease are the two big challenges. We have had an 18-month cycle – the 2016 generation – growing fish from 80 g to 7.3 kg average weight with no physical intervention at all, but we will use a Thermolicer (which removes lice by passing salmon briefly through slightly warmer sea water) if necessary to keep sea lice levels low. We introduced ballan wrasse in 2010 and now use a mixture of wild and farm raised. The farmed cleaner fish are improving, with the help and know-how of people such as Chris Hempleman, at Otter Ferry Seafish, who really knows what he's doing.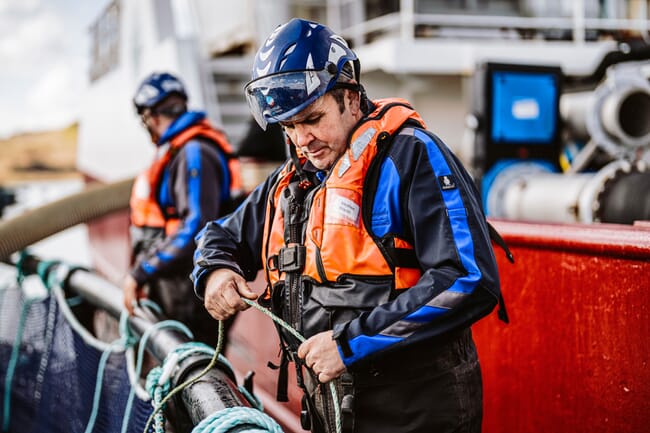 What's your proudest achievement in the sector to date?
It's good to pass on knowledge to my teams, past and present. Equally, they are just as capable of picking up on things I don't know and it's great seeing people develop. Some of the guys I've worked with have gone on to senior husbandry and farm manager roles themselves.
What did it mean to be named the UK's top finfish farmer in 2022?
I was over the moon. For many years now, I've felt well-recognised and respected within the company but to be honoured by the sector as a whole was incredible. At the awards ceremony, people I didn't even know were coming up to congratulate me.
What advice would you give to anyone just starting out in (or looking to join) Scotland's salmon farming sector?
Every day needs 110 percent commitment when you're working with live animals, so be prepared to work hard. It can be an emotional rollercoaster at times, and it can take over your life – my wife says when I get the fish in the water she gets "divorced" for the next 17 months! I'm not as bad as I used to be, but I am always on duty. I have breaks during the cycle but I wait until the end to go away and have a relaxing holiday so I can totally switch off.

It takes a special kind of person to work in this job. When it goes wrong, as it has for me before, that's when you're truly tested. That said, it's a lot easier now than it used to be when I started out because of all the automation. You don't have to stand beside the pen for 10 hours a day now and it's not so physical.
What's your ultimate ambition in the sector?
While it's good to be better than other farms, we measure ourselves against our previous results. Our last three crops have got better and better, with an average end of crop survival rate of 93 percent and average live weight of 6.6 kg over the same five-year period, so my goal is to carry on, being better every cycle.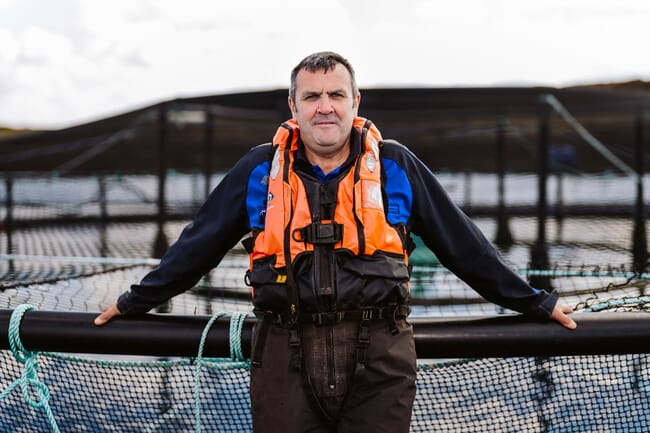 If you could solve one issue in aquaculture, what would it be?
Sea lice. And gill health. Sea lice won't kill the fish but if you have to treat the fish, the gills are compromised. The secret is not to handle the fish – that, I believe, is the key to being successful and the reason for our high survival rates.