Sponsor message
Are you trying to break into aquaculture industry or already working in the field and looking to gain additional expertise for career development?
Meet the farmer: Sailesh Chudasama
Sailesh Chudasama believes that biofloc production – of species including shrimp, tilapia and catfish – can create well-paid jobs and improve food security, both in Ghana and beyond.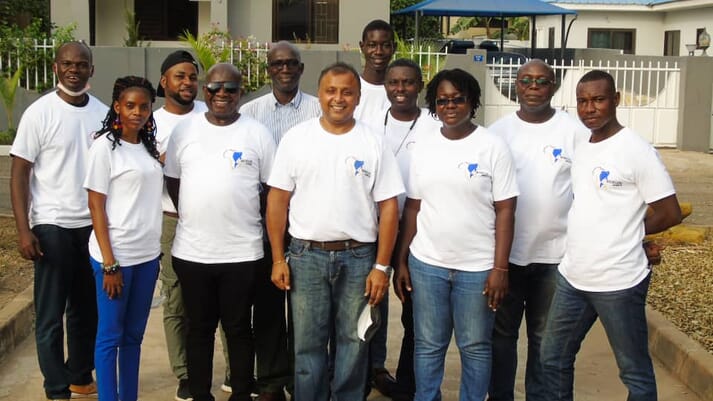 Can you tell me a bit about your background?
I am a holder of a master's degree in information technology. In the course of my postgraduate studies, I spent quite an amount of time on fish farms which were using modern technology, and undertook several training programmes in biofloc technology.
What inspired you to move into the aquaculture sector?
I went to Kenya with an open mind, intending to explore both fish farming and IT applications in business. Aquaculture in Kenya is not technology intensive, even though there are very interesting opportunities. After some time in pond farming in Kenya I decided to explore business opportunities in Ghana, where I started building tarpaulin tanks for fish farmers, and got quite an amount of business building various other structures from tarpaulins. I realised that there was a lot of appreciation for fish farming as a business, and a decent value chain, but there was also not much application of technology, so I started a company to develop and promote biofloc technology.
Sponsor message
UMass Sustainable Aquaculture Online Courses Aquaculture is an increasingly important source of safe, nutritious, and sustainable seafood for people worldwide. Globally, aquaculture production must double by 2030 to keep pace with demand. These increases in demand for aquaculture products, food security considerations, and job creation have generated an increased need for skilled workers.
Discover how you can be part of this rapidly expanding industry.
You've worked in India, Kenya and Ghana – how do the aquaculture sectors (and you roles in them) compare?
The application of technology in aquaculture in India is very high. Many farms, small and large, use biofloc technology. There is quite an amount of government support for research and development, and there are decent subsidies for fish farmers. Of course, aquaculture has a longer history in India than in Ghana. In the last few years, aquaculture in India has enjoyed steady growth, especially in technology applications. But this has not been the case for Kenya and Ghana.

Before ISKN [infectious spleen and kidney necrosis] virus struck Lake Volta, in 2018, aquaculture in Ghana had started gathering momentum. Output on the lake and on farms outside it had started increasing. The disease virtually wiped out the business on the lake, which affected others in the value chain, especially feed millers. Ghana is beginning to recover, but I believe that with biofloc technology can quickly restore Ghana's position as a fish farming nation. I am encouraged by the interest shown in the biofloc programme. I have a good list of people waiting to join our training programme.
Up until the last few years, Kenya was taking steady steps to improve aquaculture. The introduction of a stimulus package by the government attracted a sizeable number of people, and some of them have made decent progress. But the influx of Chinese tilapia has negatively affected fish and marine farmers, and people in fish marketing and processing. Some efforts are being made – at both national and county level – to change the situation, so I am optimistic about the future.
I must also say that, in both Ghana and Kenya, too much attention has been paid to cage farming on Lake Volta and Lake Victoria respectively. Even though the policy makers meant well, there are arguments that pond culture, and perhaps systems like RAS and biofloc, would have fared better if cage farming was not given preference.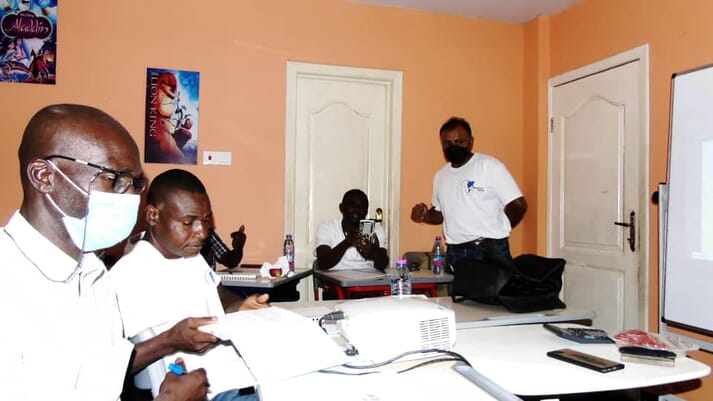 Have you farmed fish yourself?
In India I worked with quite a number of fish farmers involved in technology applications for ten years. I spent most of the time at the on-farm laboratories ensuring that equipment for ensuring smooth operations are working. In Ghana, I have setup a pilot biofloc unit that serves as a training setup and also as a proof of concept.
What are the main advantages of biofloc?
It is a system for improving the quality of water in aquaculture by balancing carbon and nitrogen. It is a sustainable method of controlling water quality, which enables you to convert waste material into microbial protein, to provide valuable supplementary feed. I believe that biofloc technology can transform aquaculture in Ghana and Africa. Through biofloc technology, we can solve the problem of high feed costs whilst multiplying farm output. We also change the waste disposal problem into a blessing, by transforming waste products into useful bacteria that increase the growth rate of the fish. And, because products of biofloc technology are organic, farmers enjoy premium prices.
How and why have you been promoting biofloc in Ghana?
I have done some media promotion, which has been very well received, and I have started running training programmes for investors and fish farmers. My initial group of trainees are in the process of starting their farms.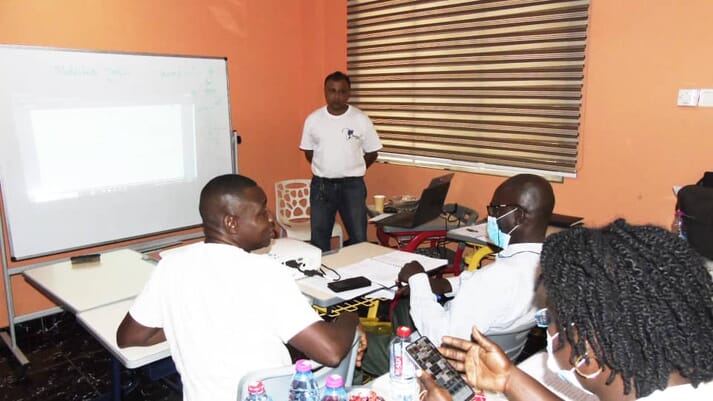 My main reason for doing this is that Ghana deserves to produce much more fish than it is doing now. It imports 60 percent of the fish it consumes, due to the sharp decline of marine fish catches. There are a sizeable number of educated Ghanaians who, with the training we impart, can earn good incomes producing quality organic protein. Moreover, African fish farmers do not deserve to spend 70 percent of their budgets on feed, because biofloc technology enables the farmer to enjoy lower feed conversion ratio, while deploying small amounts of feed, especially protein.
What advice would you give to fish farmers in Ghana who are considering implementing biofloc systems?
This is the technology of the future. However, one must acquire the necessary skills. This is very important. And join a programme like ours which provides constant support all round.

What's the cost of setting up a biofloc system?
With around US$3,000 an investor can get fully started. Organic fish produced in a biofloc system fetch close to twice the market price, making it quicker to recoup your investment.
What species do they work best with?
Biofloc works best with tilapia and shrimp. However, other species such as catfish have also been observed to do extremely well in this system.
How do you think aquaculture can help to feed Ghana's growing population?
Through aquaculture, Ghana and Africa can plug the gap between fish supply and demand, and save the vast amounts currently spent on fish imports. Fish is a valuable protein source which will enhance food security. And most importantly, aquaculture is recognised as one of the most profitable businesses anywhere, today. Aquaculture creates many jobs across the value chain.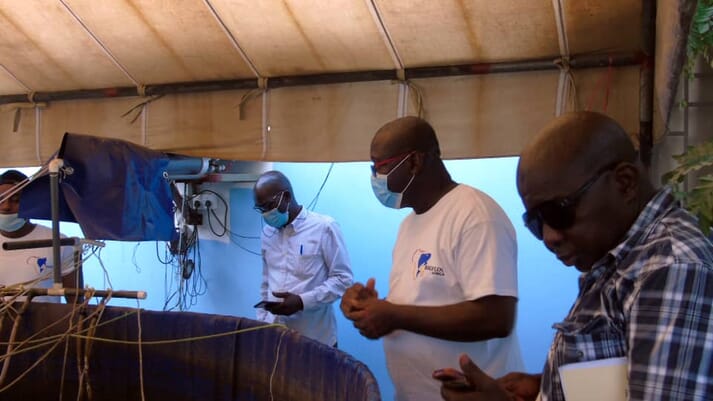 What's your ultimate ambition in the aquaculture sector?
I would like to impart my knowledge to as many fellow Africans as I possibly can. And help as many African entrepreneurs as possible set up successful biofloc farms.