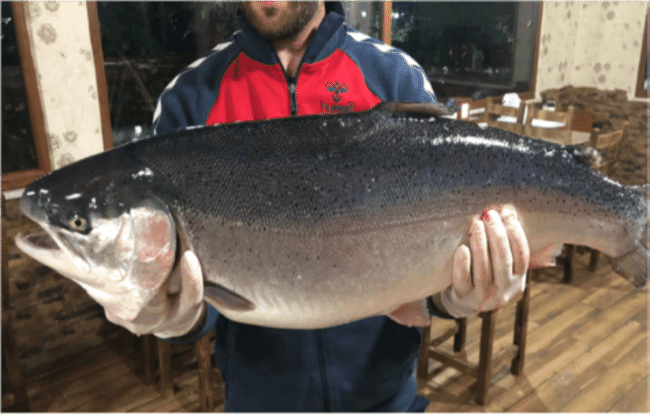 Turkey is a transcontinental nation that straddles both western Asia and southeastern Europe. Its 8,333 kilometres of coast include access to four productive seas, and it also has a multitude of inland rivers and lakes – making it highly suitable for aquaculture.

Commercial aquaculture started in the 1980s, when trout were grown in rivers. Over the ensuing decades, operations expanded to wooden cage culture along the coast and in reservoirs. Since then, production has increased a hundredfold – from 3,075 tonnes in 1986 to 373,400 tonnes in 2019 – of which 68.8 percent is produced at sea, making the country the ninth highest marine finfish producer. Aquaculture accounts for 44.6 percent of its seafood production, up from only 9 percent 20 years ago, making it the country's fastest-growing food production sector. Besides Norway, Turkey is the main driver of aquaculture production increase in Europe.
The Turkish Marine Research Foundation (TUDAV) recently published a book entitled Marine Aquaculture in Turkey: Advancements and Management. It covers all aspects of mariculture including legislation, planning and management, species updates, challenges, innovation, plus realistic outlooks for the future.
We spoke to TUDAV's founder, Prof Bayram Öztürk, who started the foundation to protect Turkey's coastal resources while working at the Istanbul University by setting up marine protected areas, and conducting education and research activities.
"We published the book to create awareness of aquaculture as one of the most important sectors for the blue economy and blue growth, by painting a picture on where we are and how we can do better. In addition, TUDAV aims to contribute to UN Sustainable Development Goal 14, life below water, and the Ocean decade framework," he says.

Turkey currently has 434 operational marine aquaculture facilities, mostly producing gilthead seabream (Sparus aurata) and European seabass (Dicentrarchus labrax). Production of seabream and seabass grew rapidly over the past two decades, due to technological advances and knowledge of biological requirements. Turkey is currently the world's top producer of these species, supplying 40 percent of global demand.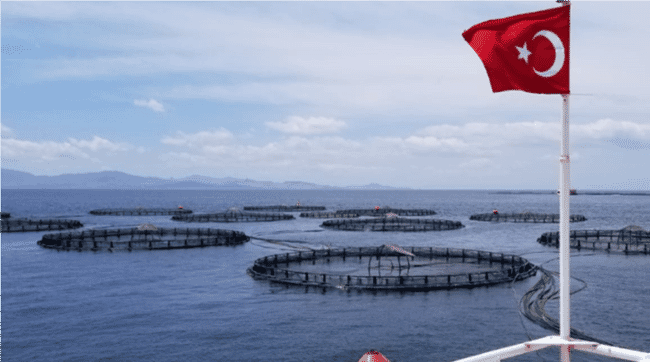 Trout (Oncorhynchus mykiss and Salmo trutta labrax) are mostly cultured inland but the government is also promoting trout culture in the Black Sea. Marine trout, also called the Black Sea trout, has an annual production of 9,700 tonnes. Other cultured species include meagre (Agryrosomus regius), Shi-drum (Umbrina cirrosa), pink dentex (Dentex gibbosus) and blue spotted seabream (Pagrus caeruleostictus). The country also fattens wild-caught Atlantic bluefin tuna (Thunnus thynnus) with a production capacity of 6,340 tonnes. Continued industry growth is ensured by 20 hatcheries, 23 feed plants and over 200 seafood processing facilities.

Given all these, how did Turkey develop its aquaculture industries so quickly?

Strong government support
The close relationship between the aquaculture sector and the Ministry of Agriculture and Forestry played a critical role in boosting local aquaculture development.
"The links between the private sector, the government and universities are very strong," explains Öztürk.
The Turkish government has provided the sector with support in the form of subsidies totalling over €600 million between 2003 and 2016, while promoting environmental sustainability in the sector.
Together with technological innovations, these subsidies have made it possible for the aquaculture sector to grow considerably. The continuation of growth after the subsidies for seabream and seabass production stopped in 2016 shows that the segment has become self-sustaining. Currently, support is provided for the production of trout, mussels, carp and new species, plus production in RAS and soil ponds.
Strict rules
Turkey has a strong legislative framework for aquaculture, harmonised with EU directives and standards which facilitates the export of 80 percent of its aquaculture products to EU countries.
The current aquaculture regulations came into effect in 2004 with the goal of guaranteeing the efficient use of water resources, food security and the overall sustainability of aquaculture projects by safeguarding the environment. They cover rules on site selection, applications and evaluation procedures for licenses.
Marine fish farms are closely monitored on their activities and impacts. Regulations also control physical, production, social and ecological carrying capacities. Since 2020, all farms are responsible for preparing and following approved environmental management plans.
Moving offshore
Turkey makes use of aquaculture zones at sites where impacts on the environment and other sectors are minimised. Aquaculture zones were identified through studies conducted by the government and the Worldbank.
Nearshore farms have been moved offshore to avoid conflicts with other sectors and reduce pollution. A specialised aquaculture-based organised industrial zone is being established in Adana province, which is expected to attract an investment of €175 million produce 16,500 tonnes of seafood annually.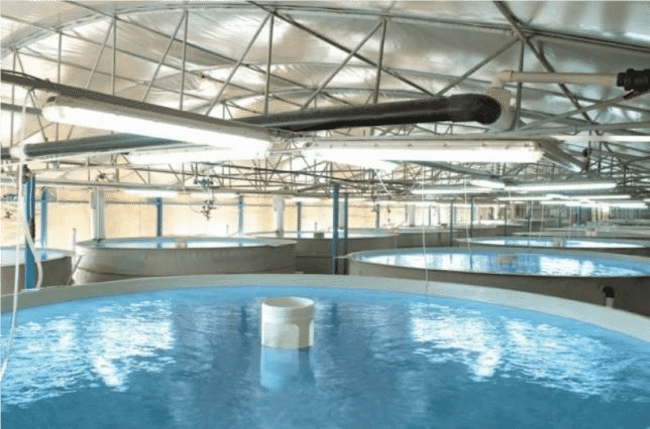 Knowledge and understanding
Turkey also has a highly-developed scientific community that specialises in aquaculture. It's made up of five government research institutes and four university marine science institutes, providing the necessary knowledge for the sector to grow.
TUDAV publishes studies in peer-reviewed journals and has published over 60 books on marine issues. The plan for next year is to write a book on the status of Atlantic bluefin tuna. The idea came from what Öztürk learned on his recent trips to Japan, where tuna are raised from hatchery-reared fry as opposed to the fattening practices of wild-caught tuna in the Mediterranean. Öztürk wishes to achieve this in Europe too, since he believes wild stocks might soon be depleted."Countries should work together to bundle funds, labour and knowledge," he reflects.Öztürk remarks that the success of Turkish aquaculture is due not just to its competitive regional position, crystal-clear waters and improved feeding techniques, but also to its 40 years of hard-learned experience in the industry.
Drawbacks
It's not all plain sailing and, like every region, Turkey still faces its share of aquaculture challenges.
Operators and their stock must still contend with various diseases – such as vibriosis, photobacteriosis and aeromonad infections. Probiotics, herbal immune-stimulants and vitamins are regularly added to feeds to develop the immune systems of farmed stock. Fish vaccines are also used to protect against various diseases.
Feed prices remain relatively high due to the need to import most fishmeal, oil and feed additives. On the other hand, labour costs are lower than in most countries that produce seabream and seabass.
Markets for Turkish seafood
A disadvantage of Turkish aquaculture is that a few large companies dominate production, making it hard for small players to enter the market.
The seabream and seabass markets are mainly in Europe. Domestic consumption remains relatively low and the producers are dependent on their market prices which have decreased in recent years, with some farms occasionally selling their fish below cost price.
However, Öztürk sees growth opportunities on the horizon.
"Turkey is a large country, with a population of over 85 million people. Fish consumption is rising, due to the efforts of the government promoting fish as a healthy product with a low carbon footprint," he notes.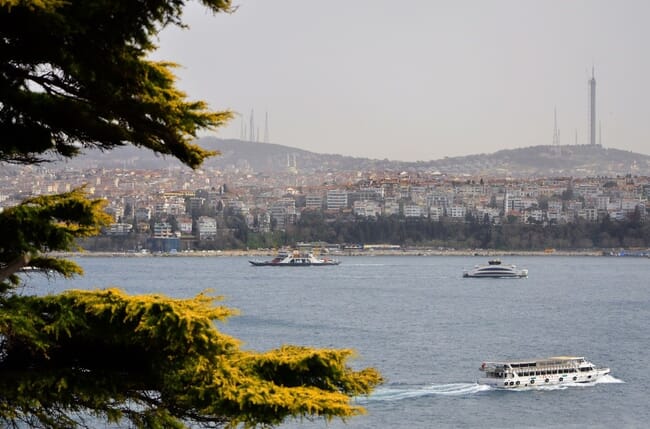 The future

Turkey is targeting aquaculture production of 600,000 tonnes, with an export value of €1.6 billion by 2023. To meet these targets sustainably, TUDAV's book mentions some key actions for the future.
It recommends increasing species diversity through the development of growing new species such as amberjack, grey mullet, meagre and white grouper. Lower-trophic seafood like grey mullet, aquatic plants, crustaceans, molluscs and bivalves are of particular interest, since they greatly reduce fishmeal and oil requirements, one of the main sustainability issues of aquaculture. Öztürk agrees and recommends that the industry focus on oysters, mussels, shrimp, turbot, sturgeon and Black Sea trout.
It is also envisioned that improving factors such as feed quality and consumption, using innovative technologies like automatic feeding systems, cameras for fish monitoring, real time water quality monitoring systems, RAS, renewable energy sources, engaging in IMTA and strict water discharge criteria will greatly improve the sector's environmental sustainability.

Finally, new production areas should be identified and developed to reach the country's ambitious but achievable targets.
As the fastest-growing food production sector in the country, Turkish aquaculture advances provide a fine example for other countries to emulate, placing sustainability and environmental protection high on the agenda while consistently producing high-quality and highly popular products.
Though implementing strict regulations might be interpreted as a limitation for future growth, Turkish aquaculture has for the past 20 years shown that if you take care of the environment, it takes care of your business.