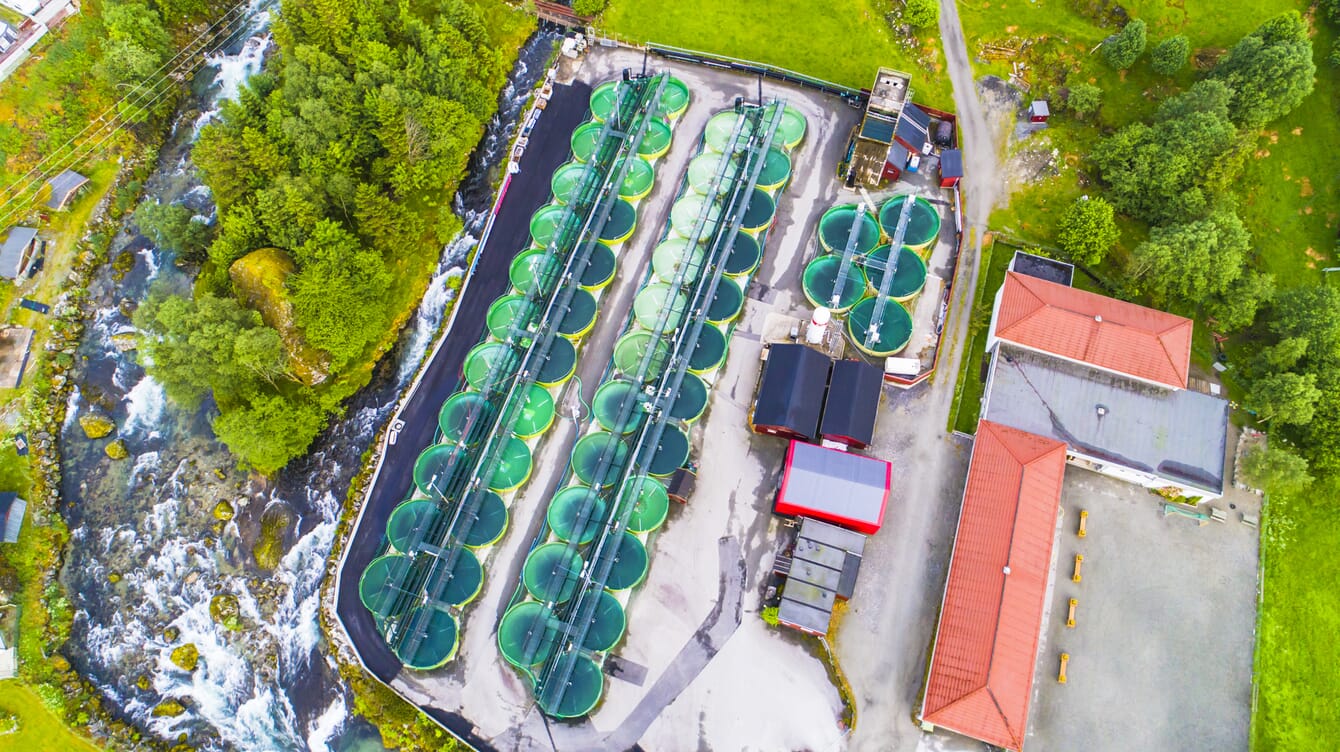 Land-based salmon farming offers many benefits to both the fish and the environment. And, with no licence barriers to entry, land-based farming has been a hot topic in the capital markets, with the development in recent years of multiple onshore projects.

Recent Norwegian aquaculture analysis from Ernst & Young shows that more than two million tonnes of land-based salmon capacity globally are planned. In the past year alone, projects have been launched with a capacity to produce over a million tonnes of salmon. This growth is capital-intensive, and will require an investment of more than €20 billion to succeed. Banks have been hesitant to finance these projects, as they are still perceived as high risk, so most of the capital has been raised from private investors.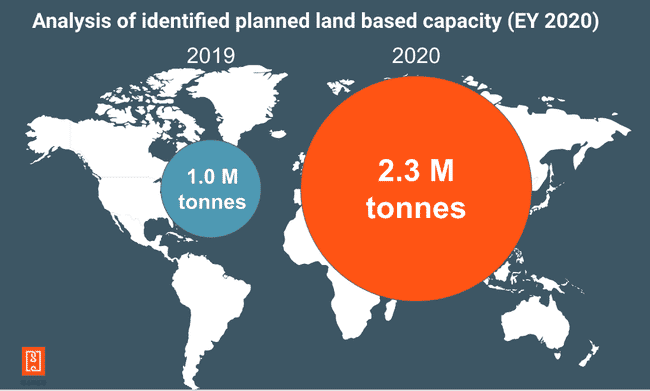 Land-based farming still faces considerable technical challenges

There are currently two different systems for land-based farming and choosing which technology to use depends on the location. Recirculating aquaculture systems (RAS) can be placed anywhere, while more traditional flow-through systems (FTS) have to be near a coastline. RAS technology can therefore be placed near the market, reducing water consumption and savings with lower energy use. However, RAS have much higher operational complexity than FTS and require more capital expenditure and land area. Globally, our analysis shows that there is a clear trend towards RAS rather than FTS as the preferred technology for land-based farming. However, all land-based salmon farming, and especially RAS technology, is not free from challenges. A major challenge is the adequate control of microbial conditions and the chemistry of the water. Recent incidents from large land-based facilities show how the sector can suffer from mass mortalities, while the fish can be tainted with an earthy flavour because the biological conditions in land-based facilities are still difficult to control and very young fish are sensitive to poor water quality.
Aquaculture expertise is key to succeed with land-based farming
However, capital and technology are not the only critical factors to succeed in land-based farming. From working in the Norwegian salmon industry we see that the knowledge that Norway has generated in state-of-the-art RAS facilities during the last 20 years has been very attractive internationally, especially in connection with the farming of other species. Onshore systems, and especially RAS, are extremely complex to manage and require broad and deep expertise across aquaculture farming and fish biology in order to understand the complexity and integration of technology to support the biology. Aquaculture expertise is therefore one of the most important factors to ensure optimal biological performance and the successful commercial operation of a land-based farm.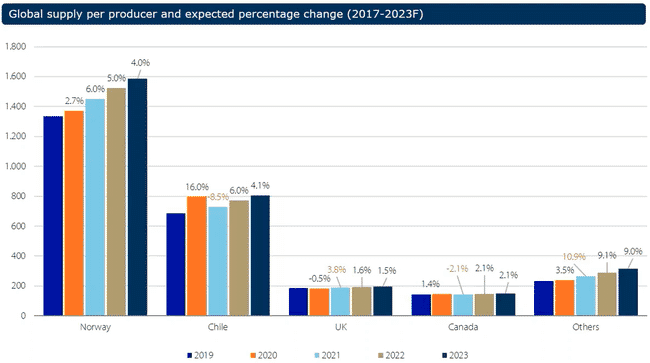 Slowing growth for sea cage farming, land-based salmon must seek premium prices

Since 1995, the supply of Atlantic salmon has increased by 478 percent (annual growth of 8 percent). However, Kontali Analyse expects growth to diminish and has projected a 3 percent annual growth rate from 2019 to 2023. The background for this trend is that the industry has reached a production level where biological boundaries are being pushed to their limit with the current licencing regime and challenges with social licence to operate.
This is where onshore salmon farming has an advantage over sea cage farming. Land-based fish farming offers many benefits to both the fish and the environment and means that salmon can be produced close to large consumer markets, like China. So far, the market has responded well to the increased production of salmon, supported by the Norwegian government's efforts to promote Norwegian salmon in all major high-end markets through The Norwegian Seafood Council. This has been the main reason why Norwegian salmon is sold in more than 140 countries around the world.

Farmed Atlantic salmon is a versatile product, which can be used for a variety of categories such as smoked, fresh, sushi, as well as ready-meals. Salmon has a good market fit with all macro consumer trends as a healthy, climate friendly, resource-efficient and tasty protein source. As in most commodity industries, producers of Atlantic salmon experience high volatility in the price achieved for the product. The average price (GWT based) for Norwegian whole salmon since 2010 has been about €5.2/kg. However, many producers of land-based salmon are looking to achieve a premium price, in order to cover the comparatively high production costs.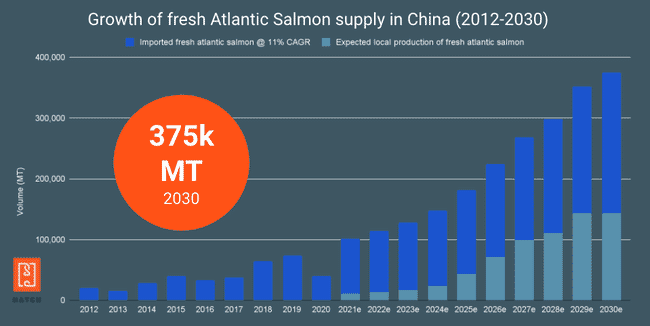 Case study: land-based salmon in China
A recent analysis of the Chinese farmed salmon market, undertaken by Hatch Innovation Services, forecasts an annual demand for 375,142 tonnes of fresh Atlantic salmon in China by 2030. This figure is expected to be met both by growth from imported fresh salmon (231,642 tonnes), local production of salmon from RAS (130,000 tonnes) and deep sea farming (13,500 tonnes). This will undoubtedly cause an increase in competition in the domestic market from these different sources.
Chinese consumers have historically been very sensitive to locally produced food, due to several food scandals and a lack of confidence in quality and safety of these products. There is very little information on how Chinese consumers will react to locally produced Atlantic salmon in comparison to imported salmon. Building a strong brand with clear brand attributes and high food trust will be important to be able to compete and achieve a premium price compared to other salmon products that have built a strong market and brand in the Chinese market.

Building the sustainability credentials of land-based farming
One of the most compelling stories around land-based farming has been its improved sustainability. Closeness to market and the reduction of air-freight has been the main differentiator to position onshore farming as a more "sustainable" salmon product compared to salmon being produced in traditional open sea cage farms on the other side of the world. However, a report from the leading aquaculture research institutions in Norway – Sintef, NTNU and SNF – which compares land-based farming and net pen production in Norway, concluded that land-based production of salmon in Norway will have a 28 percent higher carbon footprint than net pen production.
This figure is highly dependent on FCR ratios, the electricity mix and the fact that land-based production is still nascent, and therefore little empirical data exist. This report gives an indication that, from a global perspective, the environmental benefits of land-based production compared to traditional open pen production is not clear cut and that land-based farming needs to work harder at building its sustainability credentials. At the same time sea-based farming isn't standing still. For example, we see salmon farmers launching new pilot projects from road to sea, using low carbon fuels and new freezing technologies to support long-distance sea transportation routes. Innovations like this, if successful, will reduce the carbon footprint of sea cage farming, further putting pressure on land-based farming to prove its sustainability credentials.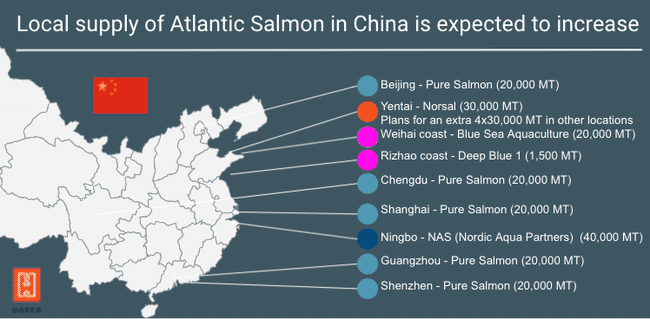 Can land-based farming deliver for investors?
Land-based farming promises high EBIT margins, but is still viewed as a high risk investment. Future financing of RAS projects is expected to be challenging given the recent incidents with RAS grow-out projects and the financial market situation. On 12 July, DNB Markets downgraded Atlantic Sapphire after an incident at the company's RAS facility in Denmark, which caused the loss of 17 percent of the farm's biomass.
Land-based companies Proximar Seafood and Nordic Aqua Partners are trading at prices corresponding to approximately net cash. This means that no potential or growth has been priced into valuation. If this trend continues, it will have a major impact on the companies' abilities to attract equity and debt financing. With recent negative public market sentiment and increasing interest rates, Hatch expects cost of financing for RAS projects to increase.

Our analysis of land-based and net pen salmon production models shows that capital expenses for RAS farms is far greater than for net pens, per unit of annual production. At the same time, production costs in Norwegian salmon farming have increased significantly; in 2005 production costs amounted to €2.14 / kg, while by 2019, this had increased to €3.76 / kg (source: Norwegian Directorate of Fisheries). The increased production costs have been mainly driven by higher feed prices and costs associated with environmental and health challenges. Higher feed costs were in turn driven by increased feed prices as a result of an increase in the price of input factors, as well as a depreciation of the krone.
Smolt costs have also increased somewhat in the period, as a result of the transition to larger smolts and increased investments in connection with RAS facilities. In addition, real wages have increased somewhat. Adding air freight costs on top of these increased production costs is reducing the cost differential between land-based and net pens, making it realistic that land-based farms will one day be able to compete with the costs of open sea cage farming. If it's possible to combine this with premium prices, land-based could truly deliver its commercial promise.
However, the jokers in the financial models for RAS salmon farming are density, the maximum standing biomass the system can support and the risk of mass mortality events.
In conclusion
The business case for setting up land-based salmon projects close to large consumer-driven markets can be compelling. In many salmon farming regions, there is strong opposition to open cage farming, which is struggling to maintain its social licence to operate. Meanwhile, in those regions where open cage salmon farming is not possible, land-based farming is the only game in town if operators want to farm salmon. However, as this article has discussed, there are still many challenges facing land-based salmon farming which need to be addressed before it can fully unlock the commercial and financial potential.
Finally, looking to the future, it is clear there's no single salmon farming solution that fits all regions. Sea cage farming, semi-closed/closed farming in the sea, offshore and onshore farming will all be important for support the growth of a sustainable aquaculture industry, depending on local environmental conditions and infrastructure. It is also clear that this is a journey with many new opportunities and pitfalls still to come but we believe that we will eventually get there; the critical question is how, when and who will be successful.
*Hatch acquired The Fish Site in 2020, but we retain our editorial independence.