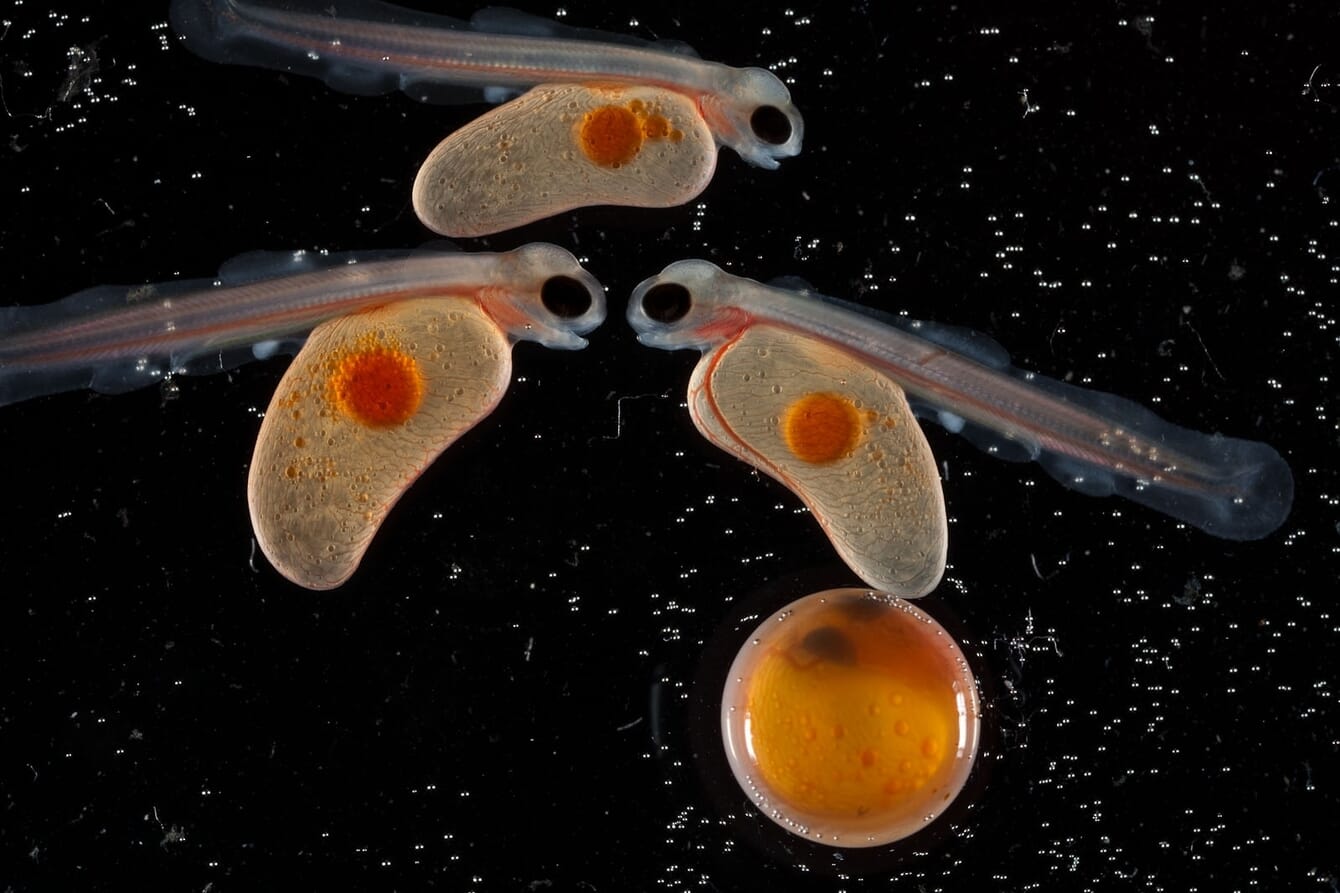 "Land-based salmon production is now really happening and for many producers access to disease-free eggs is one of their first priorities. We've been in contact with the new companies from a very early stage and want to be a partner in this growing segment," explains Geir Olav Melingen, the division's commercial director.
Benchmark's faith in the sector, and their hope to remain a key player in it, is reflected by expansions to their team as well as recent investments in their hatchery in Iceland, which is currently being kitted out with 10,000 additional incubators in a new facility in order to cater for projected increases in demand for eggs.
"There are land-based salmon production facilities with a combined capacity of more than 2 million tonnes in the pipeline. About 90 percent of these are in RAS. Even if only a fifth of these projects are realised, it will still be a massive number of eggs needed. And we are trying to be proactive about increasing our capacity," reflects Melingen.

Although Benchmark has several breeding centres, including the recently opened site in Salten, their Iceland facility is the primary source of ova for land-based salmon production – due to the unique levels of biosecurity, Icelandic eggs are permitted to be widely exported. Given the range of geographies where new salmon farms are planned, this gives Benchmark a unique advantage, and the company currently exports to over 20 countries in Europe, the Americas, Asia and Africa. Their upgraded Iceland facility will be capable of producing 200 million eggs a year and Melingen notes that there's scope to increase this to 350 million eggs a year "with minor investment".
Of the current 200 million, around 20 million are being sold to land-based salmon producers, but this proportion is likely to rise in line with the projected increase in the land-based sector. Delivery of these eggs is much more regular than in the conventional salmon sector and one of the key demands of land-based producers is the regularity with which they require ova – which Benchmark is well placed to cater for, given that they can provide eggs from Iceland in any of the 52 weeks of the year.
"Unlike in conventional net-pen farming, which operate on a single year class policy and are stocked with either S1 or S0 smolts, they want deliveries every 4, 6 or 8 weeks," explains Harry Tziouvas, who recently joined Benchmark as RAS sales manager. "Regular inputs allow them to provide a continuous supply, as most will supply local markets with fresh Atlantic salmon.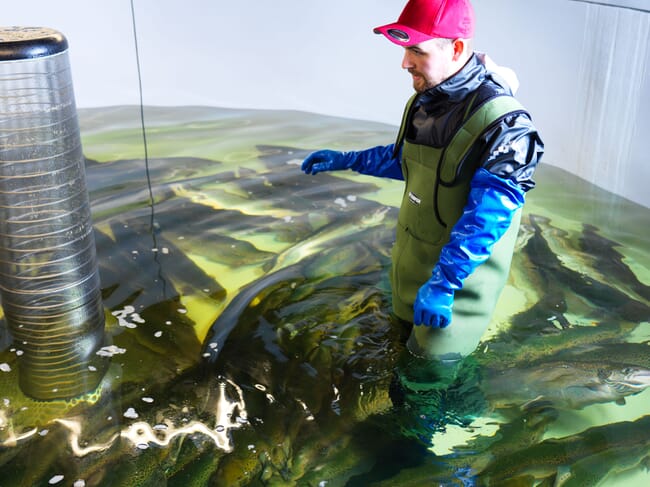 Key customers
Benchmark was the first provider of eggs to Atlantic Sapphire's Florida facility and remains the main supplier there, but the company is keen to highlight the wide range of projects that they are providing eggs for.
These include Pure Salmon, which has ambitions to produce 260,000 tonnes a year from a series of RAS facilities, each with 10-20,000 tonne capacity, in markets including Japan, China, the Middle East, the US and Europe.
AquaCon, which aims to produce at least 48,000 tonnes a year in Maryland, is another that they wish to highlight."They have plans to work closely with local universities and local communities, and they have a strong focus on sustainability and animal welfare. They have designed an exciting project in close collaboration with University of Maryland, where I spent some of my time during my PhD," says Melingen.
Benchmark has also developed a close working relationship with Salmon Evolution, which aims to produce 36,000 tonnes of salmon in a unique hybrid flow-through facility in Norway. Personnel from both companies will be spending time in each other's facilities, collaborating to ensure the optimal quality of the land-based salmon, in a bid to help reduce issues with off-flavours once Salmon Evolution starts production in earnest.
Danish Salmon, one of the original salmon RAS, is another partner, with whom Benchmark has undertaken much of their RAS-related genetics work, and is a customer that enjoys collaborating with key suppliers.
Production efficiency
Land-based systems currently require a comparatively high number of eggs per kilo of salmon produced, in part due to the tendency to harvest smaller fish, reflecting that fine-tuning of these new systems is required on the technical side, especially in RAS. However, the Benchmark team sees this as changing over time, due to the biosecurity of these more contained systems.
"It's currently close to 2 kg of salmon produced per egg bought. Today, 2.7-3 kg harvested fish per egg is more what you expect from conventional salmon farming. However, in the long term it is likely that land-based farmers will be able to produce 3 kg of salmon for every egg they buy," Melingen explains.
"My understanding is that they order more eggs to act as a buffer should any incidents occur, until they have reached a steady state – in other words reaching carrying capacity in their facilities," says Andrew Preston, who was recently hired as the company's global RAS technical manager and has been in the RAS sector for four years. "But it's my experience that overall health management is much simpler in land-based systems – where strict biosecurity practices can diminish the threat of viruses, bacteria and parasites entering the facilities."

This may, however, change over time.
"While there are fewer issues with diseases in land-based farms than in the sea, there are likely to be other health challenges that emerge as land-based farming scales up – these could include issues with hormones or bacterial diseases," Melingen predicts.
Currently, however, the biosecurity afforded in RAS means that producers are typically looking for salmon with different traits compared to net pen producers."
Marine sites producers are typically looking for fish with a degree of resistance to challenges such as IPN, ISA, AGD, PD, CMS and sea lice, in different combinations. Without so many disease challenges, producers in land-based systems are mainly looking for traits such as growth, maturation [ie fish that don't mature too early, as this results in downgrades] and fillet quality," says Tziouvas.
Maturation is one of the key issues, agrees Melingen, particularly in those farms which only use freshwater and those with warmer water conditions. This is why Benchmark's range includes all-female, and all-female triploid options, and the team point to a number of studies to support their claims for reducing maturation levels through the use of these lines.
"From working closely with our customers, we have collected a lot of experience that we share to help them make an optimal choice, based on their set-up," explains Melingen.
However, Melingen adds that while some adaptation is possible, using clever breeding programmes, it is essential – above all – for farmers to provide the optimum conditions for their fish.
"It's much easier to adapt your technology to suit the biology of the salmon than the other way round," he notes.
Technology
Technology used in land-based systems, including RAS, has been evolving as the sector has been growing.

"The scale is one of the biggest developments," says Preston. "Initially companies were looking to produce hundreds of tonnes, now 4,000 tonnes are about the minimum, due to the economies of scale required. These improve up to about 20,000 tonnes, after which they level out."
As for the equipment providers and designers of the facilities?
"There are a range of designers out there and each has a different technique for treating the water. I'm quite certain that there will be adaptations to all of these systems and that fine-tuning will occur, so all companies have an equal chance to succeed," Melingen argues.
Looking ahead
The team at Benchmark predicts that land-based salmon production will reach around 350,000 tonnes globally by the end of the decade, with 90 percent of this figure being accounted for by RAS.
"Growth might be slower than expected in 2021-2023, but after that it will be steeper and I wouldn't be surprised if it reached 500,000 tonnes by 2033," reflects Melingen.
But they believe that once operators have become accustomed to their systems then things should speed up.
"New systems take a period to break in, to reach a steady state – it's typically be anywhere from 18 months to five years," says Preston.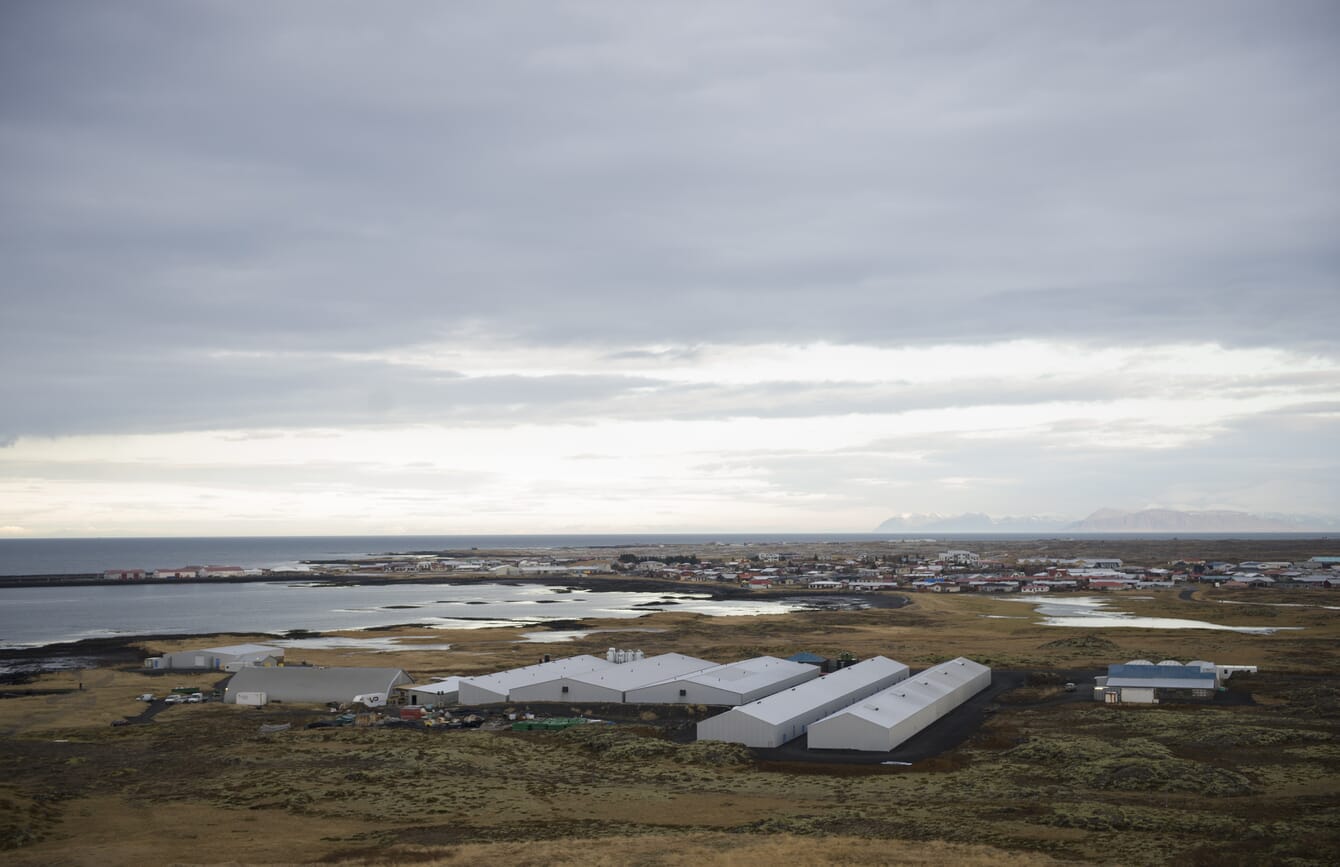 However, they are also aware that the sector still has many challenges to overcome.
"What happens to Atlantic Sapphire is very important and will define the willingness of investors. The sector needs a good success story," notes Birgitte Sorheim, marketing director.
Finding and training talented personnel is also essential.
"It's important to have experienced people within the RAS sector to ensure its growth. So many companies are getting funding but there's not so much experience out there, which could potentially lead to a major bottleneck," reflects Tziouvas.
And the team at Benchmark aims to help address this.
"We don't just supply eggs, but we also provide support for our customers," says Tziouvas. "If they don't succeed, then we don't succeed. This is something that we live by."
As for advice to land-based operators?
"From a systems perspective it's important to ensure that all redundancies are in place, to ensure fish welfare, and to maintain an optimal environment. It's also important to have a robust production plan and stick to that," says Preston.
"Establish a close relationship with key suppliers and be willing to collaborate with other producers. Be 100 percent transparent and learn from each other. We've seen how this has worked well for conventional, net pen salmon farmers and we think that the land-based sector should be doing the same," adds Melingen.
There are plenty of challenges that need to be overcome in the land-based salmon sector, but Benchmark's recent investments suggest that they believe that the challenges are by no means insurmountable. It will be interesting to see how genetics – teamed with experience – will be able to influence the long-term success.