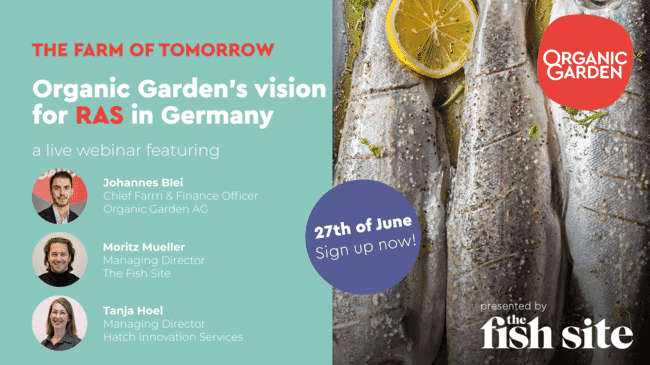 RAS industry members, investors and facility providers are invited to join our live webinar ­– Organic Garden's vision for RAS in Germany – on Tuesday 27 June at 3pm (UTC+1) featuring guest speakers Johannes Blei, chief farm and finance officer at Organic Garden; Tanja Hoel, managing director at Hatch Innovation Services; and Moritz Mueller, managing director at The Fish Site.

The speakers will delve into the vast potential and innovative development of recirculating aquaculture systems (RAS), as well as Organic Garden's ambitious goal of integrating RAS into its plans to set up a network of land-based farms that synergistically and sustainably produce fish, insects – that will be used as feed for the fish – vegetables, algae and mushrooms, which are then sold to large-scale catering businesses, as well as directly to customers, across Germany.
Hoel will discuss the future potential of RAS systems, what the current challenges are, and the important risk factors to mitigate to successfully grow and mature the RAS market in the future. She has two decades of aquaculture industry expertise in innovation, research and development, and technology advancement within the salmon farming sector.
Discussing the upcoming webinar and The Fish Site's partnership with Organic Garden, Mueller commented: "We are greatly looking forward to exploring this exciting effort with Organic Garden to build Germany's most evolved and sustainable RAS system. The German market provides a tremendous opportunity and I encourage all RAS investors, builders and service providers to join us to learn about this exciting project. This is not a theoretical proposal but a strategic focus area for Organic Garden and we are glad to help them make their mark in aquaculture."
Sign up here for the live webinar on Tues 27 June at 3pm (UTC+1).