A recent study conducted in Kumasi, Ghana and published in the journal Heliyon suggests that wastewater-fed aquaculture could simultaneously provide much-needed investment in the city's water treatment infrastructure and satisfy local nutrition needs.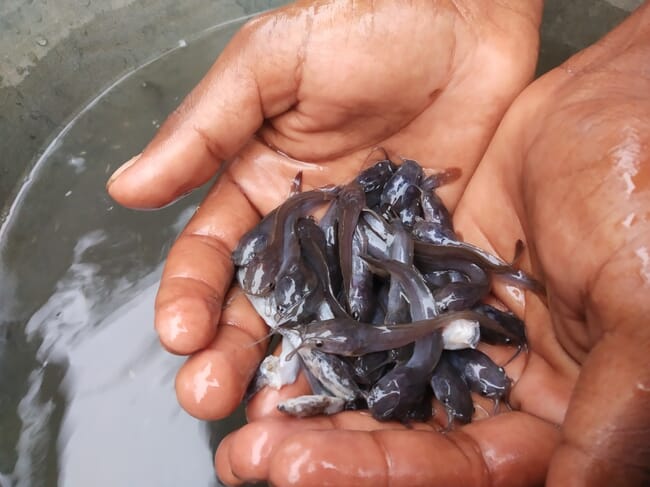 In the trial, the researchers successfully grew African catfish (Clarias gariepinus) in ponds at the city's local wastewater treatment plant without using feed inputs. A cost benefit analysis conducted after the culture period shows that the wastewater-fed business model is profitable and could provide consistent investment in Kumasi's water treatment infrastructure.
The researchers also found that locals in Kumasi were often willing to purchase and eat the catfish produced at the plant – suggesting that consumers are willing to embrace wastewater-fed aquaculture as a sustainable food source.
Freshwater pollution, wastewater-fed aquaculture and sustainability
Freshwater is becoming scarce – presenting a problem for food production and public health. Ongoing challenges like lack of access and pollution from untreated sewage are threatening natural water systems, especially in low-income nations. Chemically treating wastewater has been floated as a solution: once wastewater has been safely treated, its pollution potential is reduced and it can be reused.

According to previous research by Sato et al in 2013, only 8 percent of wastewater in low-income countries is treated. In Ghana, wastewater treatment facilities are supposed to serve 25 percent of the total urban population. But in reality, less than 10 percent of these treatment plants are functional because of ongoing funding challenges. Finding a way to secure steady funding for wastewater treatment plants and a profitable use for treated wastewater could be a win-win.
Wastewater-fed aquaculture has been suggested as a low-tech and sustainable way to address both freshwater scarcity and food production. Previous studies have shown that African catfish can grow in waste stabilisation ponds while using the high nutrient content of the water as feed. As long as the fish are depurated before slaughter, the food safety risk is minimal. These studies also found that the growth outcomes and finishing quality were comparable to conventionally raised catfish.
One recent development programme from Water/Aqua-for-All and the International Water Management Institute has tried to make this concept a reality. In 2018, they piloted a business model where ponds in a community wastewater treatment plant were used for catfish production, and revenue from fish sales were reinvested in the plants to alleviate funding shortages. However, the pilot programme needed to establish the best way to grow catfish in wastewater. There was also an outstanding question for the researchers: would consumers willingly eat catfish grown in wastewater ponds?
The experiment and results
The researchers wanted to test two main questions: is the wastewater-fed production model profitable and would consumers eat the finished catfish?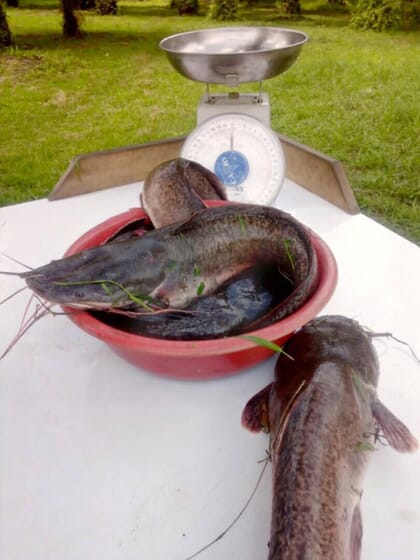 The best way to raise catfish in wastewater
The researchers used a small-scale water treatment plant in Kumasi, Ghana to test the business model. In two different trials, 600 catfish fingerlings were stocked in a "maturation pond", that had a surface area of about 225m² and was 1m deep. The water maturation pond had previously been through the anaerobic and facultative stages of treatment, where bacteria break down raw waste. At the maturation stage, sunlight is used to treat pathogens in the wastewater.

In the first experiment, the researchers allowed the catfish to grow for three months, monitoring production parameters like dissolved oxygen and growth rates. The second experiment used the same pond and stocking density but installed a paddle wheel that ran for four hours a day to aerate the water.
The researchers found that growth rates and survival rates for catfish in the aerated wastewater pond were higher than those in the non-aerated one. Other production indicators – like weight gain, specific growth rate and total yields – were higher in the aerated ponds. Experimental data showed that the paddle wheel more than doubled dissolved oxygen levels in the aerated pond, improving the growth of zooplankton and letting the catfish thrive.
A cost benefit analysis (CBA) of the business model found that having the catfish use nutrients in the wastewater as feed eliminated aquafeed costs and lowered production costs during grow-out. This gave the wastewater-fed model an immediate edge over traditional pond aquaculture.
The CBA also found that aerating the ponds added €5.00 total to the price of production compared to the non-aerated experiment. However, since the aerated system had higher yields, growth rates and survival rates, it was more profitable and would likely be successful if implemented.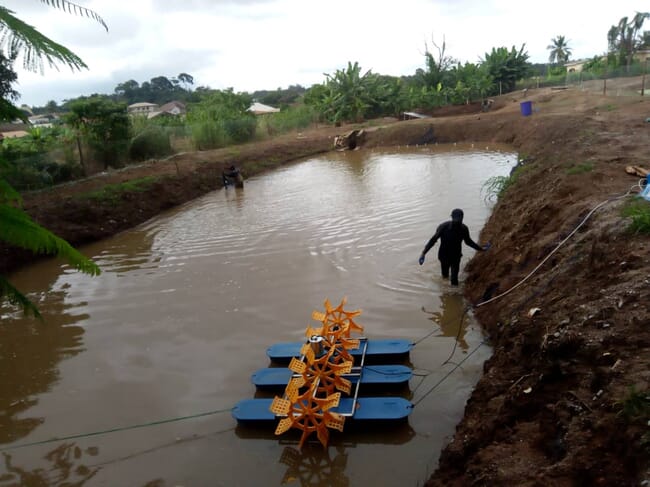 Initial market research
To gauge consumers' willingness to consume wastewater-fed catfish, the researchers surveyed 200 individuals from Chirapatre and Gyinyase – suburbs of Kumasi that were close to a water treatment plant. They asked the respondents to discuss factors like food safety, freshness, price and the size of the fish when responding to the survey.
The researchers found that about two thirds of respondents were not concerned about the source of the fish in their diets – whether catfish were raised on a conventional fish farm or in a wastewater system didn't have a bearing on shopping choices. Factors like price and flavour played a stronger role in purchasing decisions.
Interestingly, they found that if the catfish was reasonably priced and if respondents lived near the water treatment plant, they were more willing to purchase wastewater-fed catfish. It appears that having some knowledge of the water treatment process and the facility made consumers more comfortable with eating the fish. This suggests that consumers in Ghana may be more likely to embrace wastewater-fed aquaculture than originally thought.
Though this demonstrates a key proof of concept, the researchers stress that wastewater-fed aquaculture needs to achieve high survival and growth rates to be economically viable long-term. Food safety standards need to be established as well. If this model can consistently meet these benchmarks and consumers are willing to purchase the finished products, it could be a sustainable way to provide animal protein to developing nations.