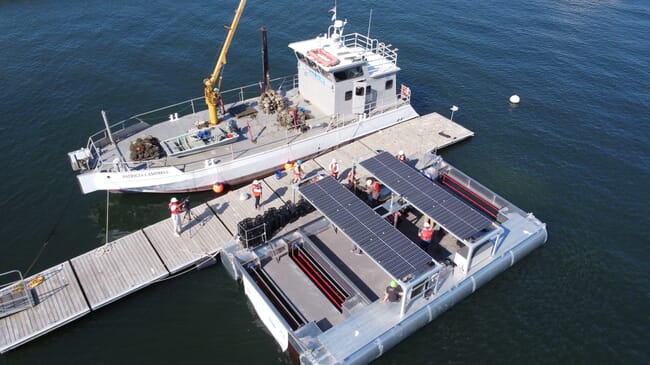 Around 357,000 oyster spat were stocked, having been first placed on the Solar Oyster Production System (SOPS) – a solar-powered platform located in Baltimore Harbor – eight months ago.

While survival rates on oyster farms can vary drastically, Solar Oysters says that survival rates of over 90 percent have been observed consistently on their system. This uses clean energy via roof-mounted solar panels to power rotation of oyster cages. By rotating vertically through the water column, oysters have access to more abundant food sources and exposure to sunlight when out of the water for periods of time to reduce fouling.

"This technology has the potential to shift the oyster aquaculture industry by reducing labor while producing healthy oysters for both restoration and consumption. The Solar Oyster Production System's automatic oyster cage rotation system dramatically increased oyster survival versus oysters sitting stationary," said SOPS platform manager Emily Caffrey in a press release.
"The more oysters that can be grown, the faster we can improve the bay's water quality, and oyster farmers will have more product to sell at market," she continued.
Oysters improve water quality by filtering water as they feed, removing excess harmful nutrients and increasing water clarity as well as creating habitat for native fish species. This is why the initiative was undertaken in partnership with the Chesapeake Bay Foundation (CBF), with funding from the Abell Foundation.
The CBF and the Chesapeake Oyster Alliance have an ambitious goal of adding 10 billion oysters to the bay by 2025.
"New technologies such as SOPS give us the ability to think innovatively and increase oyster production to help us achieve this goal. Over the past two years, we were able to increase the numbers of oysters grown in Baltimore Harbor by more than 60 percent by working with Solar Oysters," said CBF's oyster restoration coordinator, Kellie Fiala.