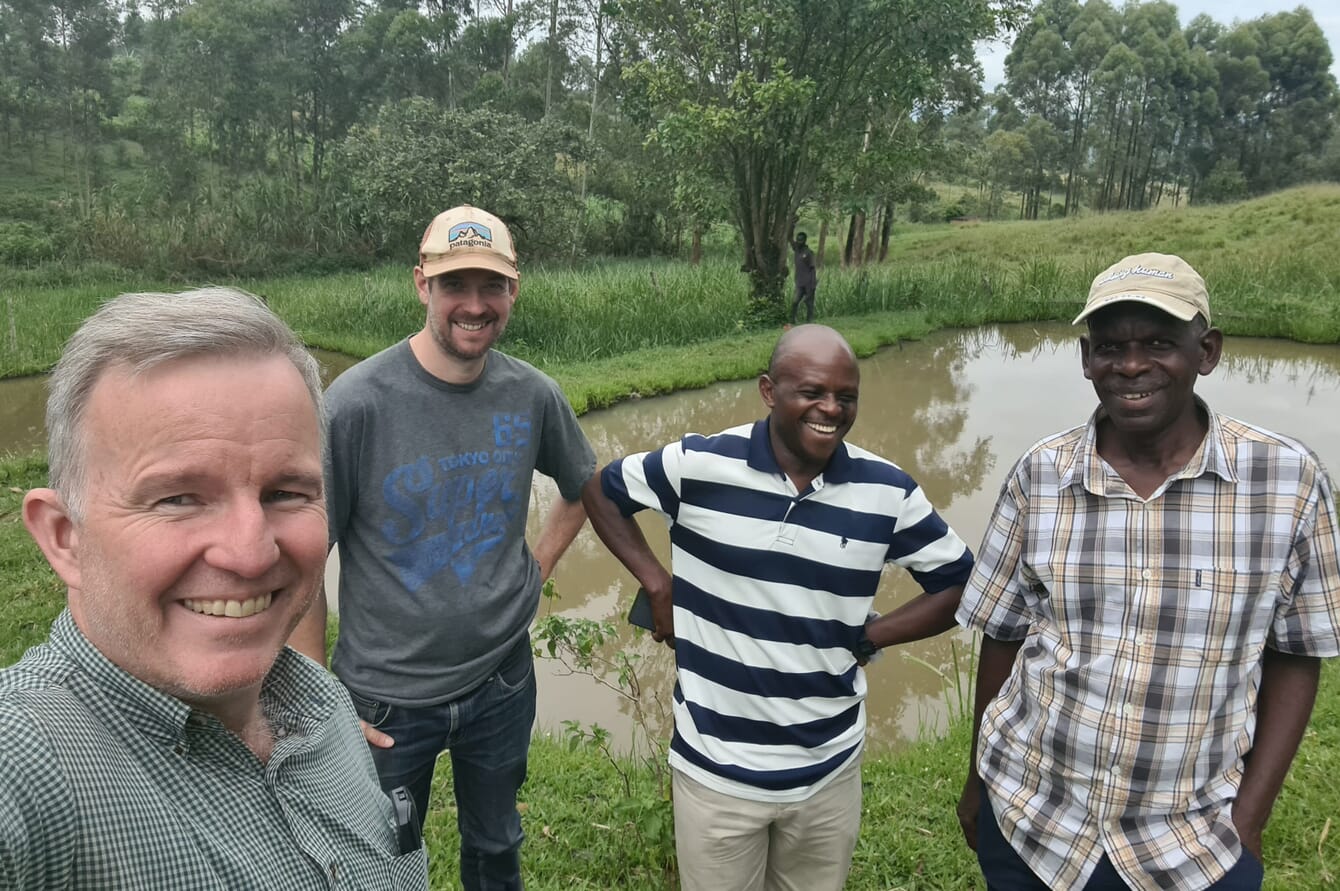 ThinkAqua and the team behind Rural Aquaculture Development (RAD) in Uganda aim to work together to scale the business model in other areas of East Africa and even apply it in other production systems, notably in low impact aquaculture operations within mangrove forests.
The problem we're trying to address
The increasing population in East Africa is placing pressure on natural resources, which provides challenges, but also opportunities for innovation in local food production. Aquaculture development in the region faces a myriad of challenges, as countries seek to harness vast aquatic resources to address food security and economic growth. Small-scale farmers, who form the backbone of the region's agricultural sector, often lack the financial resources and knowledge required to invest in aquaculture infrastructure and technologies. They don't buy feed regularly enough for fish to grow efficiently, because it's expensive and of mixed quality; they rely on sporadic fingerling supplies that can deliver poor quality fish, months late; and, without adequate funding and technical support, they struggle to establish and maintain productive fish farms.
Furthermore, market access and value chain development remain significant obstacles. Most aquaculture products in East Africa are consumed locally, but there is limited infrastructure and distribution networks to connect producers with consumers; and infrequent supplies of fish mean limited choice and quality for consumers and low returns for farmers.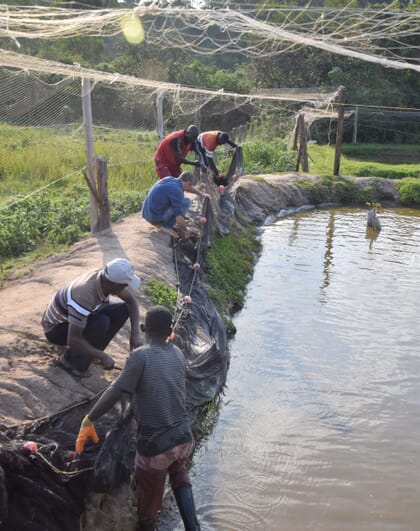 The solution we're proposing
In 2020, the RAD team – Dr Tim Messeder and Pauson Mpabukire – embarked on their venture to revolutionise rural aquaculture development through an innovative approach that empowers local farmers and consumers with market access, inputs, and technical support. This ground-breaking concept, built around the UN definition of clusters, has gained traction in Uganda and will now be replicated elsewhere under the banner Resilient Aquaculture Designs (RADs).
Each RAD hub is run by a small-scale entrepreneur who possess an intimate understanding of the challenges specific to their local context, at a scale similar to neighbouring farmers. Each hub will develop local markets for farmed fish, sourced from nearby producers. Typically, these hubs offer smaller-sized fish that are affordable for local consumers and entail lower risks for farmers. Farmers can buy inputs on a commercial basis, but advice and training are provided free of charge in order to build relationships and trust – and to align production with market demands. Fish are bought from farmers for a fair and transparent price at a time that is agreed with the hub.

The economic success of RAD hubs is based on the cluster farmers being successful, so this incentive reduces economic malpractice, and encourages greater impact. Each farmer within the network is economically independent, but able to access the benefits of being part of a network. With a threefold mission of reducing poverty and enhancing food security in an environmentally sustainable manner, the RAD model enables both the hub and cluster farmers to establish thriving businesses, while supplying local consumers with nourishing and reasonably priced fish.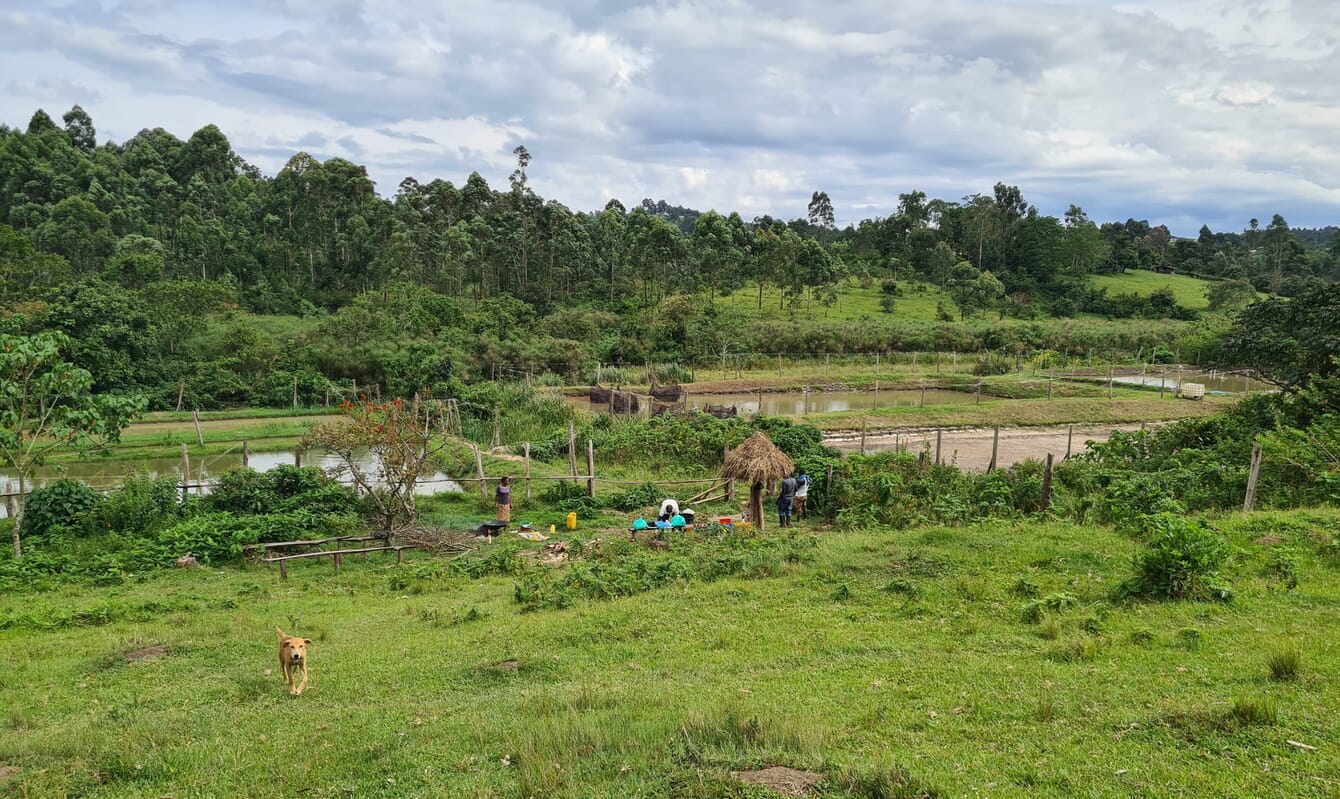 What the model looks like
A typical RAD hub has ten ponds, comprising six production ponds and four hatchery ponds. Additionally, a storage building houses crucial facilities such as an ice machine and space for black soldier fly production. These facilities need not be co-located. RAD clusters should serve around 50 farmers, who generally manage one or two ponds within their diverse landholdings, in order to ensure a consistent supply of fish to local markets. The RAD model's success lies in its ability to bring together farmers, consumers and supportive infrastructure, forging a path towards a thriving aquaculture sector in East Africa.
RADs unlock potential in five major areas:
Market – cluster farmers grow fish to a size that rural consumers want. That typically means small fish of around 100g. This also means that the farmers have a shorter production cycle and a quicker return on investment.
Feed – we've slashed the cost of feed by incorporating black soldier fly larvae into diets. These larvae are grown at the local hubs on food market waste and then fed live to fish, improving growth. The hub also has frass (insect waste) fertiliser for sale and the circular economy develops.
Fingerlings – hubs produce a local supply of good quality fingerlings, transported just a short distance and available when farmers need them.
Equipment and expertise – larger items like nets can be hired from the hub, and training is given to ensure productivity and consistent supply.
Cold chain – the hubs provide ice at harvesting and in the market, which increases value and gives consumers confidence in product quality.
The future looks RAD!
The positive outcomes and impact of RADs have created an impetus for their further development and implementation. Building on the success achieved in Uganda, the aim is to replicate these small businesses and adapt this innovative approach in different regions and production systems, allowing more farmers and communities to benefit from the advantages offered by RADs.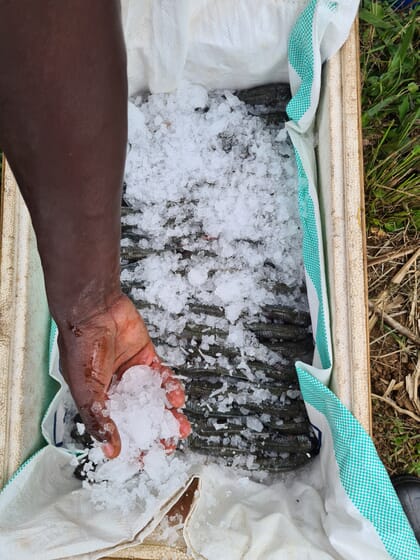 ThinkAqua, a UK-based NGO with a track record of delivering change for aquaculture smallholders, will help the core team to establish other RAD aquaculture business hubs across eastern and southern Africa. They are also exploring how the RAD concept can be replicated with coastal communities to provide productive livelihood options that can help to ensure sustainability for mangrove restoration efforts.
These Resilient Aquaculture Designs are helping the aquaculture industry in East Africa to undergo a transformation: unlocking business potential by focusing on local market development, consolidating feed sourcing, addressing the cold chain challenge, providing expertise and equipment, and revolutionising the hatchery system. Farmers are empowered to overcome challenges, while consumers gain access to affordable, fresh and highly nutritious fish year-round.
Want to get involved?
ThinkAqua are actively looking for funders who may want to support this development, entrepreneurs who may want to run a RAD hub and experts who may want to help us deliver this model. If you would like to know more then get in touch via email.