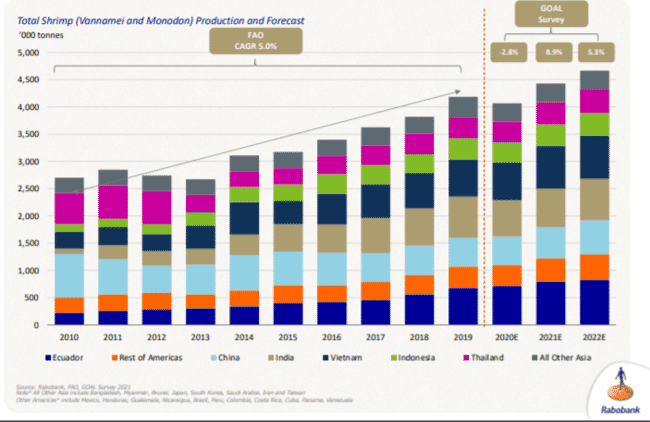 So noted authors of The Global Shrimp Aquaculture Production Survey and Forecast*, which was based on industry intelligence and the results of a survey carried out by the Global Seafood Alliance, and presented at today's GOAL conference.
The strong growth experienced this year – which they note could even be as high as 10 percent, thanks to a strong end of year performance from Ecuador – was in part due to the sector rebounding after growth was suppressed during the first year of the Covid pandemic. However, the growth has still been substantially higher than the very respectable combined annual growth rate (CAGR) of around 4 percent which had been experienced in the decade that ended in 2020.
Achieving such growth was, according to Rabobank seafood analyst Gorjan Nikolik, all the more impressive as it "was done in the time when there's still a pandemic. Most of the world had still all kinds of quarantine, there were lingering issues where people could not find labour in the processing plants. We had logistics issues like we've probably never had before."
"There were weather issues – India had a typhoon, if you remember. We had high feed costs still. And in some cases producers were not able to find the right juveniles and broodstock, so it's an amazing performance if it's going to end up at 10 percent that really incredible the sector has done that," he added.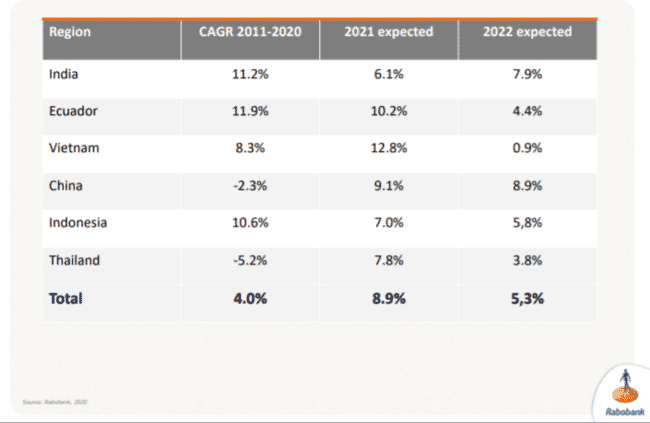 Looking ahead they concluded that prospects for 2021 were also very positive.
"Of course the industry is normalising, but we're nowhere close to normal yet, so in a way that looks towards a positive 2022. We have a good demand, maybe things will even improve further hopefully, so the expectations of the survey respondents was that we're going to have a strong 2022 and I fully agree with that – 5.2 percent might even be a bit too conservative given some of the positive dynamics of Ecuador, but let's be on the conservative side as still 5 percent is a fantastic thing to expect for 2022," Nikolik concluded.

Other highlights from the report include:
That Ecuador will replace India as the world's top shrimp exporter by both volume and value in 2021, with the possibility of Ecuadorian shrimp exports reaching as high as 1.2 million tonnes.
India is unlikely to bounce back to pre-pandemic production levels until 2023.
China's official figures are hugely inflated the actual figure may be four times less.
Indonesia appears to overestimate its official figures too – but not as substantially.
Brazil had the most substantial growth (23.8 percent) in 2021.
Thailand grew by an impressive 12.8 percent.
The prospect of a drop in market prices in 2022 - due to the increase in volumes and the possibility of pandemic restrictions returning - is the biggest concern for operators in the sector.
*Compiled on an annual basis it aims to update, and – in the case of some countries – improve the data from FAO, which last produced its figures in 2019. The data presented in the report for 2020, 2021 and 2022, may be estimated but it is based on survey of key players in the shrimp sector and is widely seen as credible by the industry.