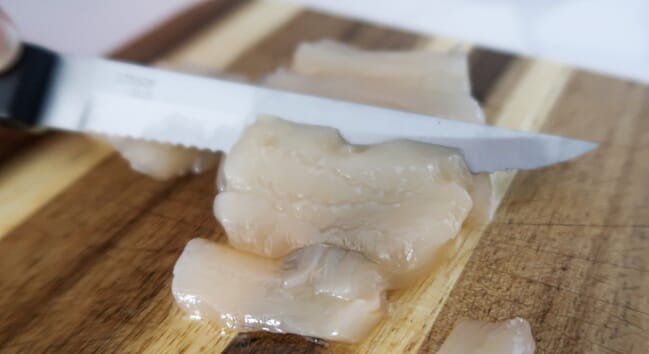 The company expects to deliver the world's first whole-muscle cut, sushi-quality fillet, as well as shrimp and calamari alternatives, based on its novel fermentation technology.
Aqua Cultured Foods uses biomass fermentation and a proprietary strain of fungi to produce seafood analogues including tuna, whitefish, calamari and shrimp. The company has filed three patents: one on the method of production, one on its usage in the food system and one on the strain itself.
Microbial fermentation effectively "grows" protein, instead of processing, allowing it to retain its naturally occurring fibre and micronutrients. Unlike cell cultured meat alternatives, Aqua's fermentation methods do not use any animal inputs, genetic altering or modification and can be marketed as non-GMO. Unlike plant-based seafood, Aqua products are not formulated with starches, protein isolates, and are low in sodium.
Per serving, Aqua products will contain 18-20 grams of protein, 10-12 grams of fibre and no sodium, saturated fat or cholesterol. The proprietary addition of Omega-3s contributes to its nutritional profile. In comparison, a serving of cod contains 18 grams of protein, 0.7 grams of fat, nearly 43 mg cholesterol, 54 mg of sodium, 0.19 grams of Omega 3s, and no fibre.
The pre-seed stage company is preparing to scale production and build its infrastructure to be able to release its first commercial products in early 2022.
"Fermentation was largely unexplored for growing seafood alternatives, so we saw the opportunity to fill a white space in the market by creating a one-to-one replacement that's realistic enough even for sashimi, nigiri and ceviche," said Aqua CEO Anne Palermo in a press release.
"By nailing the taste, texture and nutritionals, we've developed something of a holy grail in the entire alternative protein space," she added.
The growing appetite for non-animal proteins includes seafood, with environmental protection and health seen as key drivers. In 2020, US sales of plant-based seafood grew 23 percent, and $116 million has been invested in alt-seafood in the first half of 2021.
"The seafood-alternative category is not yet dominated by any established companies as the category is still a white canvas for new entrepreneurs to create amazing plant, cell and fermentation enabled seafood products," said Andrew Ive, founder/general managing partner, Big Idea Ventures. "Each new product needs to deliver on taste, texture and nutrition while being a price aligned with customer traditional expectations. Aqua Cultured Foods has solved these issues elegantly to create a realistic product with a nutritional profile that often exceeds fish from the ocean."