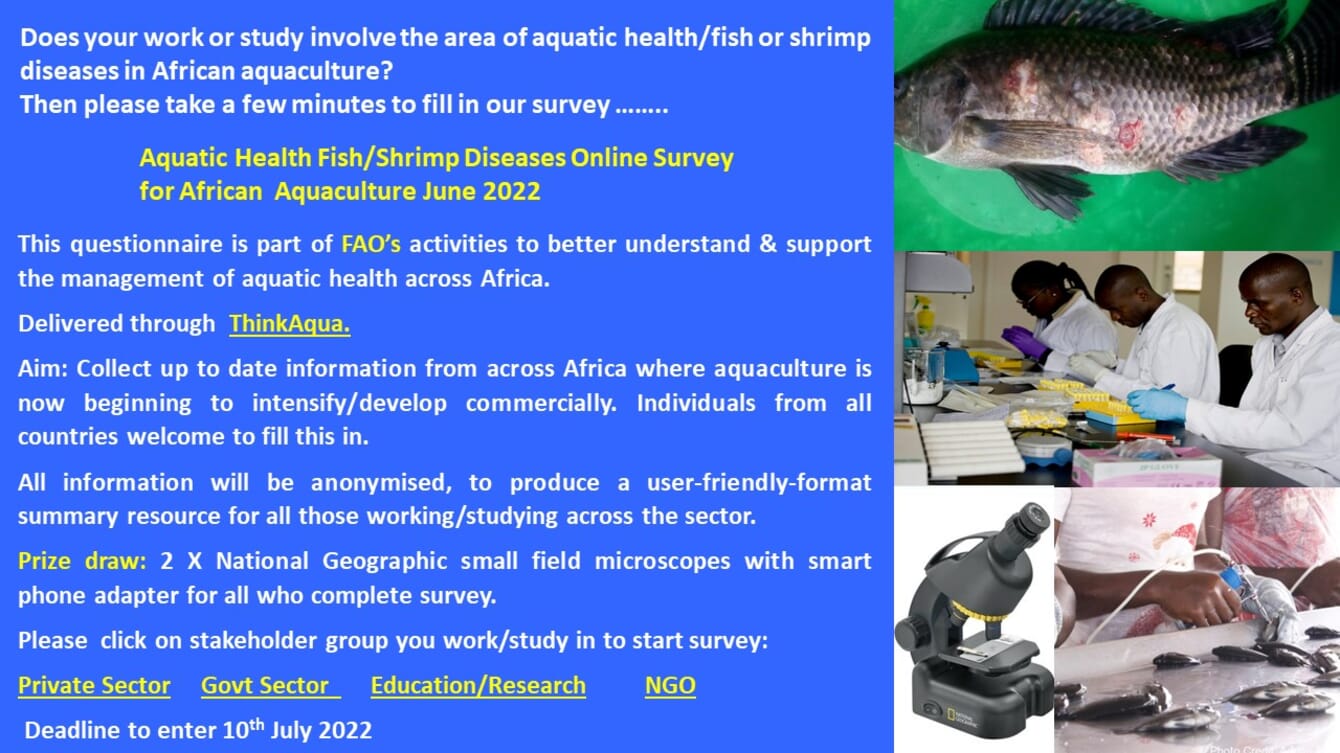 As aquaculture across the African continent begins to intensify and commercialise significantly, the financial and environmental impacts (and costs) of fish and shrimp diseases – as well as their potential mitigation, control and biosecurity – are becoming increasingly important and relevant for thousands of people across the African aquaculture value chain, respective governments and beyond.

The new survey is part of a four-month consultative process across private, government, education/research and NGO sectors, which is being carried out for FAO by Think Aqua. It has already collected specialist key informant information across ten sub-Saharan African countries, and now wishes to throw the net wider across the continent.
The survey's overall aims are twofold:
To provide an up-to-date evidence base on current/ past status and infrastructure related to aquatic animal health – including biosecurity from farm, national, to regional levels – to inform organisations like FAO and others how they can effectively, and with impact, focus their support and assistance for aquatic animal health across different countries at different levels, benefitting a wide range of people.
To make available, within personal and organisational anonymities, the analyses and findings across private, government, education/research and NGO sectors, in user-friendly, brief formats for the wider African aquaculture community, through online networks such as SARNISSA and others. To firstly inform and increase awareness, and then provide the evidence base for different people and organisations to act on.
Responses are welcome both from those currently involved in African aquaculture and those from outside Africa who have worked in the continent in the last five years in areas related to fish and shrimp diseases.
"Our aim is to collect and validate up to date information from across a range of African countries where aquaculture is now beginning to intensify and develop commercially. This information will be anonymised, analysed and shared online as a resource that can be consulted by all those working across the sector, the continent and internationally," explains Will Leschen, who is responsible for the survey.
Survey details
All those who complete the survey will be entered into a prize draw for the chance to win one of two National Geographic monocular small field microscopes, complete with smart phone adapters.
Please click on the relevant stakeholder group you work/study in to start the survey:
The deadline for entries is 10 July.
If you have any further questions or queries, please email Will Leschen on williamleschen@gmail.com