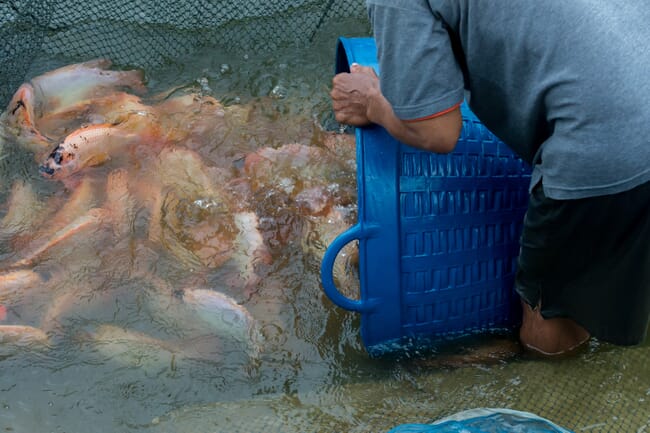 NACA and FAI are hosting a joint webinar on 8 March from 9:30 to 11:30 am Bangkok time to discuss new efforts to raise fish welfare standards across Asia's aquaculture industry. The session, titled Fish welfare: what we need to know, will outline the advantages of prioritising fish welfare, how to adopt operational welfare indicators during fish production and practical frameworks for welfare assessments in tilapia, shrimp and carp. It will also touch on how fish health and quality can boost overall farm profits.
FAI Farms has been working on fish welfare since 2018. It started off as a two-year project to improve welfare in Tilapia farming in Brazil, involving key industry players such as Global Peixes, leader in tilapia production, the Federal University of Parana (LABEA) and Wai Ora, an aquaculture specialist consulting company. Brazilian farmers have been very receptive at the benefits that good welfare practices can bring to their operation.
"We can see the engagement from the Brazilian aquaculture industry towards better welfare standards. We are confident that we can rally fish and shrimp farmers in South-East Asia to create a similar movement to improve animal welfare," said Jie Huang, director general NACA.
FAI Farms is furthering its efforts to democratise animal welfare in aquaculture. In 2023, they launched a tilapia welfare course and a welfare assessment mobile application to provide farmers with the right tools to improve production practices. As they expand their reach, FAI has partnered with NACA to leverage their connections with the aquaculture stakeholders in Southeast Asia. According to a news release, NACA is an ideal partner to provide welfare knowledge and tools to the aquaculture industry in the Asia-Pacific region.
The webinar is geared towards aqua industry stakeholders that are interested in fish and shrimp welfare and will outline how simple assessments can help farmers improve welfare standards. Participants can register for the 8 March webinar here.