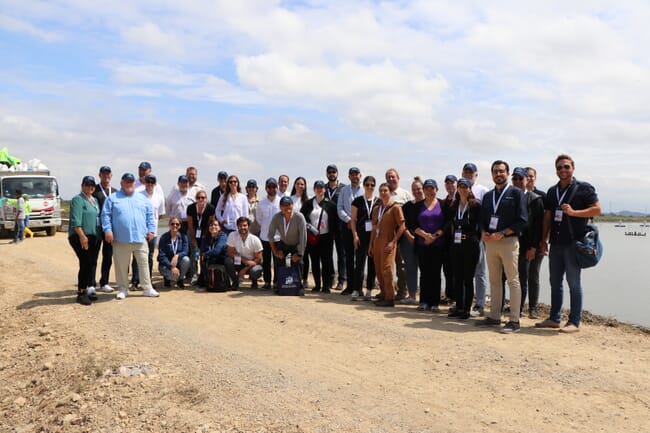 This second edition of the Shrimp Summit Ecuador – organised by the Sustainable Shrimp Partnership (SSP) and the Aquaculture Stewardship Council (ASC) – will allow retailers and seafood suppliers from the United States, Germany, France, the United Kingdom, Portugal, Spain, and Japan to witness first-hand the commitment of Ecuadorian producers to meet the highest standards of quality, social responsibility, and environmental sustainability.
"Through this experience, we hope that representatives from North America, Europe, and Asia will witness the extraordinary efforts of the industry and the commitment of SSP producers to the highest standards such as ASC certification, zero use of antibiotics, neutral impact on water, and full traceability," said Pamela Nath, director of SSP, in a press release. "We are confident that this edition of the Shrimp Summit Ecuador will be an extraordinary opportunity to highlight Ecuador's leadership as the world's main producer and exporter of shrimp."
"We are honoured that the largest shrimp buyers in the world will participate in this excellent experience in Ecuador," added Marcos Moya, ASC global lead producer outreach. "We're grateful to SSP for once again allowing us to show our business partners how important it is to transform shrimp farming in an environmentally and socially responsible practice, by using ASC as a proof of this commitment."
With a special focus on highlighting industry best practices, SSP and ASC welcome delegates from major international retail companies to discover the story behind shrimp production.
During their stay, guests will have the opportunity to visit SSP members' facilities, such as ASC-certified shrimp farms and processing plants, witnessing first-hand the responsible production of aquaculture. Additionally, the tour will include a visit to a feed mill, while educational panels will enable open dialogue between producers, processors, and attendees, while allowing retailers to convey messages about their sustainability expectations.