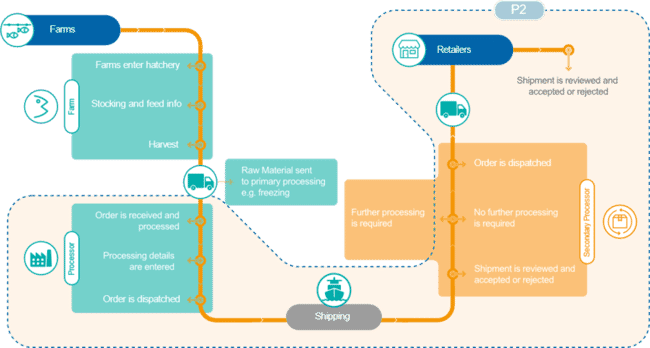 The Key Data Elements (KDE) project from the Aquaculture Stewardship Council (ASC) has developed software to digitally capture and convey key data from ASC-certified farms and feed sources, through processing, packaging and transport to retailers. As product is moved, the data is transferred digitally along the supply chain, from one company to the next, using a unique code.
To achieve this goal, ASC has worked closely with supply chain company partners, stakeholders, and large-scale seafood traceability initiatives, such as the Global Dialogue on Seafood Traceability (GDST), to ensure that the project is aligned and has shared objectives and outcomes.
"We are very excited to pioneer digital traceability within the global seafood farming sector starting with our work on shrimp through the KDE project. This is a huge part of ASC's continuous efforts to increase integrity and assurance for ASC-certified and labelled shrimp products as they move through the supply chain," explained ASC CEO, Chris Ninnes, in a press release.
"The data transmitted digitally ensures not only transparency and traceability across the supply chain but the ability to also attach other product information of value to the end buyer. This tool gives all stages in the supply chain a better understanding of the origin of the products they are purchasing. We will also be exploring in the future how this tool can bring additional value to our customers," Ninnes added.

Capturing diverse data digitally

The platform digitally captures relevant KDEs to support traceability, including a species' scientific name, stock size and volume, source of broodstock, production method, country of origin and location of farm, movement and transportation documents, source and certification status of feed ingredients, processor type, date of freezing and sales documents. Unlike other schemes, hatchery name and stocking data is also captured meaning that tracking and verification measures begin prior to harvest.
UK retailer Sainsbury's and their supplier, Lyons Seafoods Ltd, are KDE project champions during this initial phase. They are working closely with ASC to offer valuable feedback from the supply chain to help continuously improve the project.
"Sainsbury's are delighted to test ASC's KDE project with our suppliers to help us digitalise our seafood supply chains, ensuring that we have the latest and most robust traceability systems in place as a foundation for our responsible sourcing policy. This helps us to build trust in seafood, deliver our customers' expectations for 100% responsible fish and fully aligns with our plan for better: better for you, better for the planet and better for everyone," added Sainsbury's head of aquaculture and fisheries, Dave Parker.
"Partners at every step of the chain are vital to the success of this project and we have been working closely with them in a supportive role. The positive feedback received from processors and retailers is very encouraging and validates our role in helping them to gain trust in the supply chain and provide transparent reassurance to their customers about the integrity of shrimp products," concluded ASC senior director for technical operations, Ally Dingwall.
The project's initial focus has been on shrimp in Vietnam. To date, the majority of companies in Vietnam and India that label their shrimp products with the ASC label have signed up, and the roll-out has begun in Bangladesh. These products are exported around the globe, with the most significant purchasers being the Netherlands, France, Switzerland, and Germany. Products are also sold to many other countries in Europe and are traded as far afield as Canada, Singapore, the USA, Japan, Australia and Hong Kong.