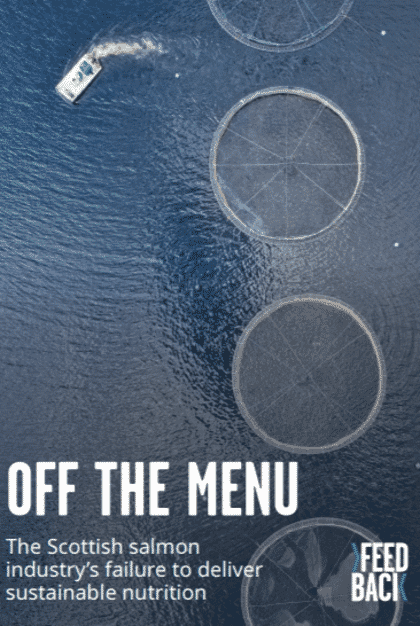 The report, from Feedback, which has been published this morning, argues that it's possible to eat a healthy diet and leave more wild fish in the sea if consumers ate a wider range of wild fish, and less farmed salmon.
Titled Off the menu: the Scottish salmon industry's failure to deliver sustainable nutrition, the report notes that NHS dietary guidelines encouraging UK citizens to eat at least two portions of fish a week and that farmed salmon is often perceived a healthy choice, due to its high omega 3 content.
However, the report argues that "new modelling has shown that to access the same level of omega 3 and other micronutrients currently produced by the Scottish salmon farming industry, we should eat a lot less salmon, and more of a diverse range of wild fish, including sardines, anchovies and sprats. By doing so we could leave 59 percent of fish currently caught to feed farmed salmon in the sea, helping to protect wild fish populations and ocean ecosystems."
Farmed salmon is the most purchased seafood in UK supermarkets, and Scottish farmed salmon is one of the UK's top food exports by value.
However, according to Feedback, the Scottish salmon industry uses around 460,000 tonnes of wild fish a year in its feeds – roughly equivalent to the quantity of seafood purchased by UK adults every year. Perhaps more controversially the organisation claims that "roughly 90 percent of these fish could be eaten by people".
"New modelling has shown that if we made more the wild fish currently used to feed farmed salmon, including herring, anchovies and sardines, alongside a smaller quantity of farmed salmon, we could leave 273,000 tonnes of wild fish currently used by the Scottish salmon industry in the sea. If we added farmed mussels to our diet, which do not need feed and which contain high levels of micronutrients, we could leave 77 percent of wild fish caught for salmon feed in the sea, or around 354,000 tonnes," the report continues.
Carina Millstone, executive director at Feedback said: "While the Scottish farmed salmon industry may cultivate a reputation for clean and green nutrition, our evidence shows that producing farmed salmon is actually creating a wasteful and unnecessary burden on our oceans: this industry is more about corporate profit than it is about healthy and sustainable food. Delicious smaller fish such as herring, anchovies and sprat are full of omega 3s and deserve a bigger place on our menu, as do superfoods like farmed mussels, which do not rely on fish from fragile ecosystems for feed, and yet are hugely nutritious."
Salmon sector defence
On reading the report, however, the salmon sector has issued a staunch defence of its practices.
Ian Roberts, director of communications at Mowi Scotland, told The Fish Site: "Mowi actively encourages the consumption of a mixed diet including both wild and farm-raised seafood. As the Food and Agriculture Organization has clearly stated: our oceans cannot naturally supply the demand for fish, and aquaculture is a very important and carbon-friendly solution to increasing the yield of healthy and appetising seafood.
"While our meeting with Feedback confirmed a difference of opinion on the role of livestock farming in food security and the appeal of forage/small pelagic fish as a primary food source for humans, we agree on the importance of sourcing sustainable feed ingredients and ensuring minimal food waste throughout the value chain. We encourage those interested in sustainable food production to read Mowi's detailed annual report to learn more."
The Feedback report does concede that eating a small amount of farmed salmon could be environmentally sound as well as nutritionally beneficial, so long as the fish oil it is fed is solely made from by-products, such as heads and bones, of fish caught for human consumption. Currently, according to Feedback, the industry makes around one third of its fish oil from by-products.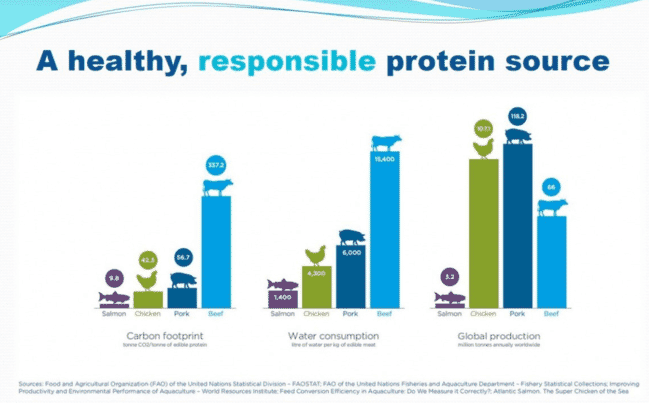 Mortalities
The report also draws attention to the level of mortalities experienced in the farmed salmon industry.
In 2019, it notes, around 5.8 million salmon mortalities were reported by the Scottish industry – roughly 14 percent of total production. This compares with a 5 percent maximum mortality rate for chicken farms qualifying for the UK's Red Tractor scheme. Feedback calculates that feeding salmon that died during production in 2019 would have wasted around 25,000 tonnes of wild fish: enough to feed 2 million people their portion of oily fish per week for a year.
As a result Feedback is calling on the UK government to support the development of low-impact, high nutrition alternatives to salmon farming, such as mussel and seaweed production.