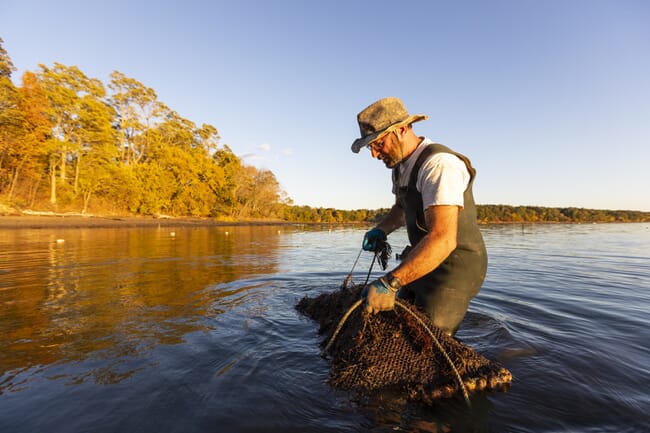 The Covid-19 pandemic and global lockdowns have led to significant struggles for many industries, and have been particularly difficult for the restaurant sector. This, of course, has affected restaurant suppliers, such as shellfish growers, many of whom had to lay off staff and are stuck holding excess stock of their product—including oysters that have outgrown their marketable size.

In response to Covid-19's impact on the US shellfish-farming community, The Nature Conservancy (TNC) and The Pew Charitable Trusts have launched a dual economic relief and marine restoration programme, working in parallel with similar efforts by the National Oceanic and Atmospheric Administration (NOAA) and the United States Department of Agriculture (USDA).
The Supporting Oyster and Aquaculture Restoration (SOAR) initiative is a ground-breaking two-year project that aims to provide $2 million in direct payments to oyster farmers to purchase oysters for restoration. SOAR is expected to support more than 100 shellfish companies and preserve aquaculture jobs across three hard-hit coastal regions of northern New England, the Mid-Atlantic region and Washington State.

Ensuring that the shellfish aquaculture industry endures through these challenges is in the interest of the conservation community: in addition to providing a sustainable source of seafood and jobs, oyster farming, when conducted responsibly, has a positive benefit on coastal ecology. In fact, TNC's research over the past five years shows shellfish farms' ecological contributions to the surrounding environment, demonstrating that these farms can reduce excess nutrients in coastal waterways and provide habitat for wild finfish and crustaceans.
SOAR seeks to fill part of the gap in oyster demand from the restaurant sector by acquiring 5 million oysters. Rebuilding wild native shellfish habitats is one of the most promising opportunities for restoring coastal ecosystems, so these "salvaged" molluscs will be redeployed by nearby oyster restoration projects. We estimate that the 5 million oysters can help rebuild an impressive 27 acres of imperiled shellfish reef across 20 individual restoration sites, turning economic calamity into conservation gain that could benefit ocean ecosystems for years to come.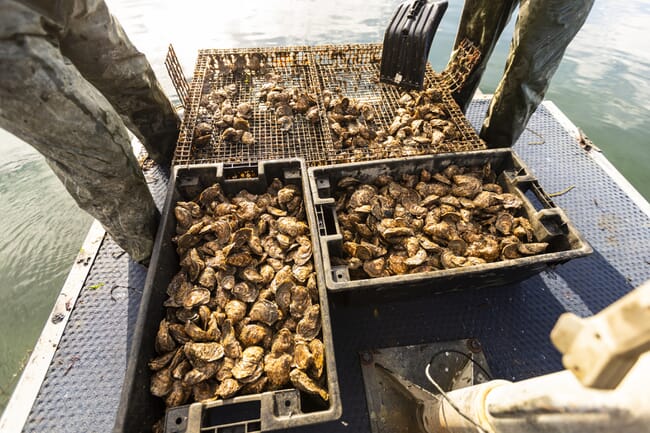 The SOAR programme has begun its first oyster purchases and deployment in Maine, New Hampshire and Massachusetts. In those states, over 380,000 oysters are already under contract to be purchased from 25 growers; 221,000 oysters have already been deployed in New Hampshire's Great Bay estuary. The SOAR programme is also beginning to purchase oysters in New York, New Jersey and Maryland. In New Jersey and New York, over 750,000 oysters are under contract to be purchased from 30 growers. An additional ~1.2 million oysters have been identified to be purchased from 40 growers in the Mid-Atlantic. We will continue to work with industry and government officials in Washington State as we move towards launching the programme on the west coast this winter.
In early 2021, the programme will also make $1 million available through the Shellfish Growers Resilience Grant to help address the acute economic challenges many US commercial operations face.
By combining financial and ecological support, we hope that SOAR will help ensure that the US shellfish-growing industry continues to be commercially viable, environmentally sustainable, and beneficial to both coastal communities and the ocean itself, long after the worst impacts of the pandemic have passed. We hope this initiative will lead to greater collaboration between experts who grow oysters for sale and those who work to rebuild wild populations.
For questions about participating in the purchase programme, please contact Christina Popolizio (c.d.popolizio@tnc.org) or visit www.nature.org/soar.