The global spread of the 300 or so edible shrimp species has not been unmatched by human appetite. Shrimp fishers have followed their catch to every corner of the world. Armed with the cutting-edge technology of huge trawler operations, to the hand held net of the impoverished, this industry has rapidly reduced shrimp numbers everywhere.

However, the shrimp has proven to be a hardy prey. Instead, it is the global US$10 billion shrimp industry itself that is beginning to crack under its own conflicting pressure, pitting small local fishing companies against the large multinational, whilst external concerns over the environmental side effects and indirect social and cross-sectoral issues are demanding renewed practise measures and limitations.

But the biggest threat to shrimp fishing, is the unstoppable rise and dominance of shrimp aquaculture, flooding markets with a cheaper alternative. In light of these issues a recent Food and Agriculture Organisation (FAO) report: Global Study of Shrimp Fisheries analysed the current state of the industry, whilst seeking new solutions to reduce the current conflicts.
Annual shrimp catches in the ten
study countries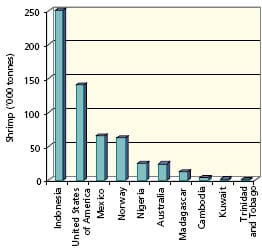 The last research project of this size was conducted two decades ago when shrimp aquaculture was just setting out. Since then, industry control measures have been successively defeated by technological advancement. For these reasons the FAO has advised an ecosystems approach to the industry, linking its economic sustainability to that of the environment and placing control measures to adhere to certain landmark measures.

For this new sustainable vision to be achieved the FAO has called for collaborative research and compromises led by a source of clear, complete and reliable information. As part of its own research, analysis for the report was conducted in ten different countries, specifically chosen to reflect the various aspects and geographical regions across the globe. These countries typified difference in operations, climate, wealth and management abilities. The 10 countries were Australia, Cambodia, Indonesia, Kuwait, Madagascar, Mexico, Nigeria, Norway, Trinibad and Tobago, and the United States of America.
Shrimp Fishing - Beginning of the End
Probably, the main concern for shrimp fishing is the highly damaging effects of the trawler nets, which have helped label shrimp farming as the world's most wasteful fishing practice, comparable to forest clearing. Despite of considerable interest in developing alternative fishing methods, there has been little progress of economic value. By-catch currently account for 27 per cent of all maritime fish discards in the world, having large effects on other fishing industries and the environment

The issue of ethics also comes into question, and with it, the possibility of a media-led consumer backlash. Unfortunately, any realistic assessment of the damage imposed on other species is impossible due to a lack of information and identification. Consequently, scientists are worried that certain species can be seriously depleted, or even become extinct, due to poor surveillance.

In order to reverse these trends the FAO has called for a universal definition of what exactly by-catch consists of, alongside this a system of measurement needs to be put in place so that all by-catch can be accurately documented. This will enable the fishing industry to keep wild stock levels under control, by adapting practices in coherence with the ecosystem approach. Current initiatives have focussed on complete bans and limitations of trawler fishing depending on by-catch variability. Reductions in fishing fleets and modifications to the nets have also been beneficial, but the FAO also believes that better use of by-catch in both handling and marketing can greatly contribute to economic losses, whilst ensuring that unethical, environmentally-damaging waste is kept to a minimum.

There have been some positive signs that trawler fishing can work and thrive with these new limitations. But while there is much hope that developed nations and well managed industries will be able to comply to these new measures, the challenge of reaching out to and integrating poorer fishing industries, consisting of much smaller operations, is not so easy.
World shrimp production, 1950–2004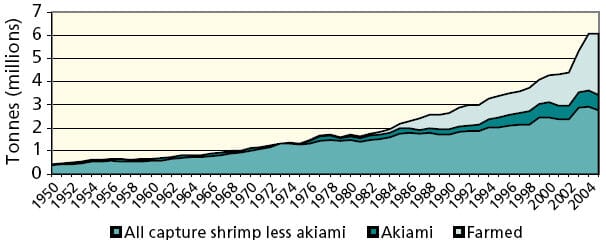 An enhanced fishing industry will be essential if it is to become economically successful. Currently rising fuel prices coupled with too many fleets is driving down profitability. Shrimp fishing is highly subsidised by some governments, but it is the threat o shrimp farming that looks set to really undermine their security. Efforts to reduce this threat have centred on fishing subsidies and trade promotion. According to the FAO, the US have responded with the most powerful move to this threat by reducing the level of farmed shrimp currently "dumped" upon its markets, whilst placing large tariffs on those allowed.
Shrimp Farming - End of the Beginning
A quick look at the history of shrimp farms shows just how dominant it has become. In 1980, as the industry gradually began to unfurl, the overall effect was negligible, rising to five per cent of global shrimp production in just two years. By 1990 this figure had jumped to 25 per cent. The boom continued into the 21st century with Viet Nam, Brazil and China taking the reigns. Overall production double between 1990 and 2004, with an annual production rate of two million tonnes. Today, 60 per cent of international fish trade is comes from farmed fish.

Where farmed shrimp succeeds against its wild counterpart is that it is a more consistent, less seasonal product. The vertical integration of the industry through shrimp farm to processor allows for the industry to streamline the process and tighten margins. However, as of yet, it has failed to produce large shrimps at an economically competitive value.

The influx of farmed shrimp products to the commodity market has sought to lower the value of shrimp. In turn, the profitability of shrimp fisheries has been in constant decline. The FAO says that this trend results in reduced fleets, which will then lead to increased wild stock numbers, increasing the profitability of the ocean fishing industry as it falls into decline. Despite of the economic success of shrimp farms they are by no means free of problems. Input costs have been on the rise of late, driving down profit and loosening its dominant grip on the market.

Perhaps of a greater concern though comes down ones again to the environmental affects of the industry, which goes against the FAO ecosystems approach to the industry and in doing so hampers its own security and sustainability. Although the exact figures are unknown it is thought that huge amounts of mangrove forests are being destroyed worldwide to make way for shrimp farms. Meanwhile, coastlines are being flooded with effluence from the chemicals and antibiotics used in shrimp farms.

Although the impacts of the farmed shrimp industry has upon the fishing industry is little understood, it is believed that due to the complex lifecycle of many shrimps - going through the post-larvae and juvenile phases of their lives in mangrove - they are being killed before they have chance to mature and reach the open waters. Similarly, the capture of broodstock for farms is also having a detrimental effect on wild populations, whilst the spread of farm-harboured diseases and escapes clearly inflict upon these populations to some degree.
The penaeid life cycle and mangroves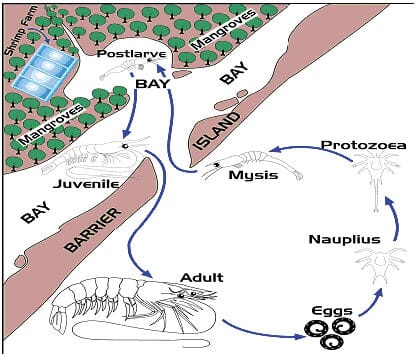 Estimates put the number of wild shrimp killed in the process of raising just one by aquaculture at one hundred. However, 98 per cent of farmed fish are now raised in hatcheries, negating the effect on wild stocks completely. Other damage to sea life is the need to feed shrimp with feed that consists of other types of fish, making the possibility of closed sustainability problematic. Significantly, the waste attributed to by-catch discards could be used for this purpose.
Shrimp Cohesion - A New Beginning
Despite of the problems associated with shrimp farming the FAO claims that it is still believed that the issues confronting it will be easier to overcome than those of shrimp fishing. Therefore, this makes shrimp fishing the more favourable to receive governmental support and perhaps even subsidies.

"Nevertheless, shrimp farming and shrimp fishing can form a favourable symbiosis in marketing, as shown by an example from Madagascar," says the report, "There, the limited shrimp farming specialises in the production of Penaeus monodon and is almost all owned by industrial and artisanal shrimp vessels. This situation illustrates the potential for combining resources for effective monitoring of international markets and associated exporting. By combining marketing for both wild and farmed shrimp, clients can be offered a large range of shrimp: different species, different sizes and wild/farmed options."

Although current trends point towards further dominance of the aquaculture industry, it is unlikely shrimp fishing will be largely displaced, says the FAO. Where the fishing industry becomes smaller its profits will intensify, passing a point where it becomes more profitable than farming. The question is not which is best, but rather how can the balance between the two be addressed in line with a sustainable, profitable approach.
March 2009