Sponsor message
Are you trying to break into aquaculture industry or already working in the field and looking to gain additional expertise for career development?
Collaboration pays off for international RAS project
During the four years since CtrlAQUA began, Dr Chris Good has seen US land-based salmon farming begin to flourish, with massive facilities being built.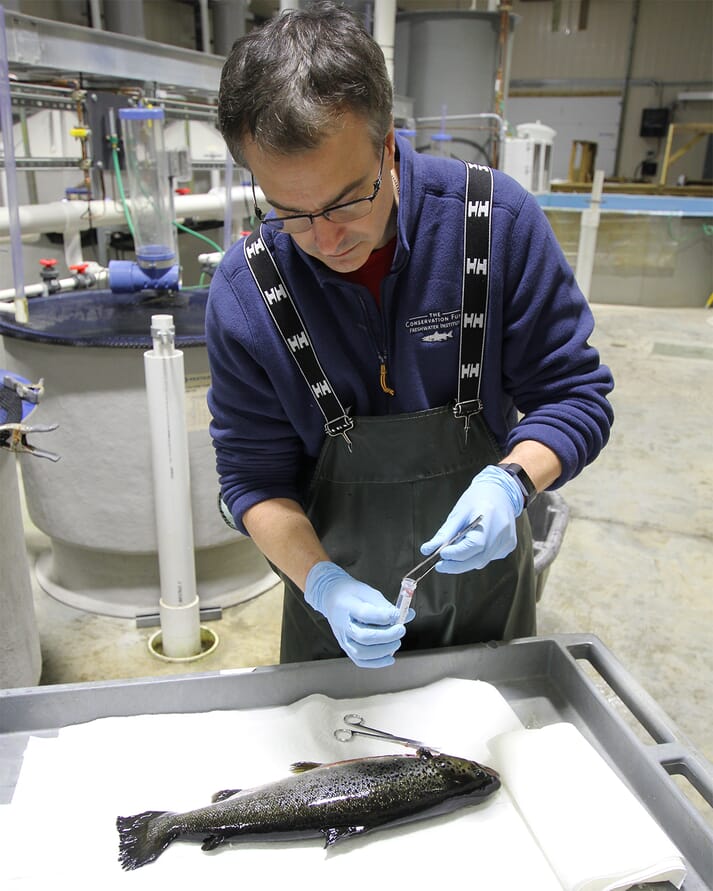 Close research collaboration
The Freshwater institute has a long history of collaboration with Nofima, beginning with the 5-year RCN funded Rasalmo project initiated in 2008. They were subsequently invited by Nofima researchers to join CtrlAQUA SFI.
"We were thrilled to be invited! This SFI is broad and extensive, with many well-known researchers in the field. We're meeting scientists now whom we've only met previously through publications", says Good.
The collaboration Dr Good and his colleagues have with CtrlAQUA partners has been focused on experiments regarding photoperiod, water ozonation, and RAS disinfection, as well as RAS culture tank design and hydrodynamics.
"I expect after CtrlAQUA finishes in 2023 the links with our partners in the centre will remain strong. We all have the same interests and research goals, and it's mutually beneficial to combine expertise to solve problems in an important and growing industry like RAS aquaculture. We definitely learn a lot from each other", says Dr Good.
Industry growing in the US
In Norway, fish farmers are weighing the benefits of raising fish in net pens against land-based farming. However, by growing salmon in the US, there's an environmental and economic benefit of cutting air freight. That makes the Americans, and the Norwegians who see the opportunity across the Atlantic, eager to farm more.
CtrlAQUA coordinator, Åsa Espmark, is enthusiastic about the research collaboration across the Atlantic. Nevertheless, it is notable that although an SFI is supposed to stimulate international enterprises to establish in Norway, the market forces drag the other way:
"There is a so far a stronger pull for Norwegian enterprises to establish abroad rather than for international enterprises to establish in Norway. How an SFI can influence on process is limited, but this trend towards internationalisation represents a great opportunity for value creation among Norwegian aquaculture enterprises", says Espmark.
What impact will CtrlAQUA have on closed containment aquaculture?
Dr Good believes that CtrlAQUA will have an enormous impact in the long term. With such a strong industry representation within CtrlAQUA, companies such as Mowi (former Marine Harvest), Grieg Seafood and Krüger Kaldnes can take back information from CtrlAQUA and apply it to their own objectives. Additionally, scientific publications from CtrlAQUA research will come out in an increasing pace for everybody to learn from.
Sponsor message
UMass Sustainable Aquaculture Online Courses
Aquaculture is an increasingly important source of safe, nutritious, and sustainable seafood for people worldwide. Globally, aquaculture production must double by 2030 to keep pace with demand. These increases in demand for aquaculture products, food security considerations, and job creation have generated an increased need for skilled workers.
Discover how you can be part of this rapidly expanding industry.
"People are watching to see these technologies being proven in commercial settings. This still needs some proving, but we're well on our way. I believe one or two disasters could set things back temporarily, but I'm optimistic when it comes to producing salmon in closed containment aquaculture in the long run", says Good.

Written by: Reidun Lilleholt Kraugerud for the CtrlAQUA Annual Report 2018