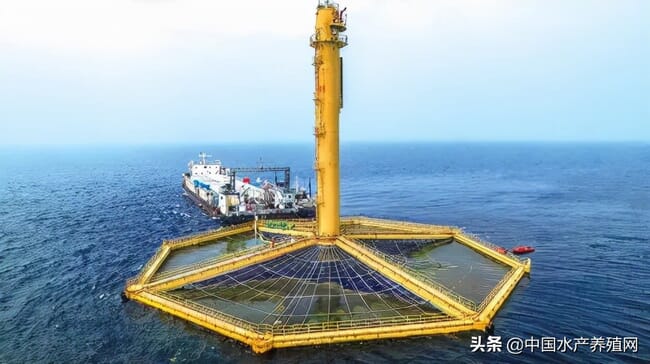 Local news reports say that China harvested the fish between 22 May and 9 June.
"This is China's first successful large-scale farming of Atlantic salmons in warm waters," said Guo Peng, chief agronomist of the agriculture and rural affairs department of east China's Shandong Province.
The deep-water harvest also marks China's strategic shift towards marine food security.
China's first submersible deep-sea fish farm is named "Deep Blue Number-1" and is located 130 nautical miles from the coast of the Yellow Sea.
As the harvesting began, a thick tube was inserted into the net cage of Deep Blue Number-1, and one Atlantic salmon after another were inhaled from the sea into the vessel.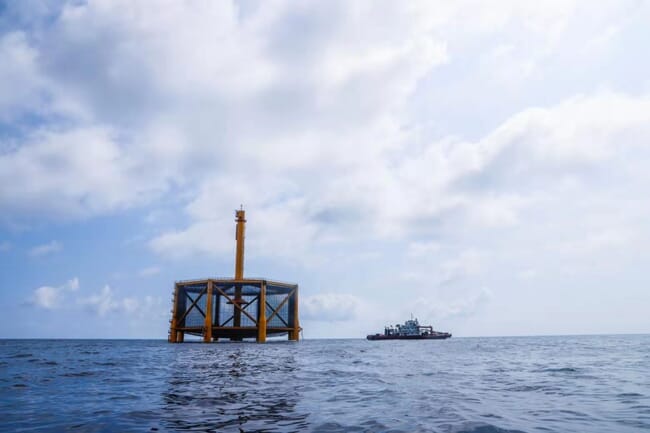 "Unlike the netting operation in a traditional fisher, this particular salmon processing vessel uses a special pump to catch the fish," said Li Hong, vice chairwoman of Shandong Far-sea Aquaculture Company
The fish underwent initial processing on the vessel and were packed into insulated boxes to keep them fresh. According to Li, the entire process took 45 minutes.
Atlantic salmon is usually farmed in near-shore waters off the coast of Norway and Chile. Other high-latitude countries like the United Kingdom and Canada are major players in the industry as well.
China has pursued a different strategy. This project bred the salmon 30 metres below the surface of the Yellow Sea, capitalising on the lower water temperature and higher dissolved oxygen levels that let the salmon thrive.
"There are about 100,000 Atlantic salmons in the net cage, and so far, a total of 15,000 fish have been harvested," said Li, adding that the quality of those salmons meets the standards for export to the European Union.
A closer look at Deep Blue Number-1
Deep Blue Number-1 is part of China's investment in new marine science and initial explorations into deep sea aquaculture. The unit weighs more than 1,500 tonnes and has an octagonal cage that's the size of two football fields.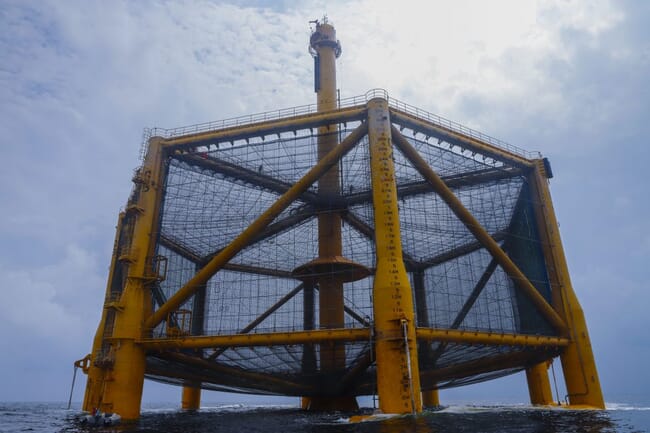 According to Dong Shuanglin, the cage overcame a number of design and engineering problems such as sink and float control, as well as shark prevention, which is a major breakthrough in China's self-design and development of deep-sea fish farming equipment.
"Salmon is a cold-water fish. When the sea surface water temperature is too high in summer, we sink the net cage to 25 metres underwater, where the water is colder. Then when the water temperature is low in winter, we raise it to the warm area again so as to ensure that the salmon can grow in suitable water temperatures all year round," said Dong.
"The potential of deep-sea fisheries is huge, and so is the corresponding equipment industry. The two will move forward together," said Yang Huiyong, senior engineer of Qingdao Beihai Shipbuilding Heavy Industry Company.
"Through Deep Blue Number-1 we hope to explore a new model for deep-sea mariculture in China, and also provide a Chinese solution for large-scale cold-water fish farming in the warm waters for the world," said Tang Qingkai.
Building industry momentum
Local news reports emphasised the limited time between harvest and retail locations. "The fish carrier will arrive at the Qingdao West Coast New Area in about 10 hours, which means that local consumers could buy the fresh salmons in markets within 12 hours," Tang Qingkai with Shandong Far-sea Aquaculture Company explained.

The salmon will be transported to larger urban centres like Guangzhou, Beijing and Shanghai using both cold chain routes and airfreight. This allows the fish to reach primary distributors within 36 hours at most, guaranteeing freshness for consumers.
This enhanced supply capability is expected to build on the increasing popularity of Atlantic salmon among China's consumers.
According to Wang Yanan, head of the fisheries department of Qingdao Municipal Marine Development Bureau, China previously met consumer demand for Atlantic salmon by relying on imports. However, due to supply chain upsets from Covid-19, China could not easily access salmon.
"The self-bred deep-sea Atlantic salmon provides a new choice of high-quality protein for consumers," said Wang. "And most importantly, this kind of large-scale, ecological and intelligent farming management also contributes to the marine food security of our country," he concluded.