Chilean salmon profits rival Norway's
After several years of poor performance the profitability of the Chile's salmon sector is now catching up with its conterpart in Norway, according to a new analysis by Rabobank.
One of the key factors, according to Rabobank's senior seafood analyst, Gorjan Nikolik, is that improving biological conditions in Chile have allowed salmon producers to achieve higher harvest weights – averaging over 5kg by the end of 2017, on a par with harvest weights in Norway. As a result of this, he observed, production costs, based on Kepler Chevraux data, have dropped dramatically in Chile – falling from $5.90 per kg in Q1 2017, to $4.50 per kg in Q4.
"Stricter legislation combined with a myriad of biosecurity measures are the drivers behind the improvements in Chile," explained Gorjan.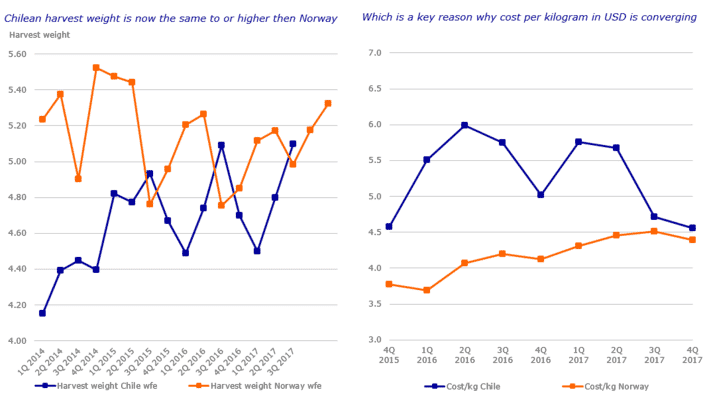 Meanwhile, he observed, costs in Norway crept up over the course of last two years – from $3.70 per kg at the start of 2016, to $4.40 per kg at the end of last year.
This factor has been mirrored by a convergence of prices for the two countries – both ending 2017 on $5.60 per kilo – while EBIT per kilo has also converged, ending the year on $1.10 per kilo in Chile, compared to $1.30 per kilo in Norway.
"The good demand growth with relative lower supply growth has created a situation of scarcity for salmon buyers. The lower choice buyers have combined with more education about use of antibiotics has reduced the Norwegian premium, at least for now," he added.
Gorjan was speaking at the recent Multiexport Foods investor forum, in Santiago, and his take-home message to delegates was that the Chilean salmon industry was now able to compete with Norway's.
"The Chilean salmon sector has overcome many of the biological problems that it faced in 2015-2016, with strong prices and improving farming performance combining to suggest it's well placed to perform well in the medium term, particularly at a time when production costs in Norway are still high," he concluded.