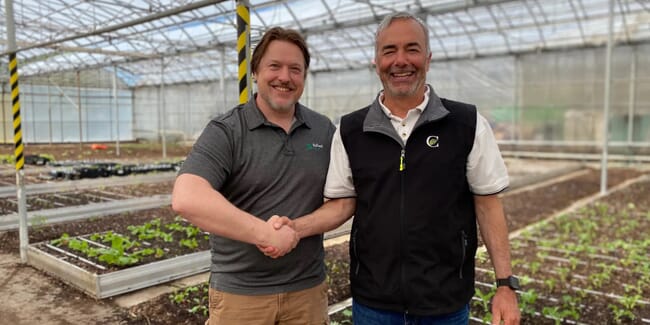 ReFeed Seaweed Extract is a natural liquid plant food made from the extract of cultivated, cold-water kelp, contains essential nutrients for growth and is ideal for a wide range of growing purposes. The liquid seaweed extract is produced by Cascadia Seaweed on Vancouver Island and will be sold under the ReFeed brand.
ReFeed, founded in 2020, and Cascadia Seaweed, founded a year earlier, first crossed paths when they were each nominated for the 2021 BC Food & Beverage Sustainability Award. This collaboration is a natural partnership and an extension of the work they are both doing to support more sustainable and climate-resistant food systems. Their work focuses on harnessing nature and upcycling nutrients to produce plant and soil health products that support food security, food production and a more resilient food system.
"We're honoured and excited to be Cascadia Seaweed's first distribution partner and help develop its premiere commercialised agricultural product," said ReFeed CEO Stuart Lilley in a press release. "Like us, they believe our current food production models are broken, and that feeding future generations will require a radical shift in the way we produce food."
"We are pleased to announce our partnership with ReFeed and launch our inaugural agricultural product," added Mike Williamson, CEO of Cascadia Seaweed. "Cascadia Seaweed takes immense pride in producing this product right here in British Columbia with kelp responsibly cultivated in collaboration with First Nation partners. As a certified B Corp, we are committed to creating a positive impact socially, economically, and environmentally. This milestone further reinforces our dedication to regenerative practices and innovation."
Leading seaweed producers are seeing the commercial and environmental benefits of using seaweed as a biostimulant. Seaweed extract nourishes plants, enhances soil health, and bolsters natural defences by rejuvenating soil microorganisms, fortifying plants, and improving soil structure. With its array of plant nutrients, this nature-based alternative to synthetic fertilisers is part of the movement toward a more resilient food system.