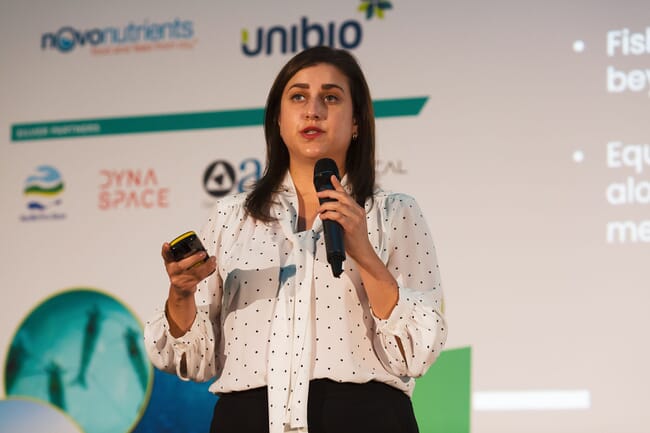 Fried's presentation focused on aquaculture investment trends and kicked off by noting that there's been a rapid increase in the amount of capital invested into the sector in the last 5-7 years, which has taken place in parallel with a rapid increase in the number of companies coming into the space.
However, she was quick to note that considerably more will be needed for the sector to meet rising demand for farmed seafood.
"This is incredibly exciting, but if you look at the Towards a blue revolution report that the Nature Conservancy and Encourage Capital put out in 2019 they estimated that – to meet the demand for aquaculture – we would annually, conservatively need $12-25 billion [invested] just in aquaculture infrastructure. That doesn't even include the upstream and downstream part of the supply chain," she noted.
"We're not even close to the amount of capital we need to truly build this sector," she added.
Scope for collaboration

Established in 2020, OSAIC is a group of 35 investors - largely family funds - which is looking to drive more capital into blue foods and blue tech.
"The idea is that by working together on dealflow, on sharing diligence information and co-investment we can reduce some of the friction to investing in this space," Fried explained.
Their goal was to cataylse $250 million into the space within three years and, according to Fried, within two they have invested over $200 million,
Despite the diversity of investors in the space, Fried noted that existing investors are neglecting a number of key areas, with a preponderance of "small- to mid-sized funds that are currently fundraising and are in the venture space".
According to Fried the uptick in investment, which took place in 2015, was because "that's when Aqua-Spark, the world's first sustainable aquaculture fund, started investing capital and others came in alongside them".

However, despite their growing number, she notes the lack of diversity in the funds that have emerged.
"Of the 22 funds in the space, 12 of them were launched this year or last year, in venture. While it's really exciting does it mean we're really building out a robust sector and a robust supply chain for aquaculture?" she asked.
According to Fried's analysis, hardware and software are attracting the greatest number of investments – in part due to the interest in ancillary technology from less specialised investors, from fields such as food and food tech. Feed and fish health are also proving popular, as they have "large total addressable markets", often beyond aquaculture.
Meanwhile there were significant numbers of investments in equipment, which Fried attributes to the rise of alternative production systems, such as RAS.
In terms of the consortium's own $200+ million of investments in the space since 2020, Fried reflected: "Alternative feed, especially insects and single cell protein, is a clear winner, with farming coming in second... ancillary technologies is coming in third in terms of dollars invested."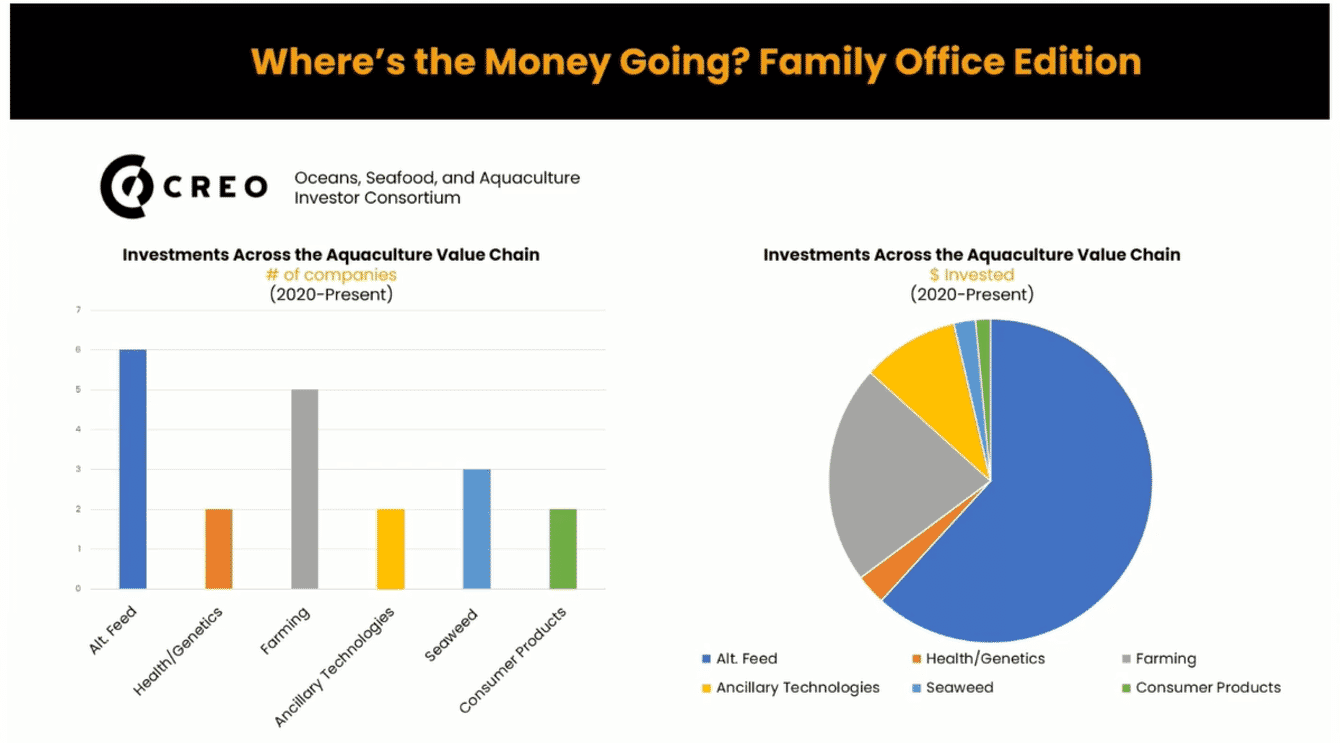 Wider investment trends
Fried then offered some insights into the other trends she'd observed since joining OSAIC in 2020.
"The first is that there's a growing interest in shrimp – shrimp is a huge market, particularly in the US, and growing. And there's a lot of room to innovate and drive sustainability, so there's interest from investors, as well as pipeline, in farming tech and farming health," she pointed out.
"The second is in seaweed, when I started this role in 2020 I had maybe one or two investors who were interested in seaweed, Now every single one of them, regardless of their strategy, is looking at seaweed," she added.
"The next is farm management technologies – a mix of software and hardware solutions – a lot of sensors that are seeking to improve the efficiency of farming. I will say that I see more pipeline in this space than deals actually being done, but it is an area where I see a lot of activity," she continued.
The next most important area relates to land-based production – both in salmon and, increasingly, in other species.
Concerns for the future
While Fried has seen many positive developments in the last two years, she still has a number of concerns about whether there are enough quality startups out there.
"Will there be enough high quality venture opportunities in this space for all of those funds to have a differentiated pipeline and be able to get the venture returns that they need? So that they can be successful and have a fund two, a fund three, to grow this space?," she asked.
And she is also worried that there aren't enough investors to help breakthrough companies reach scale.
"Do we have the investors who are going to come in and write the larger cheques after those companies scale? Do we have investors who will come in and invest in real assets? Invest in infrastructure, come in with private equity and invest? Invest debt into this space?," she asked.
"What I'm seeing is that we don't, which is problematic because it means we might be building out a very lopsided supply chain, one that is not robust. And these areas that are perhaps less sexy – around processing, around cold storage, are not receiving the capital that they need, so that when we scale production, we have this 'missing middle' part of the supply chain that's being underinvested in," she warned.
Despite these concerns however, Fried alluded to the number of investors who are currently "waiting in the wings" and could really make an impact should they join in.
"We're poised on the brink of a potential waterfall of capital coming into this space. And being able to grow out a very robust and sustainable aquaculture sector," she concluded.