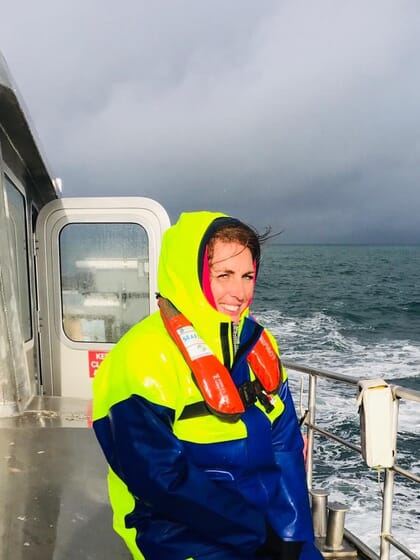 So argued Sarah Holmyard, marketing manager of Offshore Shellfish, in a presentation delivered during a webinar run by Stirling's Institute of Aquaculture last week. Part of the Big Fish Series, the event was titled Is governance the missing ingredient for sustainable aquaculture?
Holmyard's family business – which aims to produce up to 10,000 tonnes of mussels a year at sites far off the south coast of Devon – is under threat due to the EU's refusal to allow imports of British bivalves from certain parts of the UK if they have not been depurated prior to arrival. And, according to her, governance is indeed the missing ingredient to their hard-fought chances of success.
"In our view, governance, as it relates to shellfish aquaculture in the UK, does not provide an enabling environment for businesses to thrive. We believe that it is not guided by a practical understanding of the shellfish industry, but rather it expects us to fit in with arcane rules and ignores the realities of nature, technology, markets etc, that actually govern the way we work," she argued.
The rules are, according to Holmyard, "too often influenced by trends in academic research, influential pressure groups, and outdated understanding of production technology".

Offshore Shellfish has been widely praised by the aquaculture sector and even by some of the wider industry's critics, for pioneering an production system that – studies suggest – creates a valuable habitat for a range of species. However, meaningful governmental support has been hard to come by.
"We have pioneered offshore shellfish culture, which is capital intensive to set up and operate. There are many things that we cannot control, such as climate, weather and biology, which we have learnt to make allowances for, but we can't make advanced provision for unexpected changes in rules and regulations that may have an existential impact on our business," Holmyard reflected.
"We had to jump through many hoops over several years in order to set up our farm, and making any changes to suit new lease or licence conditions could involve considerable effort. For example, many species such as sea urchins, coexist [with the mussels] naturally on our lines, but we are unable to harvest them because we do not have a licence to farm them and the authorities have not been able to provide clear guidance on how to obtain one," she observed.
Most worrying of all, however, for a business that relies heavily on exporting its mussels to the continent, Holmyard pointed to the Brexit-based changes to the trade in live shellfish. Lyme Bay, like much of the UK coastline, is classified as Class B waters. And non EU member states are not allowed to export molluscs from Class B waters unless they have been depurated first.
"New Brexit-related changes to exports are beyond belief and have resulted in the cessation of our business. The UK government failed to negotiate provision for us to continue exports post-Brexit, and currently we have been unable to get the relevant UK agencies together to make the fundamental changes needed to reinstate our business. It seems that sadly, they may be prepared see us go out of business rather than tackle uncomfortable anomalies and nonsenses in the current system they impose," she concluded.