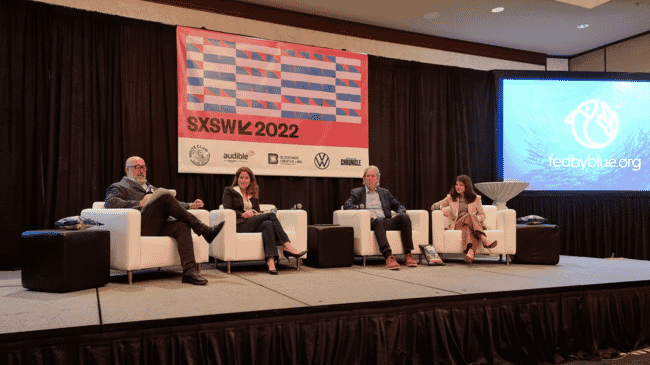 Fed by Blue is a science-based communications initiative established by three veterans of the culinary, marine conservation and strategic communications communities: Jennifer Bushman, Jill Kauffman Johnson and Katherine Bryar.
The initiative is guided by the extensive research undertaken by The Blue Food Assessment, a joint initiative of the Stockholm Resilience Centre, Stanford University and EAT, involving over 100 scientists from more than 25 institutions around the world.
"It's time to tell the stories of the inspiring visionaries – the water farmers, fishers, scientists and activists that are already creating pathways to restore abundance to our oceans," stated 13-time Emmy award-winning producer and writer David E Kelley.
At SXSW – the international conference that celebrates the convergence of the tech, film, and music industries – Kelley, along with 4-time James Beard award and Emmy award winner Andrew Zimmern, also announced plans to be executive producers of an upcoming television docuseries that explores the opportunities to restore the oceans while responsibly producing food.
"We can save the seas and nourish the world!", announced Andrew Zimmern.
Covering more than 70 percent of the Earth's surface, the world's waters play a significant role in the balance of our food and climate systems, but are suffering from overfishing, pollution, habitat loss and climate change.
"How did we come to this place of the consumptive entitlement of wild ocean resources when we farm everything else in our food system? Fed by Blue aims to reimagine and transform blue food systems through demand for transparency and empowering people to make responsible blue food choices," stated Jennifer Bushman, spokesperson for Fed by Blue.
The vision of Fed by Blue is to increase transparency and access to responsibly produced blue food while educating people as to its nutritional, economic and environmental benefits. The organisation will also work to support policies that prioritise ocean conservation and responsible harvesting and/or rearing of blue foods.
Fed by Blue has gathered a group of leaders working in different areas of marine conservation and food systems that see the imperative for ocean protection, responsible ocean production and equitable human prosperity.
According to its exponents, expanding responsible fishing and cultivation practices has the potential to protect aquatic resources and even return them to abundance, while providing desperately needed nourishing food options.