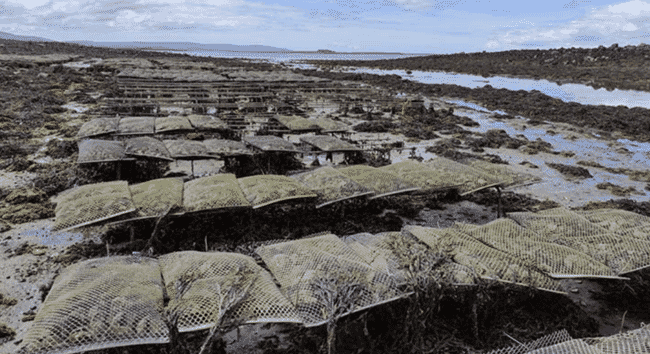 Entitled "We are all in this together," the conference embraces the wider aquaculture world, with representatives from marine finfish, shellfish and seaweed looking at the opportunities and challenges for their sectors.
Rural Affairs Secretary Mairi Gougeon opened the conference by outlining Scottish Government's aims for aquaculture development.
"Aquaculture is an increasingly important industry for Scotland and I'm looking forward to celebrating the Scottish shellfish sector and meeting representatives at this year's ASSG conference.

"It is fitting that the event begins on the same day as the launch of our first Strategy for Seafood, which highlights the importance of the fishing and aquaculture sector and the initiatives which the Government have progressed to support and develop resilient seafood businesses to retain jobs in some of Scotland's most rural and coastal areas - despite the challenges of the post-Brexit trading environment," she said.
Crown Estate Scotland chair, Amanda Bryan, will spoke about balancing the organisation's role as the coastal water landlord, delivering stewardship of the marine estate and providing economic returns to the nation.
Tavish Scott, CEO Salmon Scotland gave an overview of the Scottish salmon industry, which has developed into Scotland's number-one food export in its short history. Are there lessons to be learnt from its success, for other aquaculture industries?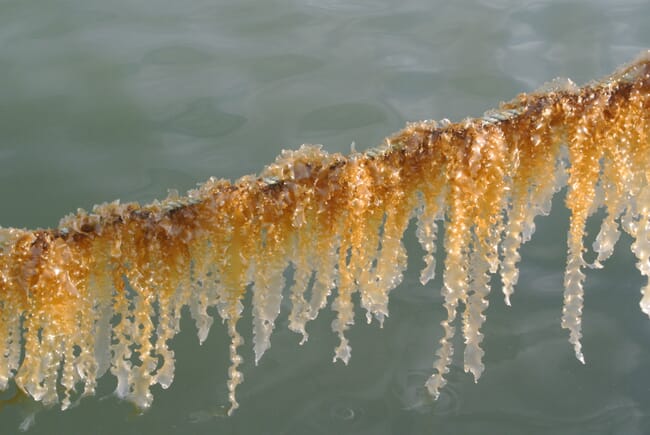 Seaweed cultivation is currently generating interest from producers and investors for its potential in feed, fertiliser and pharmaceuticals. Dr Kyla Orr, director of Kelpcrofting, discussed developing seaweed food products and raising them above their current niche market status.
Stephen Cameron, managing director of the Scottish Shellfish Marketing Group (SSMG) hosted a session on shellfish production.
The sessions also featured a closer look at life cycle analysis (LCA) – a growing research tool that measures the footprint of aquaculture from production to consumer, taking in factors such as fresh water use, nutrient requirements, energy consumption, packaging and transport. Dr Amy McGoohan, University of Edinburgh, discussed preliminary results from her project to map the LCAs of aquaculture companies, which have the potential to influence government food policy.
Linda Wood from Marks & Spencer hosted a session on consumer perceptions of seafood products and the trust placed in retailers to ensure that products on their shelves are sustainably and responsibly produced. The question of just what sustainable aquaculture is, will be tackled by Heather Jones, CEO, Sustainable Aquaculture Innovation Centre.

A series of technological and management solutions are planned by the Scottish finfish sector in the next few years to overcome current production issues, and these will be set out by Iain Berrill, Head of Technical at Salmon Scotland.

At a workshop in advance of the opening session, Dr Tim Bean and his team from the Roslin Institute spoke about innovations for disease monitoring at shellfish sites and demonstrate the latest test equipment. Dr Christine Edwards, from the Robert Gordon Institute Aberdeen, will demonstrate a remote monitoring probe that has been developed to identify and quantify a range of marine biotoxins, and a potential catalytic shield capable of breaking down shellfish biotoxins.
"This will be the first time that our industry has been able to gather together since the pandemic, and I am delighted to offer a wide-ranging programme that looks at opportunities for greater collaboration between the sectors. We all share the marine space and need to ensure that our activities within it are managed sustainability. In bringing everyone together at our conference, I believe that we can learn from each other and catalyse a productive future for aquaculture," Nick Lake, Executive Director of ASSG said.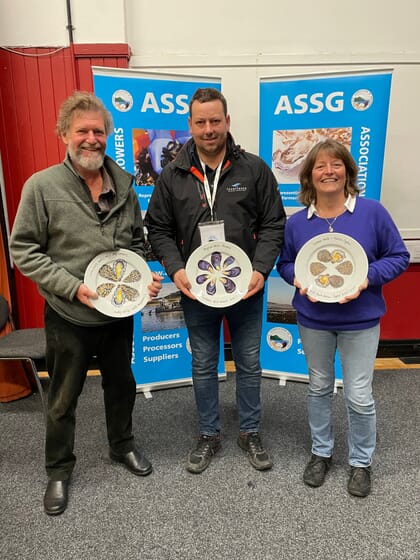 The Best Scottish Shellfish competition
The highlight of every ASSG conference is the keenly-fought competition to find the Best Scottish Shellfish. This year's judges included Alex Adrian from Crown Estate Scotland, Linda Wood of Marks & Spencer and Dr Eleanor Adamson, Fishmongers' Company Charitable Trust. The panel was led by industry journalist and shellfish farmer Nicki Holmyard. The judges examined and tasted native and Pacific oysters and mussels, and announced the winners at the annual dinner and presented with specially commissioned plates by Richard Bramble, sponsored by Highlands & Islands Enterprise.
The winners for 2022 are:
Best Gigas Oysters – Andy Abrahams, Colonsay Oysters, Isle of Colonsay
Best Native Oysters – Judith Vajk, Caledonian Oysters, Barcaldine
Best Mussels – Cameron McLean, Inverlussa Shellfish, Isle of Mull
"We judge the shellfish on their appearance, taste, smell and texture and they come to us as a numbered sample, so we have no way of knowing who produced it. It is a difficult but tasty job picking out the very best, and the judges were unanimous in their choice of worthy winners. All the shellfish submitted this year were outstanding, but there can only be one winner!" Holmyard said.