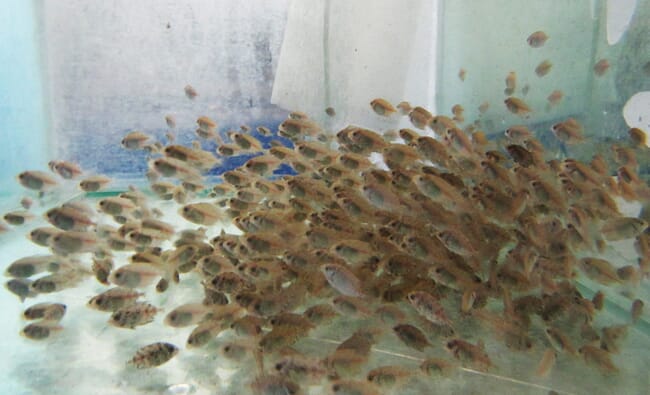 So concludes Jonah van Beijnen, one of the authors of a new study on raising rabbitfish that was carried out between the Western University of the Philippines (WPU), and a local non-profit, Fins and Leaves.
While rabbitfish are popular among consumers in the Philippines and elsewhere in southeast Asia, the authors note that most of the fish that are harvested currently come from capture fisheries. However, these wild populations are in decline due to overexploitation and damage to their favoured habits – sea grass meadows. As a result, looking for ways to culture the species is becoming more pressing and this study aimed to research effective ways of raising juvenile rabbitfish in a hatchery, so that they can be made available for grow-out in commercial net pens in the sea.
The study, which took place at Fins and Leaves' Palawan hatchery, involved a type of rabbitfish called the orange-spotted spinefoot (Siganus guttatus). The researchers looked to develop protocols for the production of the species – which has yet to fulfil its true potential in aquaculture, in part due to the fact that few hatcheries have been able to produce these fish in commercial quantities.
In an attempt to obtain a better understanding of the high mortality rate in hatcheries, and in order to look more into the economic viability of rabbitfish production, the researchers examined whether stocking densities had a marked impact on survival rates and also whether survival rates could be improved by using different types of feeds.
Stocking densities
In their first trial they found that a survival rate of maximum 12 percent was achieved, which is very promising for a first trial run with a relatively new marine finfish species. In addition, the fish did not seem adversely affected by an increase in stocking densities. This makes them all the more promising for commercial aquaculture, as it makes hatchery rearing more cost-effective.
The second suggested that commercial grouper feeds with a higher protein content led to higher growth rates than commercial milkfish feeds, with the imported feeds nearly doubling growth rates compared to locally-available alternatives.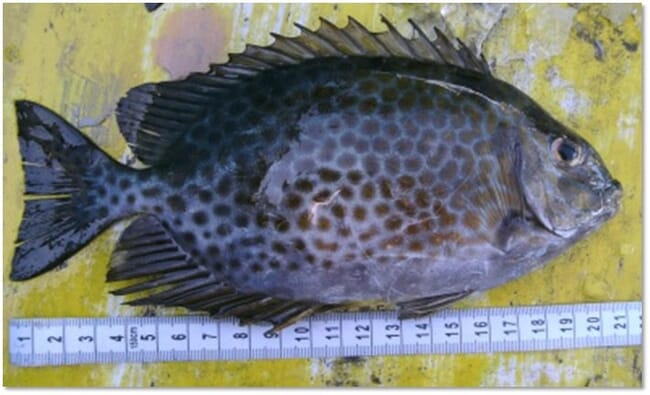 Elmer Villanueva, the main author, who is a researcher at WPU, adds that although this is the case, it would reduce the sustainability of the farming operations of these fish – as they were selected for their herbivorous nature. Thus alternatives, like feeds with a high level of plant-based protein should be investigated further.
The researchers concluded that, despite the high mortality rates, it could still be commercially viable to farm juvenile rabbitfish using a simple nursery setup that consists of a series of small blue basins until ready for growout.
"Small basins could be easily managed and would not need a big investment, making it practical and adaptable for small scale nurseries. However, for large scale facilities, the use of bigger tanks [stocked] at higher density could be tested following similar feeding and water management schemes," the researchers conclude, adding that a further economic analysis was required before the feasibility of this could be evaluated.
You can find the full study here.
Read more about other work done in the Philippines on creating rabbitfish hybrids here.