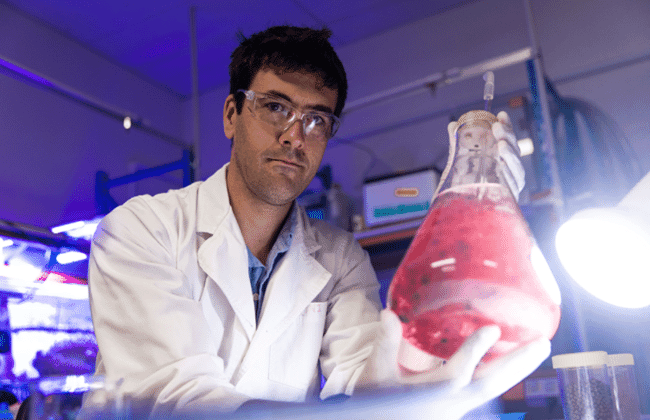 Dr Valentin Thépot, who is a University of the Sunshine Coast (USC) researcher, aquaculture coordinator at the Anindilyakwa Land Council and occasional contributor to The Fish Site, was awarded $22,000 through the Fisheries Research and Development Corporation.
Dr Thépot found in early trials that supplementing rabbitfish feeds with a small proportion of seaweed boosted the natural growth in rabbitfish by 19 per cent and immunity by 400 per cent.
He said the Federal funding would help the next phase of trials to translate the success to high-value aquaculture species such as prawns.
"Reliance on antibiotics in aquaculture can have serious environmental and human health repercussions, but disease outbreaks can cost the industry up to $8 billion each year, so a solution must be found," Dr Thépot said in a press release.
"The industry is already looking for innovative solutions for disease management and stock welfare that do not compromise productivity, and we think we have found a promising solution.

"We want to see if the results we saw in rabbitfish and Atlantic salmon will be replicated in high-value Australian aquaculture stock such as tiger prawns and tropical rock lobster," he said.
Aquaculture provides half of the seafood consumed globally, and the Australian segment of the industry is growing rapidly, with potential to create innovative new businesses in rural and regional areas.
"Indigenous business and communities in particular could benefit from harnessing natural ingredients," Dr Thépot said.
"The Anindilyakwa Land Council (on Groote Eylandt in the Northern Territory) know that it is imperative to develop a vibrant and sustainable range of industries for the future, and aquaculture can play a key role."
USC Seaweed Research Group leader, Professor Nick Paul, said the award reflected the enormous potential for seaweed to improve Australian industry at a time when commercial research innovation was a core focus for strengthening the economy.
"The project could even have global impact, given the projected costs of antibiotic resistant bacteria to the global health care system are up to $1 trillion per year by 2050," Professor Paul said.
"From an environmental and human health point of view, any effort to reduce our use and reliance of antibiotics in aquaculture is a positive step forward."