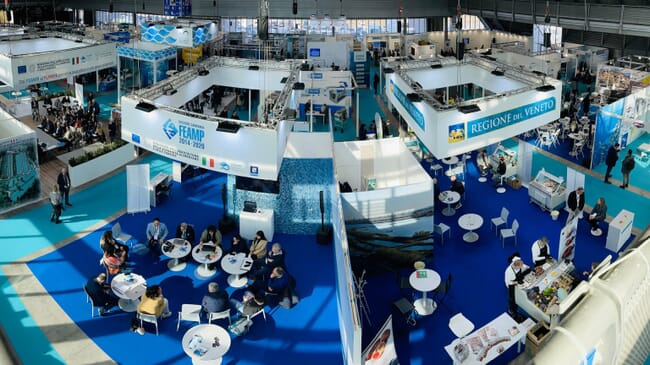 Following the pandemic crisis, which had a negative impact on the purchase of seafood products, the agri-food sector continues to be faced with other problems. The aggravation of climatic events, rising temperatures and long periods of dry weather are changing the habitats in which aquatic species live, with major impacts on breeding and farming in both sea, salty and fresh waters. In light of this, the seventh edition of the AquaFarm fisheries and aquaculture conference will have a strong focus on climate change and research and innovation.
"The effects of climate change and the [related] ecological transitions are the new challenges facing our industry. All operators are ready, it is, as always, a matter of networking and AquaFarm is an unmissable meeting place," said Pierantonio Salvador, president of the Italian Fish Farmers Association.
The conference will provide the platform for members of the aquaculture and fisheries industry to discuss how the damaging effects of climate change on the industry can be mitigated. For example, the changes to ocean temperature have facilitated the spread of blue crab (Callinectes sapidus) along the Italian coast, resulting in significant damages to shellfish production in the affected areas.
"AquaFarm represents an opportunity to highlight the urgency of anticipating the effects of change," said Luigino Pela, President of the Mediterranean Aquaculture Association.
The rich conference programme, which will also focus on sustainability certification, animal welfare, technologies, and animal and human nutrition, will be held in the Pordenone Fiere exhibition centre. The conference and trade show will provide the platform for the exhibition of scientific posters, and will host a show cooking arena for attendees to sample national seafood dishes.
"We really care about AquaFarm as it is one of the events that represent the future of Pordenone Fiere. Internationality, high expertise and scientific approach - thanks to these features, we are convinced that the companies attending the exhibition will have an opportunity to grow their businesses and there will be important economic spin-offs for the local area," said Renato Pujatti, President of Pordenone Fiere.