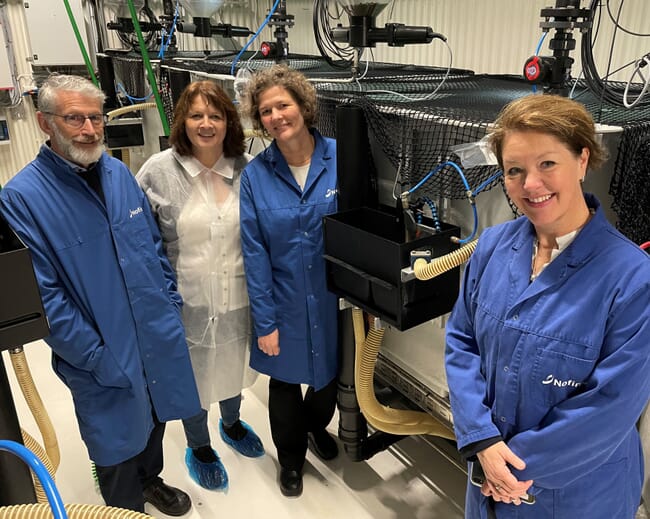 Approximately 10 percent of fish feed goes to waste in land-based aquaculture facilities. This feed then mixes with fish faeces in the drainage system and creates sludge. Feed is a resource that is being lost – and Nofima and Vard Aqua want to do something about it. The invention has been given the preliminary name of "spill box" and it separates uneaten feed from the wastewater so it can be recycled back to the salmon.
"We are very pleased that we get the chance to collaborate with technology suppliers like Vard Aqua, so that they can take our research tool and develop it on a commercial scale. Economy and resource utilisation will be the major advantages of the spill box for industry actors," says Kjell-Åge Rognli, director of business development at Nofima.
If the commercialisation of the spill box goes as Rognli hopes, it can contribute to virtually zero feed waste in a land-based facility. However, sustainable resource utilisation was not on the agenda for the scientists when they started development.
Demonstrating the spill box for the State Secretary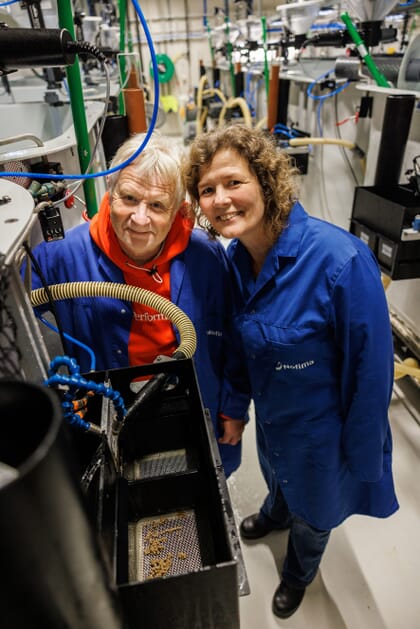 On Thursday 27 October, Nofima and Vard Aqua met with the press and State Secretary Kristina Hansen from the Norwegian Ministry of Trade, Industry and Fisheries, to mark the transfer of the innovation. The spill box was demonstrated.
"We in the Ministry are very satisfied. This is an example of research results benefiting the industry, as this leads to better utilisation of feed. Useful research and money well spent", says Kristina S Hansen.
The press conference took place while 220 people attended the conference "Smolt production in the future" at Sunndalsøra in Norway, which Nofima and Sunndal Næringsselskap organised for the seventh time.
Focusing on research improvements
For many years, scientists have wanted to improve the method for measuring the digestibility of feed in research. In farmed fish, it is much more difficult to measure feed intake and the exact digestibility of feed than in livestock. With regard to livestock, faeces can be collected from the ground and feed residues can be removed from the feed trough. When it comes to fish, however, everything is mixed in the water.
Therefore, scientists wanted an improved tool for collection of feed and faeces.

Firstly, the scientists worked on the development of a separator, ie technology that creates centrifugal force for sorting particles. They didn't quite succeed with this work, and after further discussions, they moved away from the idea and over to filtration, where they tested out different grates, objects and shapes beneath the flow of water.
After a while, an idea developed that something vertical had to be involved, where the water enters from the side. They found a solution that utilised the bounce in the feed pellet versus the more sticky properties of the faeces. This allowed the scientists to separate feed and faeces into different fractions.
Solution-oriented scientists and creative technicians have helped Nofima create a feed spill box that is ready to be developed for the world market.
Research advantages
The spill box has three obvious advantages when it comes to research.
"We hope the spill box will make accurate measurements and give our research technicians an easier working day – and the fish do not have to be handled," says Nofima's Turid Synnøve Aas, who is the project manager and one of the scientists behind the method.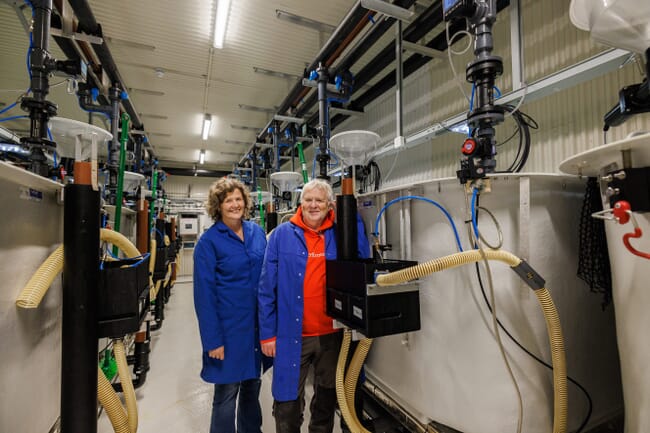 The fact that the fish do not have to be handled also means that scientists can take more frequent samples because they do not have to worry about harming the fish. It results in better research.
Aas is quick to talk about how Nofima has benefited from the creativity and dedication of research technician Frode Nerland.
"He has put a lot of time into observation and has used his creativity to constantly develop new improvements. At Nofima, it is rare for us to go and buy something that is a completely finished product. We are not afraid of getting our hands dirty and trying things out ourselves, and Frode is good at that," says Aas.
Recently retired scientist Torbjørn Åsgård has also been active in the development.
Benefits for industry
Experts at Nofima have created a solution that separates feed so that it can be reused. How the feed will be recycled back to the fish is up to Vard Aqua to develop further. The scientists believe that land-based facilities are the most relevant in the first instance.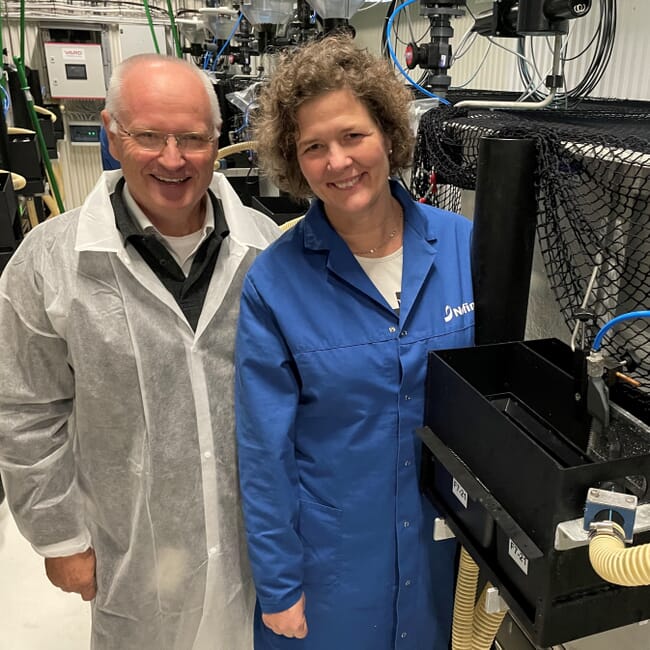 "A land-based facility with a daily feed consumption of 2 tonnes normally has a feed wastage of 200 kilograms every day. It will be a very positive outcome if 200 kilograms per facility become a resource in food production, instead of going to waste."
Don't forget the sludge
Another clear advantage for the industry is that the separated sludge becomes drier. This means that additional drying processes aren't necessary and one can save energy and infrastructure regarding sludge treatment. This type of sludge without feed residues has a higher concentration of minerals.
However, the scientists don't want to count their chickens before they have hatched. The tool must be further developed if it is to be used commercially, but trials in small, closed-containment facilities at Nofima's research station at Sunndalsøra have yielded positive results in separating feed and sludge.