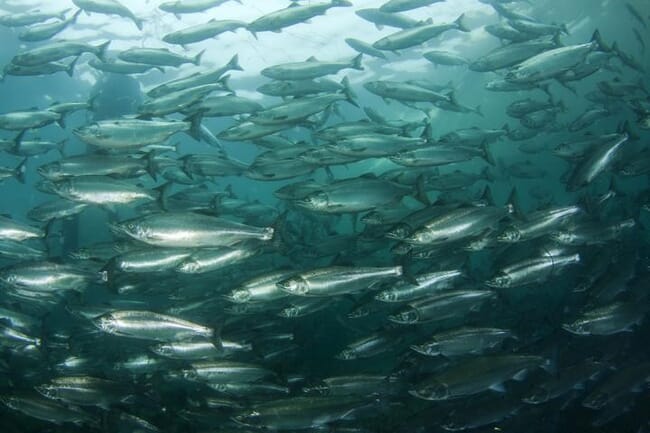 The microalgae species was isolated by doctoral student Claudio Rivas, who is studying aquaculture sciences at Chile's Austral University. Rivas learned that C. reticulata can produce larger than expected volumes of astaxanthin (an average of 2.5 percent of its weight). The compound is a natural antioxidant and gives salmon its reddish colour. Rivas and his colleagues in the FONDEF IDaA i+D research project are hoping to produce the microalgae at scale, allowing the naturally derived astaxanthin to be incorporated in salmon aquafeed.
This initiative is not only aimed at feeding salmon, said Dr Manuel Alarcón Vivero, an academic from the Aquaculture Institute at the Austral University of Chile. "Once this project is already proven, we could plan to generate a food line for humans. The algae not only produces this pigment, but other healthy fatty acids and has a large amount of protein. Our idea would be to produce algae on a large scale and that this algae could become a healthy food – a nutraceutical – both for people and for salmon companies."
Dr Alarcón Vivero is leading the larger FONDEF IDeA R&D project that is overseeing the production of C. reticulata. The IDeA I+D research grants support the co-financing of applied research and development projects, allowing scientists to develop technologies that can eventually yield new products, processes or services that bring positive economic and social impacts.

Speaking about the grant, Dr Alarcón said, "it has been a great joy to win the FONDEF IDeA I+D project and it has been a very intense job with Claudio Rivas, a student of the Doctorate in Aquaculture Sciences at our university and who isolated the microalgae Chloromonas reticulata in Antarctica.
"We wrote the project in a month and a half, and we obtained critical support from the Research Directorate of the Puerto Montt Campus was tremendously important. This project will be completely developed in the laboratories of the Puerto Montt headquarters, where the work team must manage to make a bioreactor prototype, and if successful, toxicity bioassays will be carried out, even though the microalgae did not show any toxic effects in previous research. We will check it all again in detail to make sure the ingredient does not cause any damage to salmon or mammals. From there, we will verify that humans can consume it safely," Dr Alarcón said.
The research team is working with aquaculture firm Biomar and the Technological Institute of Salmon (Intesal). "We have had great support from them, they reacted quickly and have collaborated with us and we hope that they will continue collaborating in the extension of this project."