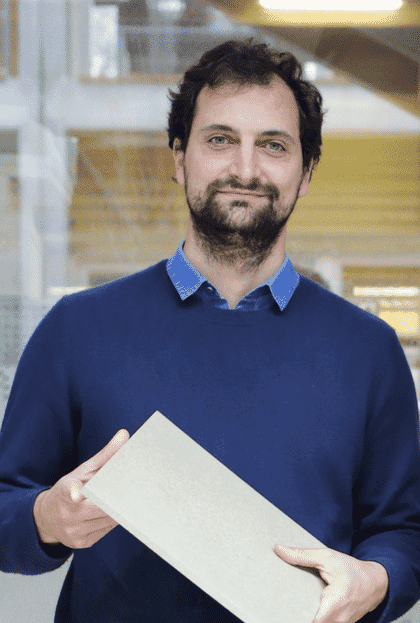 Based in southwest France, Scale – the company behind the invention – was founded by Erik de Laurens, a former architectural designer, who would like to see it used in a range of applications – from furniture to feature walls – once he has succeeded in producing it on a commercial scale.
"At the moment we're sourcing our scales from sustainably farmed tilapia in Indonesia and we can source up to 100 tonnes of dried scales a month from them. We're also hoping to start sourcing them more locally – with both sardines and salmon being possible options that are widely processed here in Europe. There could be 20,000 tonnes of scales available from these species in France, but the structure of the supply chain is not ready yet. We're on the lookout for clean and dry fish scales in Europe," de Laurens explains.
"Worldwide we've calculated that there's about a million tonnes of scales available per year. Of renewable material, which is the key factor," he adds.
Currently, according to de Laurens, fish processors either discard the scales or mix them with other fish byproducts as animal feeds. However, he believes that they can serve a much greater purpose when converted into Scalite – a substance that's made solely of fish scales.

"The scales are made of collagen fibres that have been biomineralised – they are about 50 percent mineral, depending on the fish. This makes a lattice structure that's really strong and protects the fish," says de Laurens.
In order to transform them into Scalite the scales are first grinded into a powder which is then formed into sheets by Scale.
"We use the natural biopolymer of the scales as a binding agent. During the process the two phases of the scales (organic and mineral) are simply reorganised into sheets. This makes it a unique answer to sustainability, because most other materials include some sort of petrochemical-sourced plastic in them. Ours is also ocean-friendly – we want our material to be harm-free and Scalite has passed the text for ecotoxicity," de Laurens explains.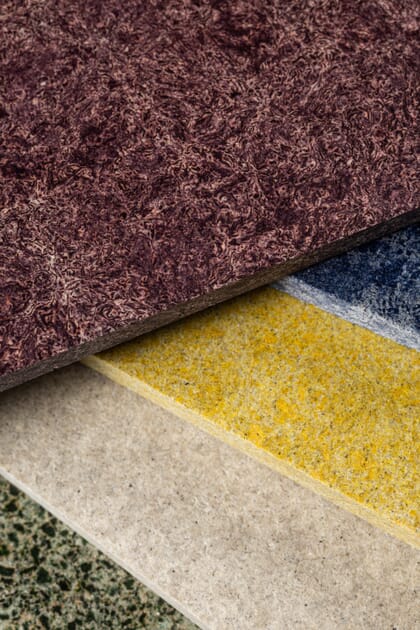 "It's also naturally fire-proof, which is a prerequisite for building public spaces, it can be assembled using its own glue – we're creating our own glue which is also made from fish scales, which allows us to do these mono material assemblies. This is very important for the furniture industry, as many of the glues used in furniture contain VOCs [volatile organic compounds], such as formaldehyde, which create indoor pollution – they can be carcinogenic and disrupt your endocrine system too," de Laurens explains.

The idea was born when de Laurens was studying product design at the Royal College of Art, in London. During his degree he looked into the food industry in France to devise new ways of producing materials with a local identity and a sustainable approach. He quickly identified scales as an overlooked by-product available for the creation of novel materials.

"After two months of research I created the first version of Scalite," he recalls.
Soon thereafter de Laurens accepted a job in the materials research department of Foster and Partners, where he worked for six years. But the concept stayed with him and – four years ago – he decided to set up his own business alongside his cousin, the serial entrepreneur Edouard de Dreuzy, and they now employ six others too. They can currently produce about 100 m2 of Scalite (a tonne's worth) a month from their factory near Biarritz, but plan to double that by early next year.
"It's still fairly small-scale, but will enable us to tackle bigger projects," says de Laurens.
"At the moment we have no economy of scale, so we're much more expensive than bulk materials, but we're no more expensive than similar solutions. The clients we're looking for are those willing to do that extra spec when it comes to cost," he adds.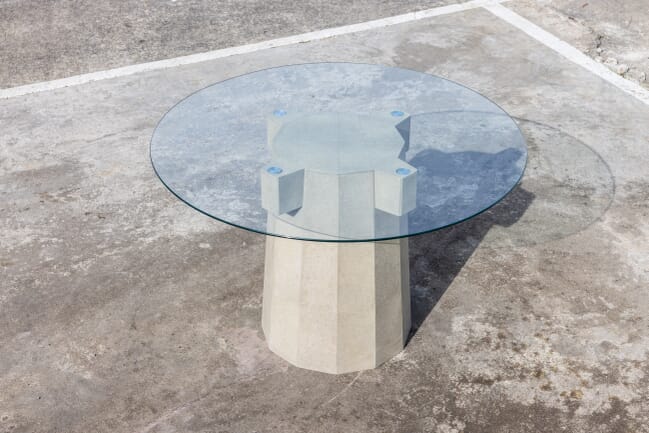 As they seek to increase their output, so are they looking for additional investment.
"We raised €800,000 in 2020 and have had a lot of help from the French government and the regional government too. We are currently looking to raise again to help us gain access to market, and maintain the day-to-day business," de Laurens explains.
At the moment de Laurens is working with retail brands and furniture brands – both directly and through a number of designers and architects.
In terms of the properties de Laurens notes that Scalite can swell when wet, making it unsuitable for bathrooms and kitchens, but says that it can otherwise be used in a wide range of indoor settings and that it has a number of important advantages from a sustainability perspective.

"One of the materials we compare ourselves too is a product called Corian, from DuPont. It's a petrochemical-sourced acrylic loaded with alumino silicates material, which need to be mined," says de Laurens.
"Scalite on the other hand is durable, yet biodegradable. We can also recycle it in our facility. It can be machined by the same tools you'd use with timber. You can screw it, you can saw it, you can CNC machine it," he adds.
"We want to focus on making Scalite and working with a network of fabricators to transform it into objects. But, because we're early stage there's a lot of education to be done both with clients and fit out manufacturers. So we're doing a lot of prototyping in-house," he explains.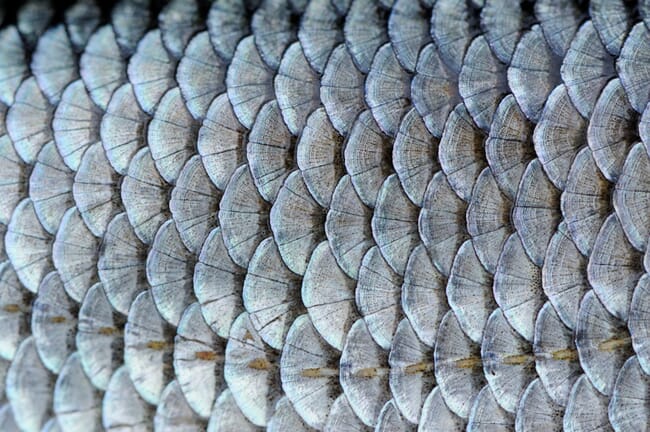 However, in the longer term he is confident that the business will grow considerably in the years ahead.
"I think the market interest is proven, but we'd like it to be proven in numbers. Ultimately we'd like to have a full-scale production plant here in Europe, where we can source and process European fish scales and then duplicate the model in parts of the world where scales are available and were the market is – Asia and the Americas," he concludes.