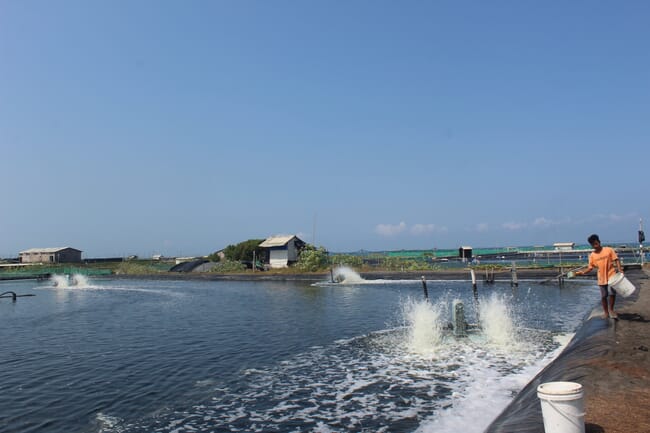 ADM Capital Group, IDH - the Sustainable Trade Initiative, and Alune Aqua* have received a grant to develop a blended finance solution, the Asia Aquaculture Facility (AAF), that uses a revenue-based financing model for farmers to engage in sustainable intensive aquaculture in Asia and support mangrove conservation.
The grant has been awarded by Convergence through the Asia Natural Capital Design Funding Window, co-designed with and funded by the RS Group, a Hong Kong-based family office.
The aquaculture sector plays a critical role in ensuring food security and meeting the world's increasing demand for protein. However, many farms still follow traditional semi-intensive practices with limited yield and profitability potential. AAF plans to tackle such challenges by introducing a financing system that facilitates sustainable aquaculture intensification.
The facility aims to provide revenue-based financing for sustainable aquaculture intensification through a debt fund, where financing would be contingent upon achievement of certain environmental outcomes (eg improving the waste management system), and support mangrove conservation and reforestation through a linked technical assistance facility. The aim is to pilot the vehicle in Indonesia with a focus on shrimp aquaculture and potentially expand to India, Vietnam and the Philippines. The facility will engage with value chain actors and broader stakeholders to bolster the transition to sustainable aquaculture intensification.

"Blended finance makes it possible to design a solution like AAF that improves the sustainability and efficiency of the aquaculture sector, while simultaneously supporting mangrove conservation and reforestation. What makes it even better is its replicability and the demonstration case it provides for the market," says Joan Larrea, CEO at Convergence.
The pilot in Indonesia has the potential to directly improve 5,000 livelihoods by improving productivity and reducing loss events. In the initial phase, the facility could support the regeneration of 500 ha of mangrove and the protection of 1,800 ha of mangrove. The facility, once fully mobilised, has the potential to protect or capture around 250,000 tonnes of carbon.
"With catalytic support from Convergence and the RS Group, ADM Capital and its AAF partners will refine our approach to financing aquaculture," said Chris Botsford, ADM Capital co-founder and CEO. "We know that many high-impact aquaculture business models can't access traditional early-stage finance. The AAF will seek to address this through a financing model that is more financially, behaviourally, and culturally suited to borrowers."
"The AAF will provide finance designed to react and reflect the realities of aquaculture farming. As champions of farmers, Alune all too often sees farming businesses limited by traditional financial options," said Alexander Farthing, CEO of Alune Aquaculture. "The support of Convergence and RS Group accelerates access to better financial products for thousands of aquaculture farmers. We are excited to continue our work with our partners ADM Capital and IDH as we scale blended finance for aquaculture together."
"For AAF to be successful, it needs to be strengthened with jurisdictional sustainability governance, by specifically addressing risks related to aquaculture, such as diseases, lack of community business models, and negative environmental impacts like mangrove conversion. IDH believes that partners within AAF can support the further development of appropriate blended finance at scale," says Fitrian Ardiansyah, executive chairman & CEO, IDH Indonesia.
*Alune is part of Hatch's investment portfolio, but The Fish Site retains editorial independence.