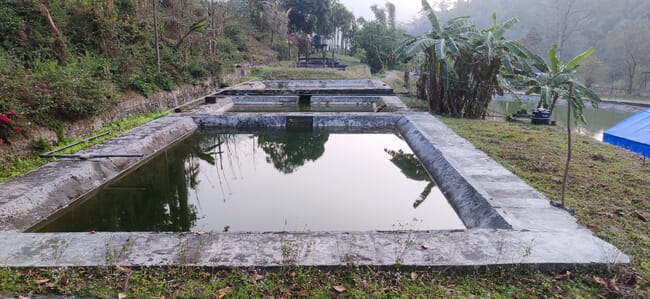 Jeet Bahadur Subba, a retired government employee, resides in Riang, a remote hamlet located on the hills of Kalimpong district of West Bengal.
The 61-year-old often finds it difficult to procure food items, especially vegetables and fruits, from the market because of the transportation problems in the hilly terrain, coupled with his financial constraints.
But still he ensures that his family gets enough intake of protein.
He gives credit to a pond, locally called a jhora, located inside the boundary of his house for providing a regular supply of fish to his family.

"We live in a terrain which is far away from the city and surrounded by hills. The local markets do not always have an ample supply of fruits and vegetables, but jhoras compensate the deficiency by providing us with a regular supply of fish," he says.
"The size of my cemented pond is around 43 ft by 33ft with a 3.5 ft depth of water. I had released around 1,000 fingerlings, mostly common carp and grass carp, around eight months ago. We fed them with rice bran, organic manure and soya beans.
"Fifty died due to extreme cold conditions in the hills last year. The rest survived and have attained a size of around half a kilo. We catch them as per our need. The fish tastes delicious and are also sold to neighbours who make advance booking for it. It also helps me to generate some extra income."
Jeet is not alone. Over 6,000 locals are involved in jhora fish farming in the hills of Darjeeling and nearby Kalimpong – largely for subsistence purposes, while a small portion are offered for sale.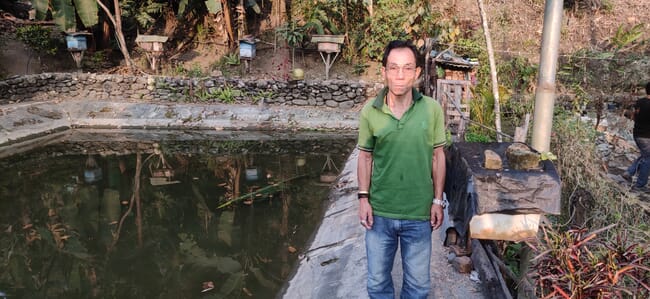 What is jhora farming?
Jhora fish farming implies fish culture in artificial tanks fed by perennial spring water flowing from the mountains. It's a unique form of cold water fish farming, that – in India – only takes place in the snow-capped hills of Darjeeling and Kalimpong, regions that attract tourists from across the globe.
"Under this method, we [farmers] select a small patch of land, normally outside the house and construct a tank there. The tanks vary in size, depending upon the availability of the land. The water is supplied to the tank with the help of long pipes that are connected with the hilly streams flowing a few metres away from the tanks," explains Sarad Rai, a jhora fish farmer in Kalimpong.
"The water flows uninterrupted around the clock, which helps to maintain the oxygen level. Besides, a small outlet is also constructed in the tank to ensure that the surplus water gets released. The released water, which contains fish waste, offers rich organic feed to the agro-farming. The fish farming is done throughout the year and the catch is used mostly for self-consumption," he adds.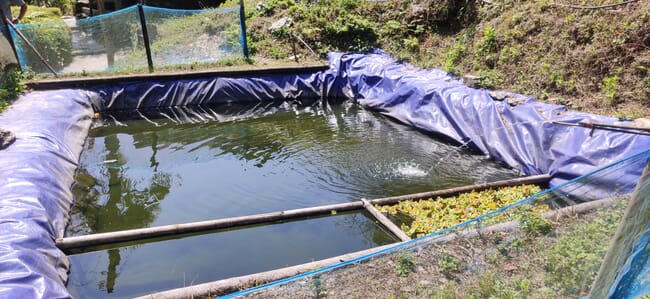 Senior fisheries department officials say that the tank size depends upon the terrain, "The region is full of hills and uneven land which makes it difficult to build large tanks. We provide them with fingerlings, nets and feed once in year," said Sarthak Pradhan, fishery extension officer in Darjeeling district.
"We previously gave Rs 8,000-10,000 INR ($105-$130) subsidies to the farmers for the construction of the tanks, but no such subsidy has been given by the government for the past two years," he adds.
Given the simplicity of the system it might seem strange that it is only used in Darjeeling hills, but there are a number of reasons why it's not more widespread.
Partha Pratim Das, assistant director of fisheries for West Bengal, explains that the hills in north Bengal are still pristine and pollution-free in several areas, which is not the case with other parts of India.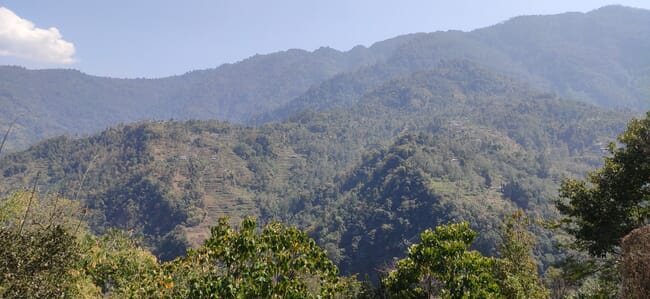 "We are lucky to have a rich forest in north Bengal that ensures the steady supply of water across most of the year. People are nature worshippers and worship local water sources and encircle them with a boundary wall to prevent them from getting polluted. The water is also rich in minerals which help the growth of the fish. The non-contaminated water supply also minimises the spread of diseases," Das explains.
"The average size of the tanks is 23 ft x 10 ft and can go up to 40 ft x 15 ft and even beyond in some cases, depending upon the nature of the land. On average each jhora is stocked with 1,000 fish."

The roots of jhora farming
Jhora fish culture started in the early 1980s, when the state government intervened and built concrete ponds for the villagers to boost fish farming and ensure healthy diets for them.
"We have been doing fish farming for the past several years but the method was different. We used to excavate a small earthen pond near the stream and release some fingerlings there. The stream ensured the 24/7 availability of water. But the government formalised the system and built a concrete tanks for us in 1982 to attract more people to farming," says Pawan Bhutiya, 65, a farmer in Kalimpong district.
"The government started fish culture by setting up nine small demonstration units (13.0 m2 ) to study the growth of fishes in high altitudes. Economically viable species that thrive well in these conditions were selected. The results were encouraging. Around 100-120 kg of table fish was harvested from each jhora pond after nine months. The production encouraged the administration to start fish farming on a large scale in the hills and locals were provided with 50 percent subsidy assistance for pond construction."
At present, around 5,000 jhoras (tanks) are present in the Kalimpong and Darjeeling hills.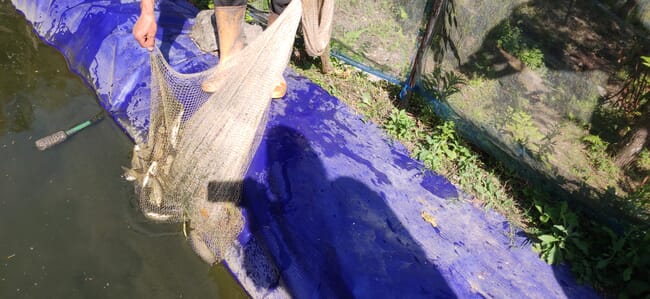 Economically poor identified for farming
In 2018, the state government, under the West Bengal Accelerated Development of Minor Irrigation (ADMI) project, constructed tanks for locals who were financially poor.
"We identified over 500 first time beneficiaries. We excavated tanks and covered the base and boundaries with blue polythene sheets. The sheets were used to bring down the manufacturing cost, as constructing a concrete tank involves a high cost of around Rs 70,000 ($919) while the use of polythene sheets cut down the cost to just one-third of it," notes Bijoy Damean Gurung, a community mobilising specialist for Disha, a non-profit that executed the project.
"We also supplied them with 150 fingerlings of tilapia, common carp, grass carp and rohu. The fish were fed with market feed. The aim was to attract locals towards jhora farming. Since then, we have been distributing 150 fingerlings to them every year."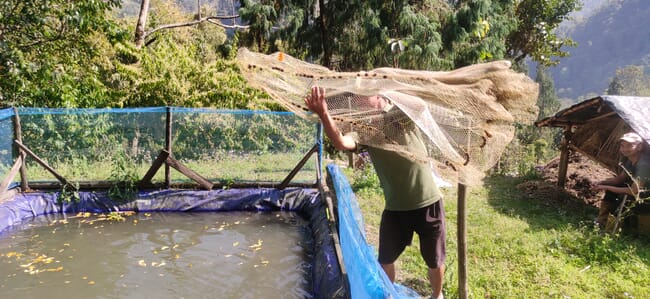 Farmers say that the fingerlings are procured from the local market and the eggs released are kept in the same tank.
"We feed them with organic manure, wheat and rice bran. It takes around six months for grass carp to attain 1.5 kg while common carp grows to half kg in the same period. We stock around 150 fish in the tank," said Bimal Rai, a farmer in Lower Menchu Sakyong in Kalimpong district.
The 35-year-old has a tank size of around 15ft x 10ft with a water level of around 2 feet.
"Our equipment consists of fishing rods, nets, pipes for supplying water and caps on the outlets to ensure fish don't escape. We also sprinkle a mixture of lime and potassium to keep the fish disease-free every 15 days."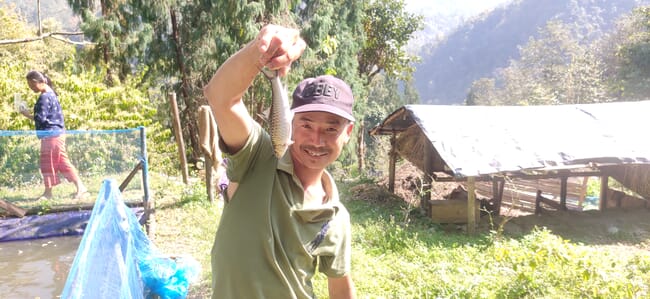 High mortality rate
The project has suffered some severe setbacks, as species like tilapia and rohu were unable to adapt to the extreme cold conditions of the hills during winters and died.
Khomadevi Chhetri, 34, a farmer in Sakyon village in Kalimpong district said that she had released around 150 tilapia in 2021 but 80 died in the cold water last December.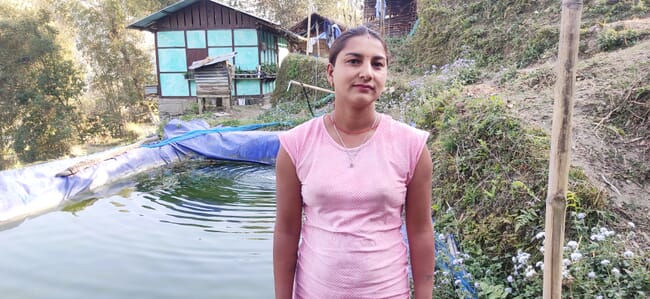 "It was an extreme winter and the fish were unable to adjust to the climatic conditions. But the mortality was also high in 2019, when 130 out of the 150 fingerlings died. We managed to harvest some, but overall the results have not been satisfactory so far," she reflects.
Apart from high mortality, the fish have also been suffering from various defects, which have led to high mortality rate and severe economic losses for some farmers.
Equally many of the jhoras are in a state of disrepair, resulting in cracks and water leakage causing loss of the catch. The high mortality rate is also a concern for the farmers.
"The cold conditions often make it difficult for those fish that come from hatcheries on the plains to adjust and they also suffer severe stress. The mortality rate can be as high as 50 percent, but this doesn't happen always. The ideal temperature for fish growth is between 20 degrees to 26 degrees, but here the mercury dips below 20 degrees in winters," said Pradhan, the fishery extension officer.
Kalimpong model
Partha Pratim, the assistant fisheries director, has also devised a new method of fish farming that he calls, the "Kalimpong model" to minimise fish mortality rate in jhora farming.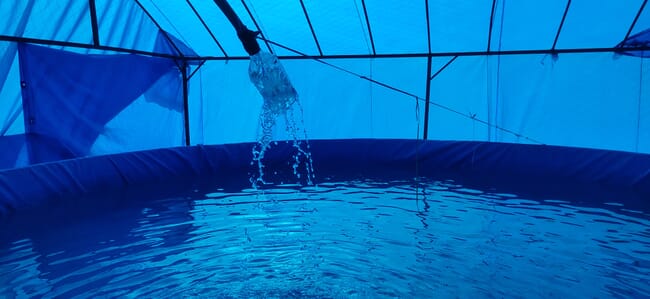 "The state government, on the basis of our proposal, has constructed a poly tank-house made of iron bars and blue polythene sheets. The PVC-tank inside the poly tank-house has a stocking density of 5,000 fingerlings," says Pratim.
"We had released 4,000 fingerlings, mostly local species like rainbow trout and others last year and the mortality rate was just 5 percent. They were fed mostly with floating pellets, with starter (0.8 mm) and grower (up to 2 mm size) diets. The hill water below 20°C was first stored in a tank and then released in the fish tank through showers to maintain the oxygen level."
"We have identified 90 beneficiaries and constructed nine poly houses for them. The cemented tanks normally have a capacity to store a maximum of 16,000 litres of water, while these tanks can store 20,000 litres. The cemented tanks also develop cracks after a few years which are not an issue with poly house tanks," he concludes.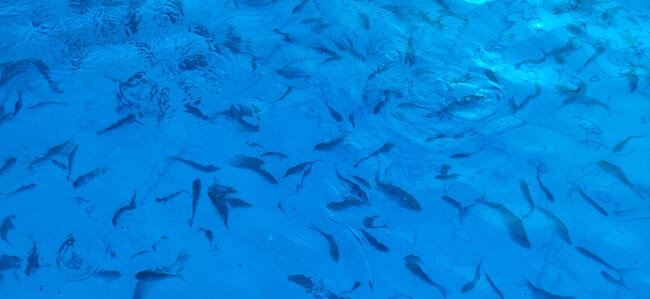 However, many jhora farmers are convinced that their ponds – and their way of life – have a future.
"As long as our hills are offering us natural water, we don't have to bother about our health. We have fish to relish and nature for worship. Long live the mountains," says Rai, smiling.