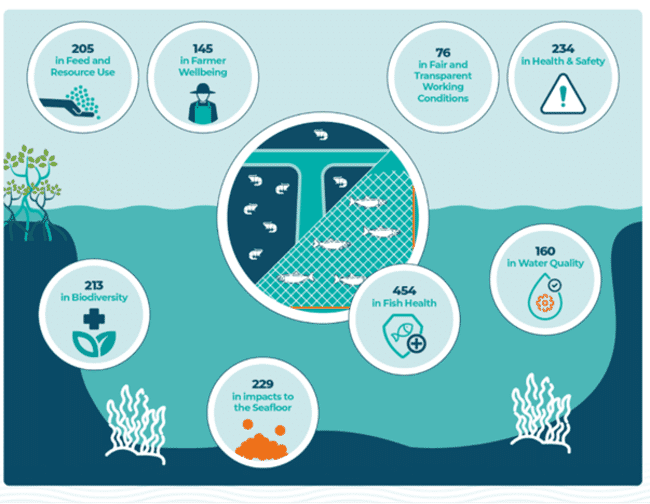 "It is increasingly being recognised that the aquaculture industry must play a more active role in addressing challenges associated with the demands of a growing human population," said Chris Ninnes, CEO of ASC in a press release. "I am proud of the robust work we are carrying out within ASC to contribute and continue to refine our strategies in support of our mission. And we know that as a sector, we can only continue our positive impacts through strong collaboration and a clear action plan."​

2022 was a year of growth for ASC, bringing amplified awareness of the ASC label across markets, expanded uptake of the ASC programme with increased numbers of ASC certified farms, delivery of key programme and assurance improvements, and a new executive board to steer ASC forward into its next decade.
"To deliver on our mission of transforming aquaculture, it's crucial that we carefully track and publicly share the impacts of ASC's work," said Jill Swasey, ASC's head of impacts. "We see the tangible benefits of ASC certification on farm workers and the environment, and we look forward to increasingly reporting on ASC's impacts as our programme continues to grow."
Highlights of the impact report
According to the ASC, highlights for 2022 include:
More than 1,400 on-farm improvements were made that conserve and protect biodiversity conservation, enhance responsible use of feed and other resources, and reduce impacts to seafloor habitats, fish health and water quality.
More than 700 on-farm improvements increased farmer wellbeing, fair and transparent working conditions, and worker health and safety.
The number of ASC certified farms increased by 22 percent from 2021. Independent audits were conducted on more than 1,200 farms to verify their performance.
14 percent more ASC labelled products were made available to consumers globally than in 2021.
Commitments from key retailers in the UK, along with demand from the French market, led to a 144 percent growth in ASC certified Scottish salmon farms. This contributed to delivering more than 5 billion portions of ASC certified salmon to the global marketplace.
A new ASC Chain of Custody module was released, providing a higher level of supply chain assurance, and new traceability tools were piloted to advance "assess and address" approaches to supply chain risks.​
The report also tracks ASC contributions toward the UN's Global Sustainable Development Goals (SDGs), drawing on outcomes of a 2022 ASC study measuring how responsible aquaculture can contribute to the 17 SDGs and their 169 associated targets. Those findings show that ASC addresses half of the targets within each of the 17 SDGs, with more than 80 percent of those considered to be "well" or "very well" addressed.
The 2022 Annual Impacts Report, Setting the Standard for Seafood, is available here.