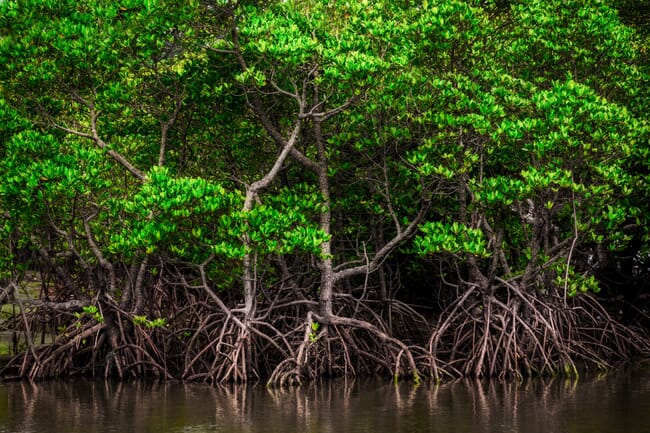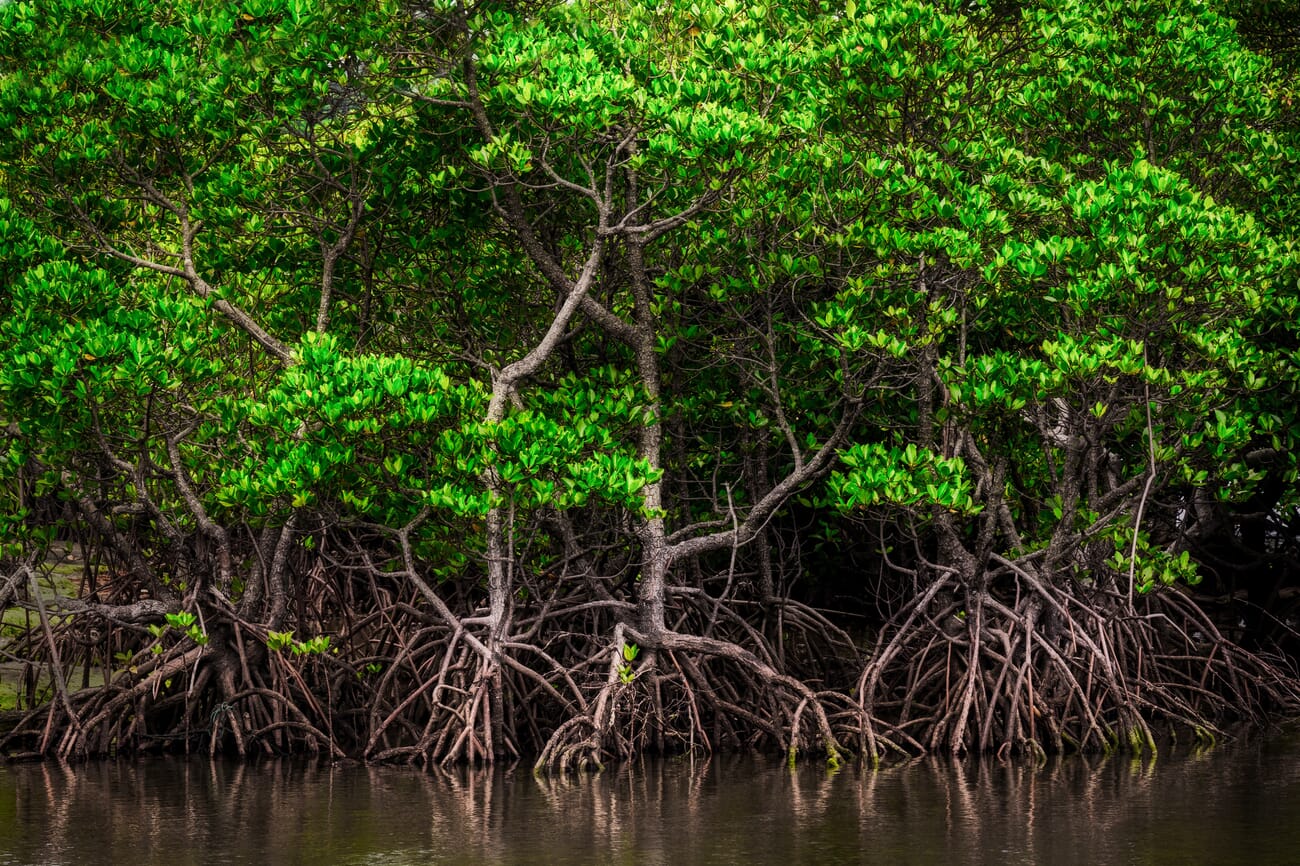 The global COVID-19 pandemic has caused unprecedented job losses and economic uncertainty. As governments and businesses look to stimulate growth, a new study from the World Economic Forum found that 'nature-positive' solutions can create 395 million jobs by 2030.
The Future of Nature and Business Report provides blueprints for businesses to tap into a $10.1 trillion business opportunity, focusing on industry actions that are nature-positive, meaning that they add value to nature. The publication is the second installment in its New Nature Economy Report (NNER) series following January 2020's Nature Risk Rising, which estimated that over half the world's GDP – some $44 trillion of economic value – is at risk due to businesses' reliance on dwindling planetary resources.
The report identifies three key socio-economic systems - including food production - collectively representing over one-third of the global economy, which pose the greatest threat to biodiversity – and provides a blueprint for business to generate up to $10.1 trillion and 395 million jobs by 2030, by pointing to 15 systemic, "nature-positive transitions" including embracing regenerative agricultural practices and reducing urban sprawl.
Aquaculture
The section of the report that refers to the promotion of healthy oceans argues the buisness case for restoring coastal wetland ecosystems by working with the aquaculture industry, "which stands to benefit enormously from restoration".
The report flags up the example of coastal communities in Viet Nam that saw their incomes rise between 200 percent and 800 percent from aquaculture products such as shells and oysters following the restoration of critical mangroves.
The report also argues that a key push towards sustainable marine aquaculture should include expanding unfed mariculture – for species such such as bivalves and seaweed – and switching to multi-trophic practices.
"Such practices cultivate a variety of ocean-based nutrition such as finfish, shellfish and marine plants to replicate the food chain in natural ecosystems and diminish pressure on wild fisheries while reducing the amount of waste generated and the risk of algae bloom. Canada has successfully been using these techniques with positive results," the report argues.
The report also flags up a number of challenges that the aquaculture industry needs to overcome.
"For ocean and freshwater aquaculture to truly offer a sustainable solution, it still needs to overcome some productivity and environmental limitations. These challenges include the need to improve disease management, limit antibiotic usage, favour native species harvesting, scale sustainable feeds that do not compete for land or wild-caught fish, and improve the condition of production sites to avoid pollution. Draining mangroves for aquaculture, for instance, generates significant carbon emissions. While there are large variances in this footprint depending on the production techniques used, one study found that – as a result of mangrove destruction – a kilogram of farmed shrimp was responsible for almost four times the GHG [greenhouse gas] emissions as a kilogram of beef in addition to habitat destruction. A promising solution to many of these challenges is to expand seaweed or mollusc farming that provide food and biomaterials in a regenerative way – requiring no freshwater, land or fertiliser input and sequestering carbon while growing," it concludes.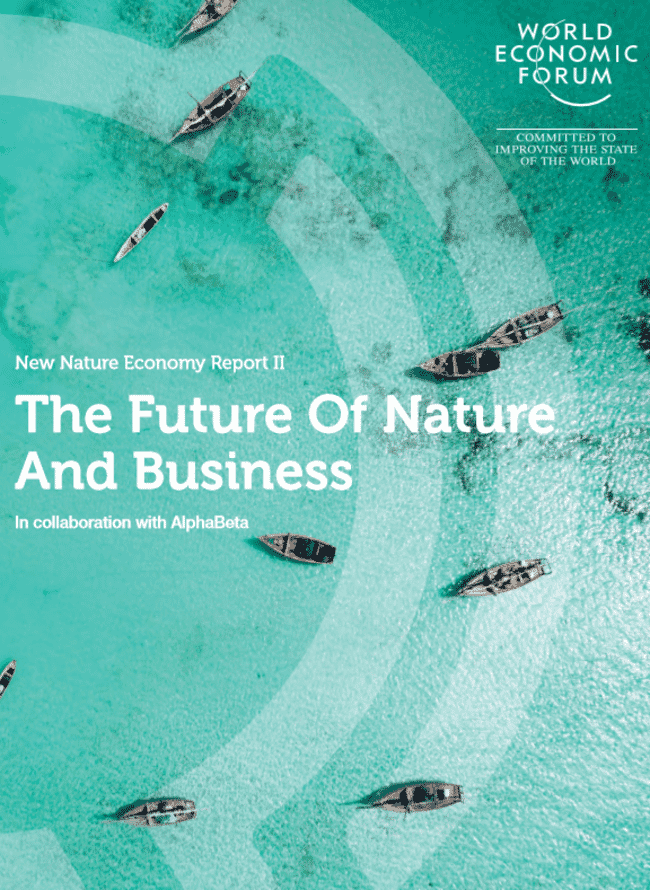 Post-covid blueprint
On a more gneral note, citing the unprecedented turbulence of the intervening months, WEF stresses that, in the face of climate breakdown and nature loss, business as usual is no longer an option. The report does, however, draw optimism from the speed of global response to the Covid-19 pandemic, signifying confidence that the corporate world can mobilise with the urgency required to tackle other imminent existential challenges. The report also states that although climate change is a significant driver of nature loss, changing how we use our lands and seas is equally important to prevent a collapse in Earth ecosystems.

Widespread support
On the day the report was published, the Nature Conservancy has joined a growing chorus of global organisations calling for transformation of unsustainable business as usual.
Commenting on the report, Jennifer Morris, CEO of The Nature Conservancy, said: "In any given year, the findings of this latest WEF report would make for a thought-provoking read. Against the backdrop of Covid-19, they feel particularly sobering – but they also point to a better way forward.
"The pandemic has disrupted lives, livelihoods, and communities around the world. The conservation space has been deeply impacted, too, from impeding the enforcement of protected wildlife areas, to forcing the postponement of much of 2020's rare 'Super Year' of major environmental summits – effectively deferring a host of planet-critical policy decisions for another 12 months. Nature simply cannot afford for us to waste any more time.
"Businesses, governments, and communities around the world can work together to move us toward a future where nature's value to society is widely understood and we take collective steps to protect it. WEF's report highlights specific ways in which the corporate sector in particular, can take a lead role in reversing decades of environmental degradation, human-driven climate change and species loss—and highlights potential business benefits for those organizations willing to rapidly embrace this unprecedented scale of change.
"None of this will be easy – system change at this scale never is. WEF's report underlines that it is our collective responsibility to transform the ways in which we eat, live, grow, build, and power our lives to address climate change and halt biodiversity loss by 2030. The roadmap and policy recommendations outlined show that we can build on lessons learned from the pandemic and work together with the necessary urgency to create a brighter and more secure future for people and the planet."
Carlos Alvarado Quesada, President of Costa Rica, said: "We must use the crisis caused by the coronavirus pandemic as an opportunity to reset humanity's relationship with nature. Investing in biodiversity and the environment offers the chance of building better economies and our resilience as a species. Costa Rica has shown that the transition to a carbon-neutral, nature-positive economy brings greater prosperity, jobs and new developments. It's time to mainstream this model."